Obama's $400,000 Speech
The 44th President will make as for a one-hour speech as his old annual salary. Should we worry about that?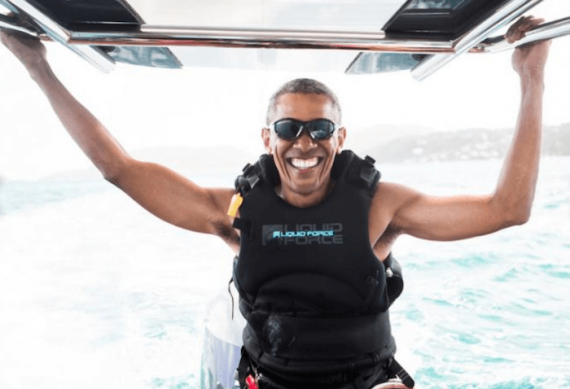 Barack Obama is back from a well-deserved lengthy vacation is his now commencing his post-presidency in what has become the usual way: by becoming a highly-compensated public speaker.  His first foray will earn him exactly his former annual salary for one hour's work.
Ben McLannahan reporting for FT:
At the White House Correspondents' Dinner a year ago, President Barack Obama teased Hillary Clinton over her six-figure speeches to Wall Street banks. "If this material goes well, I'll use it at Goldman Sachs next year," he said. "Earn me some serious Tubmans."

Less than 100 days after leaving office, Mr Obama has followed through: accepting a $400,000 speaking fee from Cantor Fitzgerald, the mid-sized investment bank.

On Tuesday a person familiar with the arrangement confirmed that Mr Obama had agreed to appear as the keynote speaker at Cantor's annual healthcare conference in September. The person declined to comment on what the former president might do with his fee, which is nearly twice the $225,000 price commanded by Mrs Clinton during three speeches to Goldman in 2013.

Mr Obama could not be reached for comment.

During his time in office the former president's relations with Wall Street often appeared strained — particularly in 2009, when he called bankers "fat cats" who kept drawing big bonuses while America went through a deep recession. Republican critics said that his landmark piece of rulemaking after the financial crisis, the Dodd-Frank Act of 2010, went much too far in its efforts to curb risk-taking at the biggest banks.
This is drawing some critiques and not just from the usual suspects.
Aaron Blake at WaPo offers "4 reasons Obama's $400,000 Wall Street speech is a bad idea." Rather than cutting-and-pasting the whole column here I'll just include the bullet points:
1. It continues to set a dubious precedent

2. We have other rules against retroactively cashing in

3. Democrats are trying to be the anti-Wall Street party

4. Obama himself discussed the corrupting influence of such arrangements in his book
Vox' Matt Yglesias:
Former President Barack Obama's decision to accept a $400,000 fee to speak at a health care conference organized by the bond firm Cantor Fitzgerald is easily understood. That's so much cash, for so little work, that it would be extraordinarily difficult for anyone to turn it down. And the precedent established by former Presidents Bill Clinton and George W. Bush, to say nothing of former Federal Reserve Chairs Ben Bernanke and Alan Greenspan and a slew of other high-ranking former officials, is that there is nothing wrong with taking the money.

Indeed, to not take the money might be a problem for someone in Obama's position. It would set a precedent.

Obama would be suggesting that for an economically comfortable high-ranking former government official to be out there doing paid speaking gigs would be corrupt, sleazy, or both. He'd be looking down his nose at the other corrupt, sleazy former high-ranking government officials and making enemies.

Which is exactly why he should have turned down the gig.

The election in France earlier this week shows that the triumph of populist demagogues is far from inevitable. But to beat it, mainstream politicians and institutions need to shape up — not just with better policies, but with the kind of self-sacrificing spirit and moral leadership that successful movements require.

That means some people are going to have to start making less money and raising the ethical bar for conduct, rather than leveling down to the worst acts of their predecessors.
There's more at the link but you get the idea.
Amusingly, the conservative New York Post editorial board defends him, albeit in much the way Brutus defended Caesar:
Good for him.

Obama doesn't really need the money: He earned over $14 million for his first three books, and bidding for his next deal (a package with Michelle) has run over $60 million. But he has every right to cash in on his star power and his hard-won expertise.

No doubt he'll wind up giving a good chunk of it to charity (though we'd be majorly surprised if he set up anything resembling the Clinton Foundation).

All that said, there is something a bit . . . rich here, given what Obama had to say in a 2010 speech pushing tougher Wall Street regulation:

"We're not trying to push financial reform because we begrudge success that's fairly earned. I mean, I do think at a certain point you've made enough money."

Which makes you wonder when Obama will reach the point where he's earned enough.
Pushing back, CNAS' Loren DeJonge Schulman, who served multiple senior posts in government, most recently as senior advisor to Susan Rice, argues persuasively that this pushback is silly.  In a tweetstorm last evening, she hit back at HuffPo CEO Lydia Pollgreen's questioning of the fee, observing "President Obama worked harder than you ever have in your life for eight years. His experience [is] immeasurable." She added, "If people want to pay him extraordinary amounts of money for him to be candid with them about the problems he saw they caused / can help fix." Additionally, she notes, former presidents need to make a living and wonders what his critics would have him do,  "Reopening a law practice? Con law professor?"
This morning, presumably reflecting on pushback to her tweets, she observed, "Some think Obama has [created the] appearance of being bought w/speech? Y'all. You know what he can charge for just sitting as advisor at same firms right"?
I'm neither particularly outraged by the speaking fee—presidents who don't cash in on the speech circuit have been the exception since Ronald Reagan inaugurated the practice—nor thrilled with it.  The possible objections fall into a few buckets:
Corruption
Many, myself included, were quite uncomfortable with the appearance of impropriety in the various Clinton Foundation entities twisting the arms of business leaders and foreign governments for huge donations while Hillary Clinton was in office (the Senate, Secretary of State) or running for the presidency. Despite no evidence that any favors were done in exchange for these contributions, the mere fact that one might reasonably conclude that access to power could be influenced by these donations was a rather powerful incentive to participate.
Barack Obama, of course, is not in this position, Unless we amend the Constitution, he's ineligible to run for president again and it's extremely unlikely he'll follow the John Quincy Adams precedent and return to the Senate. Given his age and Republican control of the White House and Congress, it's even less likely he'll follow William Howard Taft's precedent and wind up on the Supreme Court. I suppose it's possible that Michelle will follow Hillary Clinton's lead and cash in on the name recognition she accrued as First Lady to launch a political career, but there's no indication she has any such intention.
It's much easier to see how, knowing that a lucrative speaking career awaits upon leaving office, presidents and other politicians might change how they govern to avoid antagonizing those with the most ability to pay. Yet, while Bernie Sanders and others in the Progressive wing of the Democratic Party have charged that Obama was too soft on Wall Street, there's simply no reason to believe that he was even slightly influenced by the prospect of cashing in. While I voted against him both times he ran and was a frequent critic of his presidency, his character is beyond reproach on this score.
Then again, it's not at all difficult to imagine a less scrupulous successor very much thinking about the office as a platform for lining his or her pockets. Indeed, it's quite easy.
That said, contra Matt Yglesias, I'm not sure it's reasonable to expect Obama to bear the burden of setting that example. Nor, indeed, would his setting an example of non-corruption be likely to influence a less scrupulous successor to behave in the same manner. If we're concerned about former officials cashing in, then we need to codify the restrictions into law and apply them to everyone, not just the righteous.
Dignity of the Office
Even if we don't think ex-presidents are going to be corrupt—because we believe they'll obey their oath while in office and are out of favors to give once their political career concludes—there's still the argument that it sullies the office for them to be out hustling for appearance fees. I'm sympathetic to that sentiment.
On the one extreme, we actually could simply insist that former presidents simply live on their pensions. I know Loren meant it as a straw man bu $203,700 per year is, after all, a pretty good living! And they get office expenses, security, free limo service, and other pretty cool perquisites over and above that. For that matter, given how few living ex-presidents there are, we could up their pension to, say, $500,000—even $1,000,000—a year without busting the budget.
If we're going to allow them to make outside money, though, drawing a line is rather difficult.  Both Barack and Michelle Obama got massive advances for forthcoming books. Why is that any better than taking speaking fees?  Would speaking fees of, say, $20,000 but less risable than $400,000? And what of the absurd amounts that retired generals and other senior government officials routinely get for sitting on corporate boards? Would we deny that to ex-presidents and only ex-presidents?
Egalitarianism
The third set of arguments I'm seeing is the one coming from the Progressives: that it's simply unseemly for ex-presidents to make so much money. Not because of influence peddling or the perception thereof. Not because it lowers the dignity of the highest office of the land. No, simply . . . because. We live in an era of extreme economic inequality and it's just not right for former presidents to add to that when they leave office. I am, as regular readers might suspect, not particularly sympathetic to this argument.
Blake's WaPo essay, cited above, points to this excerpt from Obama's Audacity of Hope:
Increasingly I found myself spending time with people of means — law firm partners and investment bankers, hedge fund managers and venture capitalists. As a rule, they were smart, interesting people, knowledgeable about public policy, liberal in their politics, expecting nothing more than a hearing of their opinions in exchange for their checks. But they reflected, almost uniformly, the perspectives of their class: the top 1 percent or so of the income scale that can afford to write a $2,000 check to a political candidate. …

And although my own worldview and theirs corresponded in many ways — I had gone to the same schools, after all, had read the same books, and worried about my kids in many of the same ways — I found myself avoiding certain topics during conversations with them, papering over possible differences, anticipating their expectations. On core issues I was candid; I had no problem telling well-heeled supporters that the tax cuts they'd received from George Bush should be reversed. Whenever I could, I would try to share with them some of the perspectives I was hearing from other portions of the electorate: the legitimate role of faith in politics, say, or the deep cultural meaning of guns in rural parts of the state.

Still, I know that as a consequence of my fundraising I became more like the wealthy donors I met, in the very particular sense that I spent more and more of my time above the fray, outside the world of immediate hunger, disappointment, fear, irrationality, and frequent hardship of the other 99 percent of the population — that is, the people that I'd entered public life to serve. And in one fashion or another, I suspect this is true for every senator: The longer you are a senator, the narrower the scope of your interactions. You may fight it, with town hall meetings and listening tours and stops by the old neighborhood. But your schedule dictates that you move in a different orbit from most of the people you represent.
This isn't about corruption in the classic sense. He wasn't saying that he was shaping his policy positions to make fat cats more likely to donate. Rather, he's saying that, simply spending so much time around the fat cats, he was becoming more like them.  I have no doubt that's true. But I don't see an argument why, as a matter of social mores–much less public policy–we should particularly worry.
Overall, I'm squeamish about ex-presidents cashing in. But, aside from the singular instance in which he was married to someone working to succeed him in office, I've never thought it rose to the level of grave public concern. In the particular case of Barack Obama, I'm confident in his personal integrity.  And, if he parlays his eight years in the White House to amass the wealth of, say, an NBA star, a Hollywood leading man, or, heaven forfend, Oprah, I'm not sure why I should be outraged.