Obama's DNC Speech
An appeal to some pretty basic virtues.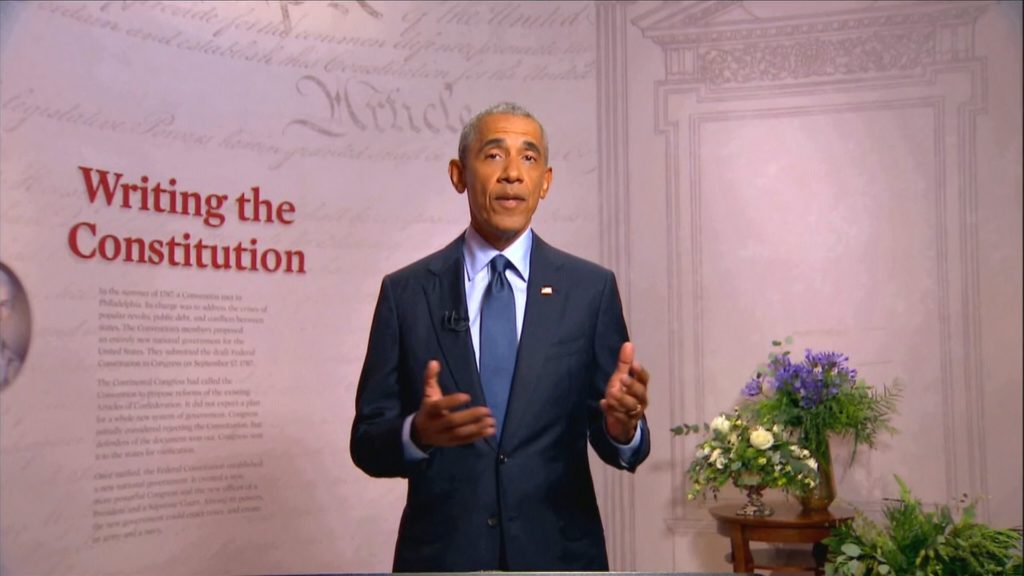 I caught up on Barack Obama's DNC speech earlier this morning. Without getting into a lengthy analysis, I was struck by the following:
But more than anything, what I know about Joe and Kamala is that they actually care about every American. And they care deeply about this democracy.

They believe that in a democracy, the right to vote is sacred, and we should be making it easier for people to cast their ballot, not harder.

They believe that no one — including the president — is above the law, and that no public official — including the president — should use their office to enrich themselves or their supporters.

They understand that in this democracy, the commander in chief doesn't use the men and women of our military, who are willing to risk everything to protect our nation, as political props to deploy against peaceful protesters on our own soil. They understand that political opponents aren't "un-American" just because they disagree with you; that a free press isn't the "enemy" but the way we hold officials accountable; that our ability to work together to solve big problems like a pandemic depends on a fidelity to facts and science and logic and not just making stuff up.

None of this should be controversial. These shouldn't be Republican principles or Democratic principles. They're American principles. But at this moment, this president and those who enable him, have shown they don't believe in these things.
Emphasis mine, to which I just wanted to say: This. This. THIS.
We can argue about policy and ideology and party allegiance, but the above list should be something we all agree on and while one can try and parse and interpret some of the items listed above, there are some clear one that lacks any ambiguity.
Trump did use federal law enforcement to clear out peaceful protestors behaving lawfully so that he could stage a photo op.
Trump has repeatedly called opponents "un-American" or the like. One need go no further that the day before the speech to find him accusing the Obama administration of treason:
It is worth repeating that treason is punishable by death.
He, of course, frequently and actively undermines the free press by calling them the "enemy of the people" which implies that he, the leader, knows best as to what the people think and what is good for them, as well as asserting that any negative press about his dear person is the act of a foreign adversary.
This is all crude dictator behavior plain and simple. And it should not be acceptable in American political discourse regardless of whether it comes out of the mouth of a politician you like or not.
And why is it so hard to want "facts, science, and logic" as opposed to "just making stuff up" (such as asserting a willingness to look into junk science claims about plant extracts as promoted by a political ally in the pillow business or the application of powerful lights and disinfectants on, you know, the inside)?
That any of this is tolerated and that insisting that it shouldn't be is controversial at all is well and truly depressing.
Again: "None of this should be controversial."
Let me especially emphasize: "we should be making it easier for people to cast their ballot, not harder."
We can debate things like the need for ID and how to get it to people, and issues like electoral security, but these debates should be about actually protecting the integrity of the process and making sure all American have the chance to be heard in truly free and fair elections, and never should they be a pretense for undermining the process, as is clearly the case with Trump and his allies when they denigrate vote by mail and the like.
The full speech is here (although I will warn that the Chuck Schumer commercials are a bit disconcerting):