Obama's Kill Rules Keeping Obama From Killing
President Obama's new rules for killing Americans with drones are proving inconvenient.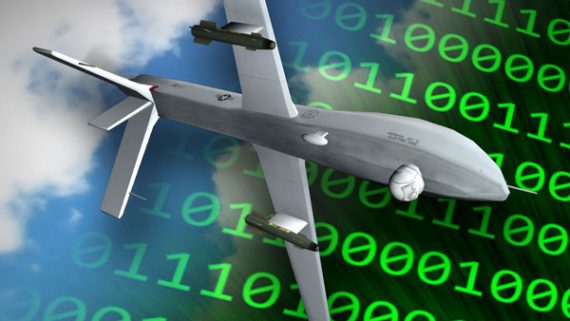 President Obama's new rules for killing Americans with drones are proving inconvenient.
AP's Kimberly Dozier ("OBAMA OFFICIALS WEIGH DRONE ATTACK ON US SUSPECT"):
The case of an American citizen and suspected member of al-Qaida who is allegedly planning attacks on U.S. targets overseas underscores the complexities of President Barack Obama's new stricter targeting guidelines for the use of deadly drones.

The CIA drones watching him cannot strike because he's a U.S. citizen. The Pentagon drones that could are barred from the country where he's hiding, and the Justice Department has not yet finished building a case against him.

Four U.S. officials said the American suspected terrorist is in a country that refuses U.S. military action on its soil and that has proved unable to go after him. And Obama's new policy says American suspected terrorists overseas can only be killed by the military, not the CIA, creating a policy conundrum for the White House.
There are all manner of issues we should be concerned with regarding the ability of our government to kill our citizens; the organization that employs the trigger pullers is not prominent among them.
Two of the officials described the man as an al-Qaida facilitator who has been directly responsible for deadly attacks against U.S. citizens overseas and who continues to plan attacks against them that would use improvised explosive devices.

The officials said the suspected terrorist is well-guarded and in a fairly remote location, so any unilateral attempt by U.S. troops to capture him would be risky and even more politically explosive than a U.S. missile strike.

White House press secretary Jay Carney said Monday he would not comment on specific operations and pointed to Obama's comments in the major counterterrorism speech last May about drone policy.

"When a U.S. citizen goes abroad to wage war against America and is actively plotting to kill U.S. citizens, and when neither the United States, nor our partners are in a position to capture him before he carries out a plot, his citizenship should no more serve as a shield than a sniper shooting down on an innocent crowd should be protected from a SWAT team," Carney said, quoting from Obama's speech last year.

Under new guidelines Obama addressed in the speech made to calm anger overseas at the extent of the U.S. drone campaign, lethal force must only be used "to prevent or stop attacks against U.S. persons, and even then, only when capture is not feasible and no other reasonable alternatives exist to address the threat effectively." The target must also pose "a continuing, imminent threat to U.S. persons" — the legal definition of catching someone in the act of plotting a lethal attack.
That was the basic decision matrix in the Justice Department white paper on the subject leaked a year ago and which I analyzed for The National Interest. The test seems reasonable enough and, if applied strictly, would eliminate most of the slippery slope concerns. As I noted at the time,
There's no denying that al Qaeda poses a unique threat to the safety of American citizens. Operating in ungoverned spaces of Pakistan, Yemen, and elsewhere, they're largely out of the reach of traditional law enforcement. If al-Awlaki or Khan were performing the exact same acts in Cleveland—or, indeed, London, Paris, or Sydney—they would have been targeted for arrest and extradition, not assassination.
My concern wasn't so much with the rubric but the fact that president was deciding to implement it on his own accord and that we had to take his word that it was being followed:
Even so, American citizens should nonetheless be wary of granting the president the power to single out citizens for killing based simply on his own judgment. Aside from being plainly unconstitutional, it's simply too much trust to place in a single individual. At the very least, the rules ought to be spelled out in legislation that has passed both Houses of Congress and survived judicial scrutiny for constitutionality rather than made internally.

Further, in addition to checks and balances, there has to be more transparency. The notion that the government can compile a list of citizens for killing, not tell anyone who's on it or how they got there, is simply un-American. Surely, a modern version of a WANTED: DEAD OR ALIVE notice could be publicly circulated, with a listing of the particulars. Maybe the named individual would turn himself in rather than wait for the drones to find him. Or maybe he'd hire an attorney to present evidence he's not actually an imminent threat to American citizens.
While I applaud President Obama for wrestling with the issue and announcing tighter rules—and tend to think military operations ought be carried out by the military, not intelligence services—I'm rather dubious of the military/intelligence distinction in this particular instance. If the killing is going to take place in a country where we're not at war and where the host government has not given us permission to operate, there's no obvious reason why it makes any difference whether the CIA or the Air Force is doing the deed.  Indeed, the administration admits as much:
The senior administration official confirmed that the Justice Department was working to build a case against the suspected terrorist. The official said, however, the legal procedure being followed is the same as when the U.S. killed militant cleric and former Virginia resident Anwar al-Awlaki by drone in Yemen in 2011, long before the new targeted killing policy took effect.

The official said the president could make an exception to his policy and authorize the CIA to strike on a onetime basis or authorize the Pentagon to act despite the possible objections of the country in question.

The Justice Department, the Pentagon and the CIA declined to comment.

If the target is an American citizen, the Justice Department is required to show that killing the person through military action is "legal and constitutional"— in this case, that the Pentagon can take action against the American, as the administration has ruled him an enemy combatant under the Authorization for Use of Military Force, a resolution Congress passed a week after the 9/11 attacks to target al-Qaida.

"So little has changed since last year, when it comes to government secrecy over killings," said Amnesty International's Naureen Shah on Monday. "The policy is still the stuff of official secrecy and speculation, when it should be a matter of open debate and explicit constraints."
Again, I don't mind our state secrets being secret. My concern is the lack of checks and balances, not the lack of public disclosure.  And, it's worth keeping in mind, we're talking about an extremely small set of cases:
The administration says U.S. drones have killed four Americans since 2009, including al-Awlaki, who officials said was actively plotting to kill U.S. citizens.

Attorney General Eric Holder said the three other Americans were killed by drones, but were not targeted. The three are Samir Khan, who was killed in the same drone strike as al-Awlaki; al-Awlaki's 16-year-old son, Abdulrahman, a native of Denver who was killed in Yemen two weeks later; and Jude Kenan Mohammed, who was killed in a drone strike in Pakistan.
I'd actually missed the news on Mohammed, who had been previously arrested in Pakistan, escaped, and was later killed in a strike on a higher value target. So, not only is the grand total of Americans killed under the current policy four, only one—Anwar al-Awlaki—was actually targeted individually; the others just happened to be in the wrong place at the wrong time.