Obama's Second Term Would Be Neither Groundbreaking Nor A Calamity
The truth about a Second Obama Term is that it likely wouldn't be all that remarkable.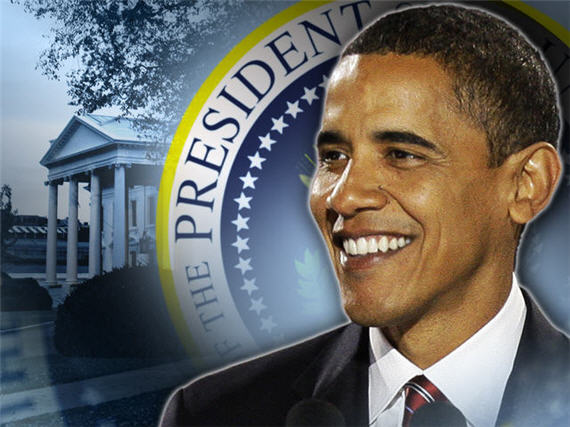 John Harris and Carrie Budoff Brown take to Politico to try to figure out what clues to a Second Term agenda might be found in President Obama's Third State Of The Union tonight:
As he stands before the nation Tuesday evening to present his State of the Union address, Obama is a president whose positions may be well-known but whose agenda — what he actually intends and can reasonably expect to achieve if voters give him four more years — is blurry.

This is a stark turnabout from his situation when he ran for president in 2008. He campaigned then not simply on gauzy "yes, we can" themes but on a specific set of items that were easy to enumerate. Elect me, he said, and we will do these things: enact health care reform, wind down the Iraq War, reregulate Wall Street and impose a cap-and-trade system to fight global warming and push for a broad compromise to overhaul the immigration system.

His record on achieving those promises is mixed, of course, but Obama clearly has won some victories and is facing voters this year hoping for credit on what he has done. What he has not done yet is offer similar precision about what a second term would actually look like.

The nationally televised speech is, in part, an effort to remedy this. But it is hardly a simple matter. People close to Obama acknowledge that he himself believes the honest answer to what he plans to do in a second term is — it depends.

Absent big — and for the moment, unlikely — Democratic gains in congressional races, the chances are high that the election will not bring clarity but more divided government. That means part of Obama's election-year message, at least implicitly, is to elect him not for what he would do but for what he would stop conservative Republicans from doing.

Obama aides have already forecast that the president's message will describe a sharp philosophical divide on the proper role of government in the modern economy, with Obama leading Democrats in insisting that government promote greater opportunity and fairness. This offers the makings of a far-reaching partisan debate, but that is different than an ambitious programmatic agenda.

As for the items that remain on Obama's menu of unfinished business, most face enormous practical hurdles. Republicans, so far, are not interested in finding common cause with him on a grand, long-term budget bargain. Some things he promised in 2008 to do — cap-and-trade legislation and immigration reform — didn't happen precisely because they are so politically incendiary, and there is no evidence that Obama wants to make them pillars of his reelection bid.

So what does he do now, at a time when the government has little money to spend?

"The biggest thing any president can do is set the agenda, and he has done that," said Paul Begala, a former Clinton aide and adviser to Priorities USA Action, a pro-Obama super PAC. "In 2010, the agenda was set for him, not by him. The agenda was cutting government. That was never a game Obama can win. The debate is now about economic opportunity for the middle class, about inequality, about these terrible economic divides. That is a game Obama can't lose."

White House aides have been hesitant to describe Tuesday's State of the Union as the forum during which he will declare his vision for a second term.
There's a good reason for that, and it's one that neither Democrats, nor the Republican wanting to unseat President Obama want you think about very much. Recent history makes very clear that second Presidential terms are rarely as successful or "revolutionary" as a First Term. Sometimes, this happens because an Administration gets mired down in a scandal, real or imagined. Richard Nixon's second term was centered on, and ultimately ended by, Watergate. Ronald Reagan's second term saw the passage of massive tax reform in 1986, but soon got mired down when Democrats regained control of the Senate in the 1986 mid-terms and, only days later, the world first learned of what became known as the Iran-Contra Scandal. Bill Clinton's second term lacked many of the domestic achievements his first term saw and soon became mired down in Monica Lewinsky and impeachment. George Bush's second term got wrapped up in pubic dissatisfaction over the quagmire in Iraq and then fell apart when the Democrats regained control of Congress and the economy started heading into the tank. There's every reason to believe that a second Obama Term would follow this pattern.
As I noted, the tendency for second Presidential terms to be largely a disappointment is something neither Democrats nor Republicans would like to acknowledge publicly. Democrats would prefer their supporters to think that a second Obama Administration would mean further progress on the goals set in the campaign, many of which have been abandoned over the past three years. Republicans, on the other hand, want their supporters to believe that a second Obama Administration would be an absolute calamity and, indeed, I've run into more than a few conservatives who seem absolutely convinced of the silly idea that the re-election of Barack Obama would mean the end of America. Neither of them would get much political mileage out of telling their supporters the truth, which is that a second Obama Administration is unlikely to be anywhere near as successful in achieving its goals, especially if one or both Houses of Congress is controlled by the opposition (or as long as the filibuster exists in the Senate).
Of course, history also shows that Presidents who find themselves constrained domestically in a second term typically set their sights overseas for a legacy. Even as the Watergate scandal percolated, Richard Nixon brought an end to U.S. involvement in Vietnam (a process that had started before 1973, of course) and worked to avoid a wider conflict when the Yom Kippur War erupted in 1973. Ronald Reagan reached out to Mikhail Gorbachev to reach broad ranging arms control treaties and reduced tensions with the Soviet Union, actions that earned him opprobrium from the conservatives who had been backing him so enthusiastically before. Bill Clinton initiated American military force against Serbia when Kosovo sought to secede from Yugoslavia, took military action against al Qaeda over the 1998 embassy bombings, bombed Iraq on the eve of his Impeachment by the House in connection with alleged Iraqi violations of restrictions against development WMDs, and made a major push to bring Israel and the Palestinians to the negotiating table. Finally, George W. Bush enacted a major increase in troop presence in Iraq, increased aid to Africa to fight AIDS, and strengthened ties with India. Again, if his is any guide, we can expect Barack Obama to do something similar in a Second Term, whether it consists of a renewed quixotic push for progress on the Israeli/Palestinian issue or, as events may well compel whoever becomes President in 2013, a focus on Iran's nuclear weapons program.
This isn't to say that a second Obama term would have no impact at all, surely that's not the case. Even with a Republican Congress, the fact of a Democratic President would mean either that both sides in Washington will finally need to sit down and accomplish something, or we'll have four more years of gridlock (personally, I'd bet on the later). Depending on who retires, the President who takes office in January 2013 could have the opportunity to appoint as many a 3 Supreme Court Justices over the ensuing four years, something that will have a huge impact on the course of American jurisprudence. As a whole, though, it's likely that a Second Obama Term would follow the same pattern we've seen in the past, meaning that it will be neither groundbreaking nor disastrous. Unfortunately for America, though, it's also likely to include a continuation of the gridlock and partisanship that has made it impossible to get any real work done in Washington, and that may be our biggest problem of all.