Obama's Solar Panel Tariffs Threaten To Destroy An American Business
Bill Keith built a successful business making solar-powered ceiling fans. The President's trade policies are in the process of destroying it.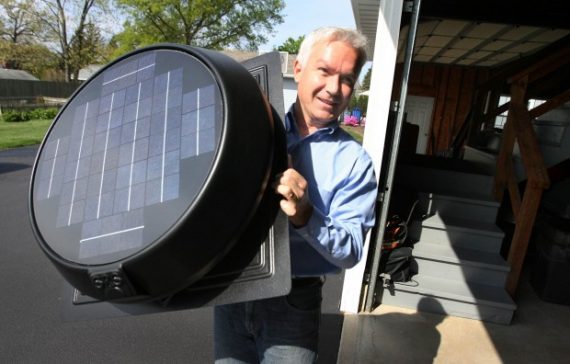 On Wednesday, CNN covered the story of a small American business that manufacturers solar-powered attic fans which is about to be destroyed thanks to protective tariffs put in place by the Obama Administration:
Here's the story:
Keith said the U.S. Customs Department has accused him of using Chinese-made solar panels, in violation of a tough import policy adopted in May at the behest of major U.S. solar companies. The policy is intended to thwart China from undercutting prices and flooding the U.S. market with cheaper solar panels. The U.S. Department of Commerce is currently reviewing the policy, and is scheduled to make a determination in the fall.

Keith denies that any of part of his solar fans are produced in China, but he admits he can't totally prove it. According to Keith, the owner of the Hong Kong company that customizes his solar cells has stated in an affadavit that it buys the cells from the United States, Taiwan and Germany. But Keith worries that testimony won't be good enough.

"The solar panel tariff is a broad-reaching tariff. In my estimation it shouldn't be geared toward small niche markets like mine," Keith said.

Unless he can show specific manufacturing documentation by August 29, Keith said he could be fined as much as 250 percent on his solar panels — an effective rate of $270,000.

If that anti-dumping fine is levied, Keith said he will have to shutter his business.

"These guys are going to put me out of business," Keith said. "I don't have any help. I've been trying to get help, no one can help me."

Keith said he has never received government financial assistance and is taxed in the 40 percent bracket. He said he has sat by and watched companies like the now bankrupt Solyndra run through taxpayers' money and not return on the government's investment.

He said he doesn't want a handout — just a helping hand.
Ironically, it was just a few years ago that Keith was the poster boy for the Administration's solar energy initiative:
In 2008, his success attracted the attention of the soon-to-be next president of the United States, Barack Obama. That year, he got an unexpected call from a representative of the new administration.

"He said he was with the Obama transition team looking for small companies," Keith recalled. He later met with the man who told Keith, "we want to interview you, vet you."

"Guy sat right there talking with me, said 'I really love your story and I'm going to push it up the rank,'" Keith said.

And that's exactly what happened. Shortly after he was inaugurated, Obama held a town hall meeting in the economically devastated city of Elkhart, Indiana. Keith and his wife were asked to come and — prodded by his wife — he stood up and told the president about his solar business. He asked
Obama what he planned to do to encourage small business owners like himself.

The question turned Keith into a White House solar superstar. ABC, CNBC and other media came calling to tell the story of the roofer who built a solar company out of his garage — and he did so without a government handout.

"Move over Joe the Plumber," one blog headline declared after his Elkhart appearance. "There's a new poster child for hard-working Americans — and he's green."

Keith's success story provided good publicity for the White House which called again and again, using Keith to underscore the Obama administration's goal of pushing America towards new sources of clean energy.
Keith goes on to relate in the video above that he's been sending repeated email inquiries to his (former?) contacts in the White House about the troubles he's facing because of the tariff issue, and getting little more than perfunctory "I'll check into it" type responses. I suppose that's a lesson right there. Never expect loyalty from a politician. Keith was useful to the 2008 campaign and the White House for a time, but now he's not and it seems as through he's being thrown under the bus.
As for the merits of the issue itself, National Review's Noah Glynn pointed out the flaws in the policy back in June:
The methodology the DOC uses to determine anti-dumping tariffs is inherently flawed. There are two economic classifications a nation can receive: "non-market economy" or "market economy." For non-market economies, the DOC assumes that government interventions play a larger role than supply and demand in determining prices. The U.S. considers China a non-market economy, which it is. But the DOC then uses this classification to justify unfair and arbitrary methods of measuring Chinese dumping margins, which largely establish the tariff rates.

Since supply and demand are not, under this theory, the prevailing economic forces in China, the DOC tries to estimate what the prices would be in China if it were a market economy. According to Dan Ikenson, a policy analyst with the Cato Institute, the DOC doesn't actually discover the true price difference, but instead concocts "differences between an exporter's price in the U.S. market and a fictitious hodgepodge of estimated components serving as a proxy for his home market prices."

(…)

From currency manipulation to intellectual-property theft, the United States has legitimate economic complaints about China, but there are tangible benefits to the relationship as well, and it would be a mistake for Washington to overlook them. Between 2001 and 2005, American commodity exports to China increased by 81 percent, compared with 10 percent for the rest of the world. For all the talk of China's export-driven economy, many Americans have become better off thanks to rising Chinese imports, and it would be foolish to undermine that relationship because of desire to shelter favored businesses based on questionable methods.
President Obama's opponent in the election would likely not disagree with his decision here. If anything, Mitt Romney has called for an even more aggressive stance toward China on trade issues than what the Obama Administration has implemented. So, a President Romney would be likely to double down on these kinds of tariffs, causing even more harm to American businesses like the one described here. It hardly even matters that there isn't an American solar panel supplier that can fulfill this man's needs, if he can get the product cheaper and better from another country then there's no logical reason why he shouldn't be able to do it. In the long run, that will be good for his business, good for the homeowners who buy his product, and good for the economy as a whole.
It's an old lesson that our politicians keep forgetting. Free trade always works. Protectionism always fails, and always ends up far more harm than it's proponents will ever admit to.