Ohio's Other Primary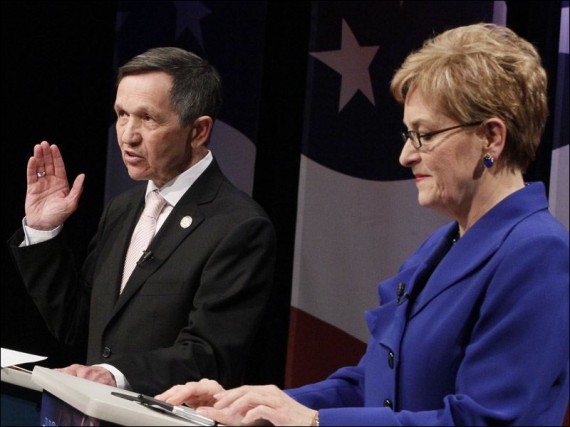 The Republican Presidential primary isn't the only race drawing the attention of Buckeye State voters tomorrow, there's also a bitterly fought primary between two Democratic members of Congress:
WASHINGTON — Veteran Democratic Reps. Dennis Kucinich and Marcy Kaptur have been friends for years, but their bruising Ohio primary fight has been anything but friendly.

The Kucinich-Kaptur showdown to be decided on Super Tuesday kicks off 11 primary contests in the coming months that are expected to pit House incumbents against each other due to redistricting in states including Pennsylvania, New Jersey and California.

(…)

Ohio Republicans who redrew the congressional boundaries put Kucinich and Kaptur together in a district running along the Lake Erie shoreline from Cleveland to Toledo that's heavily tilted toward Democrats.

Kucinich, an eight-term congressman known for a quirky style and zest for political combat since becoming Cleveland's "boy mayor" at age 31, is a two-time presidential candidate with a national following among progressives. Last summer, he flirted with running for an open House seat in Washington state, but opted to stay in Ohio.

Kaptur, in her 15th term, is pitching herself as a workhorse able to deliver for Ohio as a senior member of the House Appropriations Committee.

"His focus has wandered," Kaptur told the AP in a telephone interview. "He's run for president twice. He promised his constituents the first time he wouldn't run again, but then he did run again … He doesn't deliver for northern Ohio."

Kaptur, too, has tried to link Kucinich with a former Cuyahoga County commissioner facing bribery and racketeering charges. Kucinich has complained about Kaptur's "character assassination" and "swift-boat" tactics while blasting her in one of his campaign ads for accepting hundreds of thousands of dollars in contributions from defense contractors.

"The tone has turned negative and nastier over the course of the last few days," Ohio Democratc Party Chairman Chris Redfern complained Friday, adding that attack ads from outside groups have added fuel to the fire.

Even lawn signs are fair game. Kucinich complained in a fundraising email that "an aggressive, illegal sign removal operation is being run by the other campaign."
I haven't seen any polling in this race, but then polling a Congressional race isn't an easy thing to do to begin with given the smaller population size. My guess is that Kucinich's old advantages in Cleveland and the surrounding area won't be enough to offset the support that Kaptur has in her home base, and that we won't have Dennis Kucinich to kick around any more. Of course, even if Kucinich loses, we may not have heard the last of him. He still has not ruled out the possibility of moving to Washington State and running for Congress there if he loses the primary.  So stay turned, because when you're dealing with Dennis Kucnich you never know what could happen.