Class Sorting in American Politics
Most high-income Congressional Districts are Democratic and low-income Districts are Republican.
The Axios headline "Dramatic realignment swings working-class districts toward GOP" is immediately followed by this graphic: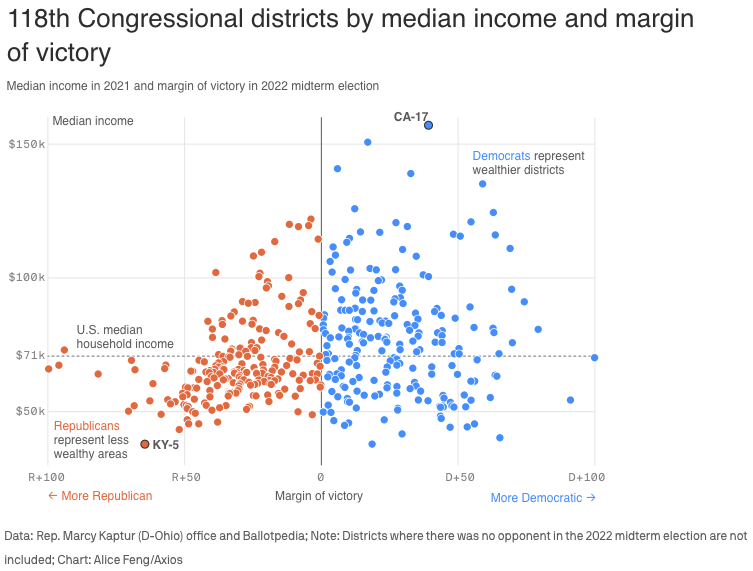 Because of the bizarre graphing—income is the independent variable and should be represented on the X axis whereas tendency to vote Republican is the dependent variable and should be represented on the Y axis–I initially thought we had a perfect sort in which all of the districts below median income voted Republican and all those above it voted Democratic. But, no, they threw margin of victory in as a third variable and screwed up the chart.
Anywho, the results are still interesting, if not as stark as the visualization suggested.
Nine of the top 10 wealthiest congressional districts are represented by Democrats, while Republicans now represent most of the poorer half of the country, according to median income data provided by Rep. Marcy Kaptur's (D-Ohio) office.

Why it matters: The last several decades have ushered in a dramatic political realignment, as the GOP has broadened its appeal to a more diverse working class and Democrats have become the party of wealthier, more-educated voters.

"Republicans were the party of the country club, and they're increasingly the party of country," lobbyist and political analyst Bruce Mehlman told Axios.
"We have seen an inversion of Democrat and Republican shares of the highest- and lowest-income districts — and the highest and lowest college degree-holding districts," Cook Political Report's Dave Wasserman told Axios.
That is truly a huge switch, although one we knew had happened at the Presidential level already. This is especially bizarre given the policy preferences the parties demonstrate while in office. Historically, the party representing the poor and uneducated advocated for social welfare programs and income redistribution whereas the party representing the rich and educated advocated for programs that were "business-friendly." We now have an inversion.
By the numbers: 64% of congressional districts with median incomes below the national median are now represented by Republicans — a shift in historical party demographics, the data shows.

Some of the highest-income districts have long voted Democrat, but growing inequality is widening the gap between them and working-class swing districts critical to winning majorities.
"Increasingly, districts that make up the majority of the Democratic caucus don't really reflect the middle-income districts where the House is won and lost," Wasserman said.
I'm not sure that follows. Every Congressional district counts the same, after all, and Democratic losses in poorer districts would seem to be offset by gains in richer ones.
Zoom in: Democrats are still competitive and have held on to a number of swingy, middle-income districts, including Kaptur's in Ohio. She is one of only five House Democrats representing districts won by former President Trump.

Kaptur often shows a similar chart ranking districts by median income to fellow Democrats — and has even given a version to President Biden.
"It's one way for her to highlight … that there are still those districts, especially in middle America away from the coasts, that are not feeling the benefit of all the policies in place," a Kaptur aide told Axios. "That there is still work to be done to uplift these communities."
Kaptur also sees another interpretation: "The other way you could look at it is: how is it possible that Republicans are representing the majority of people who struggle?" she told Insider, which first reported on the chart.
Kaptur seems to have fallen prey to the ecological fallacy here. Just because a Congressional district—which in some cases are an entire state—is rich or poor doesn't mean everyone living there is. Republicans are winning the white working class but poor Blacks and Hispanics still vote overwhelmingly Democratic.
Between the lines: The relationship between geography, education, income and politics is complex — and experts point to education as a stronger indicator of party affiliation.

"I suspect income is downstream of education and geography. Voters with college degrees or more earn higher salaries, live where homes cost more and increasingly skew Democratic," Mehlman said.
There's something of a chicken-egg thing here but yes. A lot of well educated folks, myself included, have left poorer parts of the country for better opportunities. For the most part, this means moving to major metropolitan areas. While a lot of them are now in Red states in the Sun Belt, the cities themselves tend to be relatively progressive. And even those of us who are relatively conservative are put off by white supremacist and anti-science rants that are increasingly used by a GOP trying to hold onto power by appealing to the prejudices and resentments of rural whites.
The big picture: Class politics has become a driving force in the past several elections, supercharged by Donald Trump's populist plea to middle-class, blue collar workers in 2016.

An increase in less-educated, lower-income GOP primary voters could benefit Trump as he seeks the 2024 nomination, as CNN points out.
Meanwhile, "the more the Democratic Party becomes defined or stereotyped by elites and coastal interests with a lot of money, the harder it is to win the middle-income districts that they need to get to 218 [seats]," Wasserman said.
Still, Democrats are hopeful that strong and sustained messaging on some of Biden's biggest legislative wins — and House Republicans' threats to cut popular social programs — could help them shore up some working-class voters.
Look, messaging obviously matters and the Biden team has let itself get painted as leftist on a handful of issues and not gotten enough credit for some shrewd investments made as part of the overall Inflation Reduction Act boondoggle. But it simply doesn't make sense to continue to conflate "middle-income" with "(White) working-class." Sure, there are a lot of plumbers, electricians, and contractors in that group, but there are more white collar folks with college degrees. Moreover, with each passing day, there are fewer Whites and geriatrics.
What they're saying: "While House Democrats expanded broadband internet, capped the cost of insulin, and cut child poverty in half, Republicans did everything they could to stop them from helping middle- and working-class families," DCCC spokesperson Tommy Garcia told Axios, criticizing Republicans aims to cut federal spending.

On the other side, Kaptur as well as the other Trump-district Democrats are top targets for Republicans hoping to expand their House majority.
"Marcy Kaptur is well aware that Democrats like herself no longer represent the working class," NRCC spokesman Chris Gustafson said in a statement last month.
The essence of White working-class resentment, though, is that welfare programs and the like are bad, even if they help White working-class folks, because they disproportionately help Blacks and Hispanics. They'll simultaneously take the subsidies and be angry about it.
Indeed, the dueling statements from the party spokesmen show a divide: Democrats are selling programs while Republicans are selling identity. Whether Kaptur is advocating for policies that would be good for her district is irrelevant because she's not one of them. That's a hard sell, though, since she's lived in the area her whole life, represented them in Congress for four decades, and has consistently won re-election by huge margins even as her constituents vote Republican for President.