Marcy Kaptur Defeats Dennis Kucinich, Will Face Joe The Plumber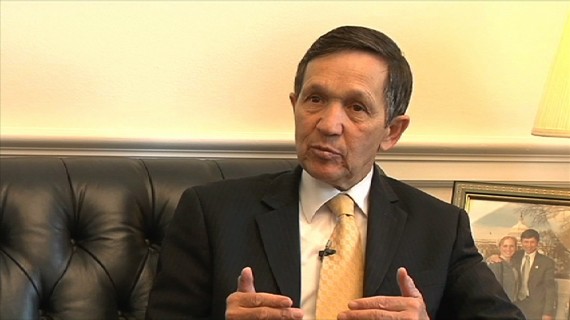 One of the hardest fought down-ballot race last night was the battle between Congressman Dennis Kucinich and Congresswoman Marcy Kaptur for the Democratic nomination for Ohio's 9th District. When the battle was over, not even Kucinich's old stronghold in Cuyahoga County could save him:
Two incumbents were defeated in the dramatic opening night of the 2012 House campaign season.

Ohio Rep. Marcy Kaptur defeated fellow Democratic Rep. Dennis Kucinich in the 9th District, a loss that will likely bring the longtime liberal congressman's Capitol Hill career to an end.

And in southern Ohio, Brad Wenstrup, a surgeon and Iraq war veteran, scored an upset victory over GOP Rep. Jean Schmidt, a third-term lawmaker who has come under ethical scrutiny in recent months.

With 99 percent of the vote counted, Wenstrup led Schmidt 48 to 42 percent. With 78 percent of the vote in, Kaptur held a commanding lead over Kucinich, 58 to 37 percent.

The Kaptur vs. Kucinich race marked the first member vs. member clash of the 2012 election season. After the Republican-led redistricting process came to a conclusion in Ohio, Kaptur and Kucinich, who for years were allies, found themselves drawn into the same northeast Ohio district.

The race pitted two veteran Ohio pols against each other. Kaptur, a 15-term member of the House Appropriations Committee, is the longest-serving female in the House. Kucinich, a former Cleveland mayor who was elected in 1996, has a political career that stretches back to 1969, when he was elected to the Cleveland City Council.

The contest turned nasty — and personal. Kaptur accused Kucinich, who waged two unsuccessful presidential bids, of focusing on building his national profile and ditching northeast Ohio. She also slammed Kucinich for making forays into Washington state, where last year he was reportedly considering whether to relocate and launch a 2012 reelection bid.

Kucinich, who has long opposed military spending, bashed Kaptur for voting to fund the wars in Iraq and Afghanistan.
Meanwhile, over on the Republican side Samuel Wurzelbacher's fifteen minutes of fame have apparently been extended for another eight months:
One of the biggest — and most overlooked — surprises of Tuesday night was in a northeast Ohio Republican congressional primary. There, Samuel Wurzelbacher, who is better known from campaign 2008 as "Joe the Plumber," almost lost his House bid to an obscure auctioneer named Steve Kraus — when the dust settled, Wurzelbacher escaped with a narrow 51 to 48 percent victory.

To say Kraus was underfunded would be an understatement: Through the middle of last month, Kraus had raised and spent less than $10,000 — a pittance in the world of modern-day congressional campaigns. Wurzelbacher, by contrast, raised and spent over $60,000.

Wurzelbacher hasn't exactly been embraced by the Republican establishment, largely because GOP officials regard the northeastern Ohio-based 9th District as tilting heavily Democratic and an unlikely November pickup. The National Republican Congressional Committee hasn't bothered to add Wurzelbacher to its "Young Guns" program for top recruits. After Kaptur beat Kucinich, "Joe the Plumber" will now face the veteran Democrat in the fall.

Still, Wurzelbacher's candidacy has been greeted with enthusiasm by some conservatives. Late last month, Herman Cain came to Ohio to campaign for him.
There's really no chance that any Republican could beat Kaptur in November. The new Ohio 9th is even more heavily Democratic than the old one was since it now includes the urban areas around Toledo, stretches across the shore of Lake Erie, and includes large parts of Kucinich's old 10th District. Leaving aside the fact that Wurzelbacher is a flake, there's simply no way the GOP is going to waste money on this district.
As for Kucinich, who knows what will happen. There's been a suggestion he may try to win a seat in Washington State, but Dave Swindle has some other future career suggestions for the soon-t0-be former Congressman. Personally, Option Three looks like the best option for him.