On Hand-Counting of Ballots
It's a really bad method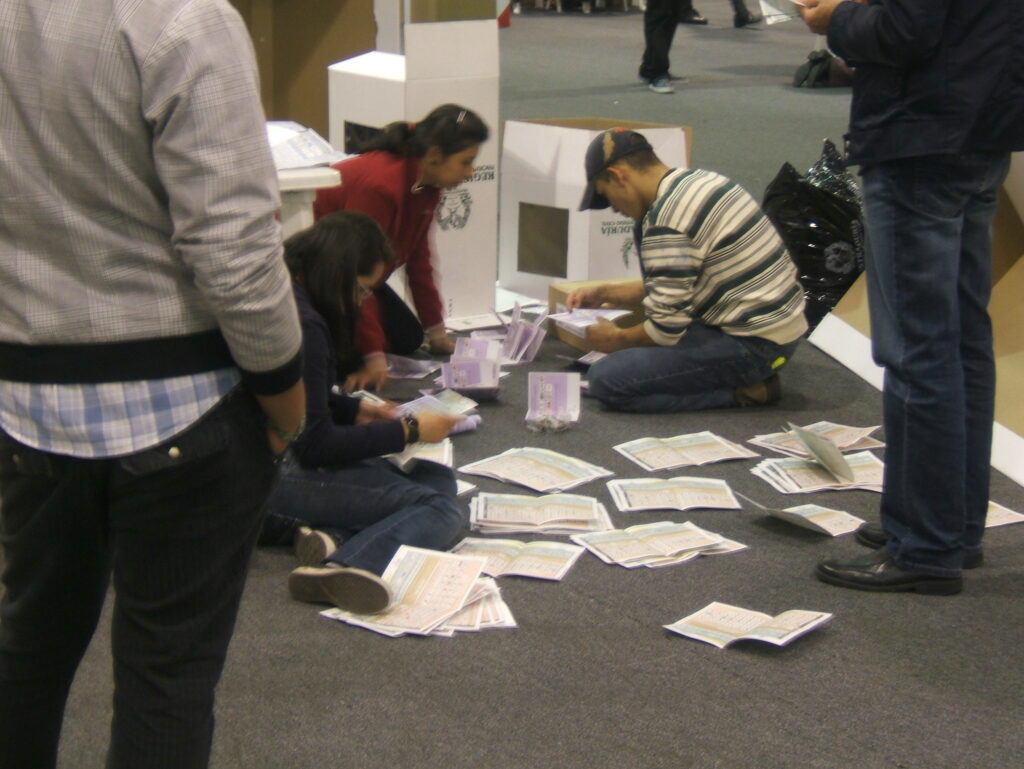 I took the above photo in March of 2010 in Bogotá, Colombia as an election observer. It shows the poll workers (who are citizens basically serving a kind of jury duty) hand-counting the ballots in congressional elections. Each table has a ballot box (indeed, multiple boxes for different offices) and voters are assigned to a specific table. I forget the max number of voters per table, but there are a lot of tables.
For example, here's a blurry picture of a mall parking garage set up with dozens of tables: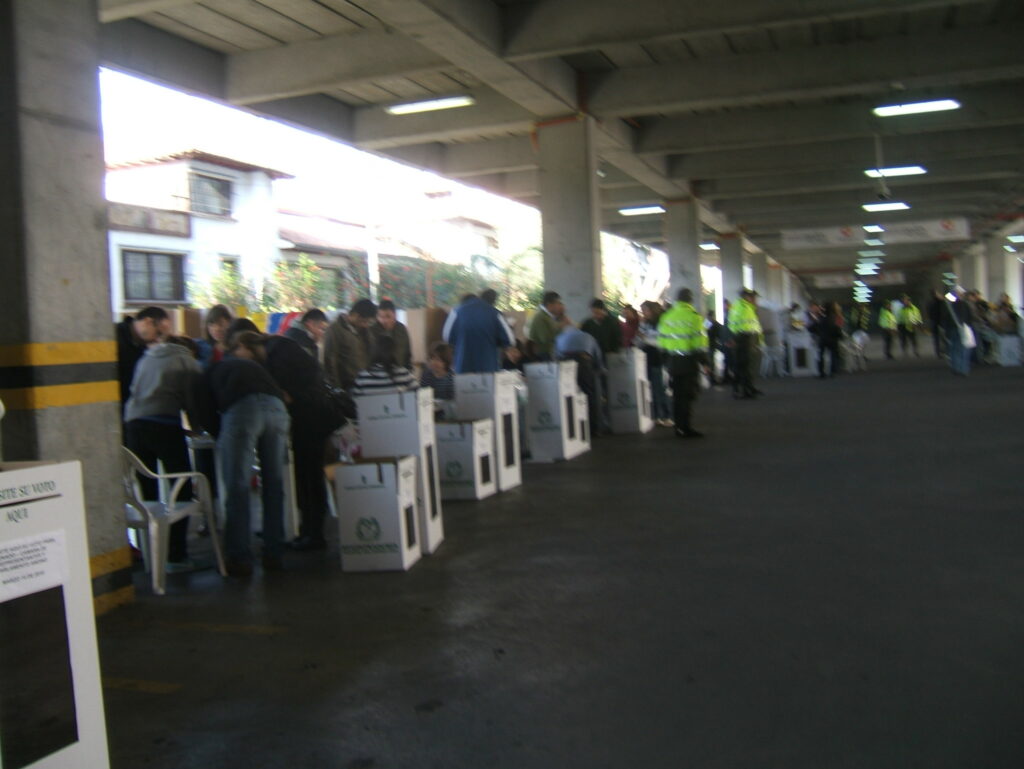 Here's what a given table would look like (from the 2014 presidential elections, which I also observed):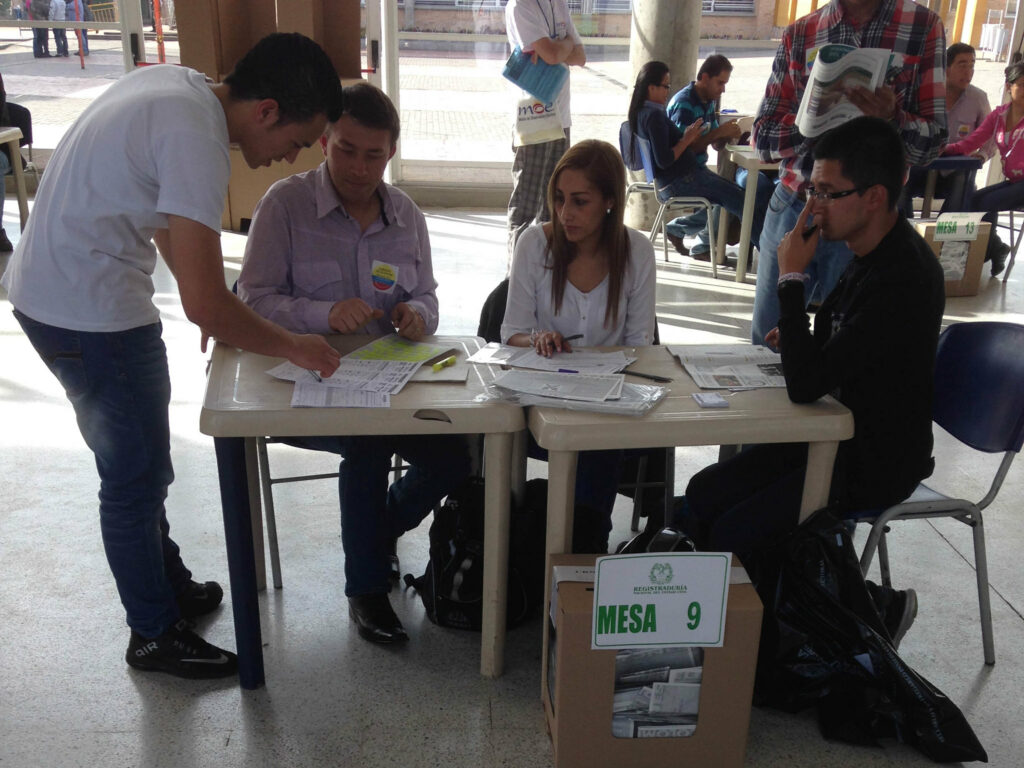 I would note that the process described above is a pretty old one, and hardly represents the state of the art in running elections. I am not certain, but think that this is still the process in Colombia. It was fascinating to observe, but it is hardly what one would call best practices,.
All of this comes to mind because of this NBC news piece: Arizona Republicans wanted to hand-count ballots. Then they saw the price tag — and the errors.
In June, the Mohave County's Board of Supervisors asked the county elections office to develop a plan for tabulating 2024 results by hand. Secretary of State Adrian Fontes, a Democrat, warned Mohave's county supervisors in a June letter that they risked breaking the law if they chose to opt for hand-counting in a future election. A lawyer for the county told supervisors before they voted that the county's legal team wasn't sure it was legal, either.

The test run took place in late June, when elections workers spent three days hand-counting a batch of 850 test ballots from the 2022 election, bringing in seven part-time staffers eight-hour days of counting and four full-time staffers who monitored the process.

Elections Director Allen Tempert told the Board of Supervisors at a Tuesday meeting that the group was a "dream team" of experienced staffers, but the feasibility study nonetheless went poorly.

There were counting errors in 46 of 30,600 races on the ballots, as the team tallying the results of the election made mistakes. According to a report prepared for the Board of Supervisors, some of the observed errors included: bored and tired staffers who stopped watching the process, messy handwriting in tallies, fast talkers, or staffers who heard or said the wrong candidate's name.

Each ballot took three minutes to count, Tempert said. At that pace, it would take a group of seven staffers at least 657 eight-hour days to count 105,000 ballots, the number of ballots cast in 2020. Mohave County would need to hire at least 245 people to tally results and have counting take place seven days a week, including holidays, for nearly three weeks. That estimate doesn't include the time needed for reconciling mistakes, or counting write-in ballots, Tempert's report added.

[…]

The total cost for the staffing, renting for a large venue for the counting, security cameras, and other associated costs was staggering: $1,108,486.
All of this should have been obvious: machines count faster and more accurately than humans. And unless you are going to go the Colombian route and basically draft hundreds, if not thousands, of poll workers, the machines are cheaper, too.
Every time I hear someone wax poetic about the wonders of hand counts, I think back to dropping a deck of playing cards all over the floor and then counting to make sure you got them all. 53? That's not right. 51? Aarrgh!! Or just kowning the difference between hand-grading a scantron form versus letting the machine do it (spoiler: the machine is better and faster).
Back in 2010 when I was watching the Colombian poll workers sit on the floor counting I observed a few errors, all of which were about applying the rules for when a ballot should be counted as spoiled or not, although overall the process went relatively smoothly and the overall tally took less time than you might think. But, again, thousands of workers across the country were involved. Plus, it should be noted, that in this election each ballot was for one office and one office only and the number of offices being contested was somewhere in the mid-single digits. Compare that to a US ballot that might have a dozen or more offices that need counting.
So, yes, hand-counting is a bad idea, and machine counting is far superior, in case anyone was wondering. And the fact that so many Republicans now have it in their heads that it is a good idea is just one other reason that Trump has been bad for the country and our politics.