Once Again, Everybody Hates Congress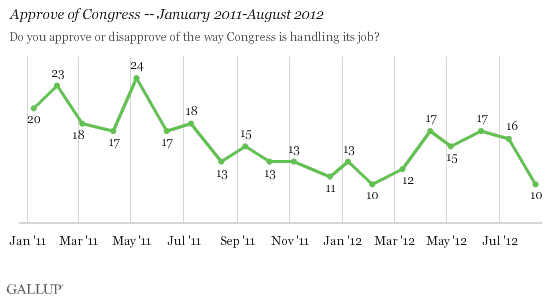 The latest Gallup poll shows that Congressional job approval remains at the lowest level it's ever been:
PRINCETON, NJ — Ten percent of Americans in August approve of the job Congress is doing, tying last February's reading as the lowest in Gallup's 38-year history of this measure. Eighty-three percent disapprove of the way Congress is doing its job.

Congress approval was 30% in Gallup's first measure using this question wording in April 1974, and has averaged 34% across the more than 230 times it has been measured since. Congress approval has been below 40% since early 2005, and below 20% every month since June 2011 — dropping to 10% in February of this year and again now.

Before 2007, Congress approval had been below 20% only twice — in 1979 and 1992. The highest congressional job approval in Gallup's history was 84% in October 2001, a month after the Sept. 11 terrorist attacks on New York City and Washington, D.C.

Congressional approval is down among all political groups and is now virtually the same across these groups — with Democrats at 9%, independents at 11%, and Republicans at 10%. Democrats' approval declined the most, from 18% in July.
Here's a chart showing how this number has fared since 1974: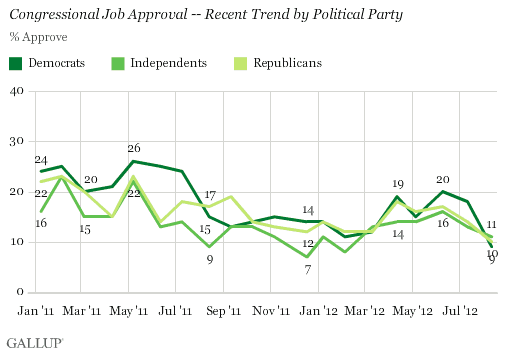 None of this is particularly surprising, of course. These numbers have been going down steadily for years now, as the chart at the top of the post attests. Additionally, hating Congress is a grand American tradition that goes back to the earliest days of the Republic. Nonetheless, one must wonder what the political and social implications are when the basic institutions of our government are held in such low regard.