Oregon: Plasma Screen Sports, Covered Wagon Academics
While the University of Oregon's athletic programs are flourishing in a seas of green, its academic programs are woefully underfunded.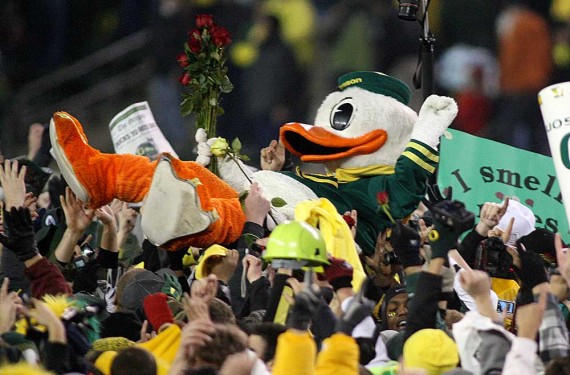 The Oregon Ducks have finished the regular season undefeated and will go on to play the Auburn Tigers for the BCS football championship.   But their academic program is taking some serious shots from fellow PAC10 schools. The Oregonian's David Sarasohn thinks they have a point.
But UW athletic director Scott Woodward went in a different direction. First, Woodward went off on the Ducks before the game, suggesting a certain lack of confidence in the outcome. [Justly so; the Huskies lost 16-53. -jhj] Second, instead of the standard "your school is so lame your mascot is extinct" approach, Woodward became as pointed as a tailgate beef skewer. "It's an embarrassment what their academic institution is, and what's happened to them as far as their state funding has gone," said Woodward. "In my mind, it's a wonderful athletic facility, but they've watched it at the expense of the university go really down. "… Any of the rankings you look at, you watch how far (the Ducks have) dropped because of their state funding."

[…]

Woodward swiftly apologized, and then UW interim President Phyllis Wise ordered him to apologize again, telling him it was a mistake to "criticize publicly another institution's quality." She's not saying he was wrong — just impolite. Wise went on to say, in the comforting tone of a mother assuring someone else's child that next to last is an excellent place to finish, that the U of O "is an excellent public institution that continues to serve the citizens of Oregon well, particularly in light of diminishing state support."

[…]

In 2007-08, for public research universities — UO, Oregon State, Portland State — Oregon laid out $3,849 per year per student in state funding. Washington spent $14,002 per student per year, California $14,835 and Arizona $8,262. (It's not an exact comparison — for example, the other states' figures include medical schools, which Oregon's doesn't — but that's no more than a holding penalty.) After the Pac-10 expands next year, it will include the University of Utah, where the number was $9,030. It won't be easy to have the president of the University of Utah being sensitive and understanding about Oregon.

On Woodward's other point, that the university's academic funding problems sit next to athletic facilities that are galaxy-class — UO passed "world-class" a while ago — it would be embarrassing if he were revealing a secret. But there's some reason to think that the faculty has noticed. As two UO professors wrote in The (Eugene) Register-Guard in 2007, "It is worse than ironic that our academic rankings are dropping as our football rankings rise."

That'll happen when you've got a plasma-screen sports infrastructure and a covered-wagon academic budget.
It should be noted that the Ducks' athletic teams are so lavishly largely because a young Phil Knight ran track for them under Bill Bowerman.  The two would go on to found a reasonably successful sneaker company called Nike.  Knight alone has donated $230 million to his alma mater.  (Along with, I should note, massive amounts to other arguably more worthwhile endeavors.)
As a PhD graduate of Bear Bryant University (officially, The University of Alabama) I tread lightly here.  Then again, despite the public perceptions of the two states, Alabama (and Auburn!) is ranked well ahead of Oregon in the US News rankings.  And Alabama has a top tier law school and an internationally renowned medical school; Oregon has neither.
College sports, especially college football, attracts a rabid following — and I'm part of it.   But, while alumni, boosters, and national television networks rush to deluge institutions with money for football and men's basketball, it's a hell of a lot harder to get the enthusiasm to pay for basic academic programs.   Most state institutions around the country have been in trouble for the last two decades or so, gradually cutting their support for higher ed as prisons, old age care, and other demands take more of the budget.
There's no obvious solution in sight.   Margaret Soltan, who pointed me to this story, would doubtless argue that we could begin by shutting down big time football and getting our priorities straight.  But, while that might have some ancillary benefits, it wouldn't solve the state funding issue and might well dilute the one strong tie that binds most alumni to their school after they leave.