OTB Caption Contest Winners
The How Low Can You Go? Edition OTB Caption ContestTM is now over.
The How Low Can You Go? Edition OTB Caption ContestTM is now over.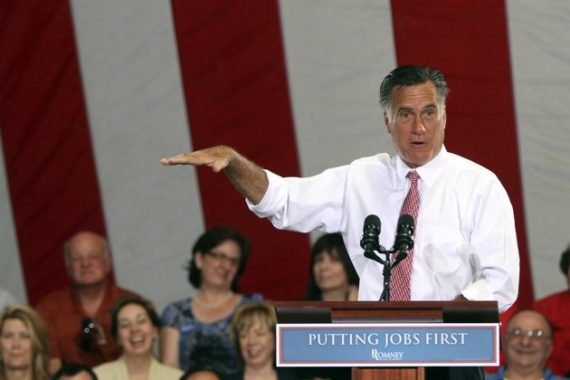 (AP Photo/Mary Altaffer, File)

✰ THE WINNERS ✰
First: john personna – If you aren't this tall, you ride on the roof.

Second: Drew – Dance like an Egyptian…

Third: Herb – "My great-grandfather's fourth wife was this tall when he married her."
HONORABLE MENTION
KRM – Reacting to pressure brought on by Obama's recent executive order, Mitt Romney announces that as president he would "strictly enforce" immigration laws, including the erection of boarder fencing "about this high."

al-Ameda – "Seamus nearly flatlined …."

James H – "You should have seen the one that got away!"

Apl – So, Mr. President, You are so smart and educated. You have all those Degrees; B.S.(Bull SH*t), M.S. (More SH*T), and a P.H.D.! (Piled Hgher and Deeper)!!!!

physics geek – "You must be this tall to become my Vice President."

Robert W. Armijo – "Ron Paul may be gaining delegates in Tampa, but I just got word that I inherited a pile of 'hanging chads' this high."
ℛODNEY'S BOTTOM OF THE BARREL
This is how I would've gotten Bin Laden… with The Claw

Damn dog jumps this high every time I get out that car carrier.

You must donate a stack of bills this high to ride my campaign bus.

Eanie Meanie Chili Beanie… The spirits are about to speak.
The Thursday Contest Still hasn't found Bueller.