OTB Caption Contest Winners
The Standing Room Only Edition OTB Caption ContestTM is now over.
The Standing Room Only Edition OTB Caption ContestTM is now over.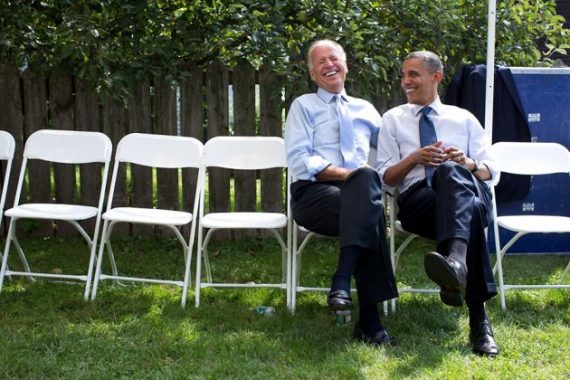 (Pete Souza / The White House)

✰ THE WINNERS ✰
First: Stormy Dragon – Clint Eastwood was horrified to discover that Obama and Biden had been secretly building an army of clones.

Second: markm – Obama: "…I'm not sure I am comfortable with all these empty chairs……"

Third: Chadzilla – Joe I have two pieces of advice for you in your debate that and old friend gave me once. Be clean, be articulate. You'll go far!
HONORABLE MENTION
Allan Bourdius – Sorry Joe, I won't sit on your lap.

jd – Yeah. You can't remember where you put our jackets. That's re-e-eal funny.

Vast Variety – I think someone forgot to send out invitations to this fundraiser.

Robert W. Armijo – "No, seriously. The Surgeon General thinks you may have Tourette syndrome."

KRM – "The best part is, I didn't even bring them a wedding gift!"

Drew – "Sorry, but I couldn't resist rigging the "employed musical chairs game."
ℛODNEY'S BOTTOM OF THE BARREL
"So Which empty chair is Mitt?"
"They all are, I never know which one I'm gonna git"

"These are reserved for the Sesame Street workshop"

"Man Joe, You really know how to clear a room."
"Well, you always fall for my 'Pull My Finger' gag."

"The other chairs are to throw Clint Eastwood off the track."

Waldorf and Statler laugh maniacally as they weren't cut with Big Bird.
The Monday Contest is preparing for the bacon shortage.