OTB Caption Contest Winners
The Survivor: North Pole Edition OTB Caption ContestTM is now over.
The Survivor: North Pole Edition OTB Caption ContestTM is now over.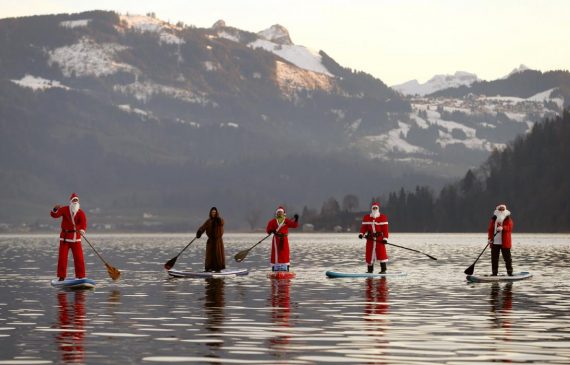 (AP/EPA/Getty/Reuters) 17/27

✰ THE WINNERS ✰
First: markm – "The Paris Climate Agreement was too little too late….Santa was forced to go aquatic"

Second: Paul Hooson – Sitting on four of these Santa's laps is fine. But, sitting on the lap of Death is less satisfying… (Azrael Klaus? – rodney)

Third: Wyatt – "The Four Norsemen of the Apocalypse.
HONORABLE MENTION
Jc – On the fifth day of Christmas my true love gave to me, four paddling Santas… and one Obi-Wan Ken-O-Bi!

Franklin – "I forgot my Jedi Ski" "Ha ha ha, you sleigh me, brother!"

John430 – Yikes! Vikings stunned to learn that the Valkyries are actually old men!"

Mu – "Ok guys, this is where the sled sunk when the ice gave way"

al-Ameda – The War on Christmas will be won on the seas and lakes

Jeremy – New research shows that Jedi Masters do not permanently become Force spirits after they die, but eventually become Santas.

CSK – The photo shoot for the new Beach Boys Christmas album reflected the fact that the boys are no longer quite able to ride the wild surf.
ℛODNEY'S BOTTOM OF THE BARREL
A three hour tour.

Teenage Mutant Ninja Santa's

Santa Ninjas vs Krampus Pirates reopened the unresolved discussion on the internet meme.

It took eons for the Santa's to discover that Darth Klaus was a Sith Lord.