OTB Caption Contest Winners
The Light Flyweight Edition OTB Caption ContestTM is now over.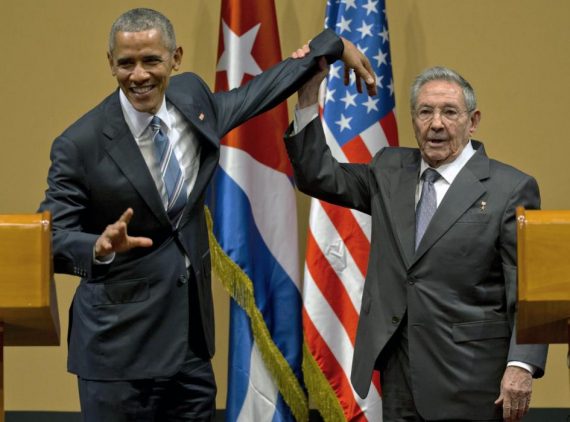 caption]


(AP Photo/Ramon Espinosa)

✰ THE WINNERS ✰
First: Tony W – Mr. Obama reveals his first choice for the Supreme Court seat vacated by Antonin Scalia's death.

Second: Jc – The Cuban Wristle Crisis

Third: DrDaveT – "Oh, jeez, sorry about that. Here, let me put it back on…"
HONORABLE MENTION
Hal_10000 – Subsequently, Rush Limbaugh launched into a three-hour tirade about Obama's "limp-wristed hand-shaking style."

Jeron – The Sword of Damocles. (…that ain't no crime. – rodney)

Mu – I tried the "socialist viagra". It left me this short and at that funny angle.

RockThisTown – Will the real limp-wristed dictator please raise your hand?

C. Clavin – I defeated all those pu$$y Cubans who sit in Miami and whine but don't even try to do anything about it…I sure ain't gonna take nuthin' from this limp-wrist.

J-Dub – "Please, Mr. President, stop rubbing my head."

Paul Hooson – "Mr. President, what is the best thing that Cuba can import to improve her economy?". "Jews…".

Jc – When going hard to the net with capitalism in Cuba, expect to be fouled.
ℛODNEY'S BOTTOM OF THE BARREL
Raoul: "I can't Gitmo Satisfaction."

Raoul: "I haven't had this much fun waving someone's arm since Fidel's stroke."

"See, you can put limpstick on a pig."

Dunk…. denied…