OTB Caption Contest Winners
The Mic Drop Edition OTB Caption ContestTM is now over.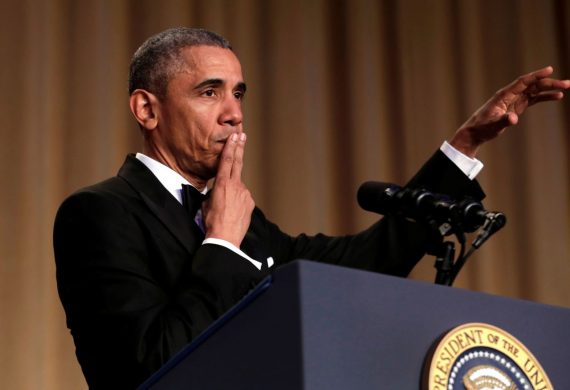 (Photo: Yuri Gripas/Reuters)

✰ THE WINNERS ✰
First: Moosebreath – If you are very quiet, you can hear my last f@%k dropping.

Second: DrDaveT – "…And I did inhale. Just like this…"

Third: al-Ameda – "Sorry, but I forgot my Gas Mask Bong Kit"
HONORABLE MENTION
Hal_10000 – Trump immediately denounced Obama for flashing "gang signs" in his last White House Correspondents dinner.

Paul Hooson – Sign language for the word "lame"?

Jeron – Trump is so going to put Obama on the first plane to Guantanamo as a punishment for having dropped the mic.

edmondo – "Assume my right hand is Wall Street's butt….."

RockThisTown – Sliding trombone? No, just a legacy sliding away . . . . .

Robert W. Armijo – Sadly, just moments after delivering his last address to the annual White House Correspondence Dinner function during his second term – especially after dropping his mic — did President Obama finally realize that he had, though inadvertently, become the racist stereotype that he wasted his entire first term attempting to deny and avoid.

Mu – "And next the second violins"

john430 – "My peace I give you. My peace I leave you."-Obama in his Black Jesus moment.
ℛODNEY'S BOTTOM OF THE BARREL
"So long, and thanks for all the fish… "

"I'm here all night, try the veal."

"Then Raoul held my arm like this and gave me a cigar."

"I dropped the ball long before I dropped the mike. "

Performance art: Playing The Swinette

"First rule of Blight Club… No one talks about Blight Club."

"Thought you missed George W. Bush? Wait until you see who's up next."