OTB Caption Contest Winners
The DON'T PANIC Edition OTB Caption ContestTM is now over.
The DON'T PANIC Edition OTB Caption ContestTM is now over.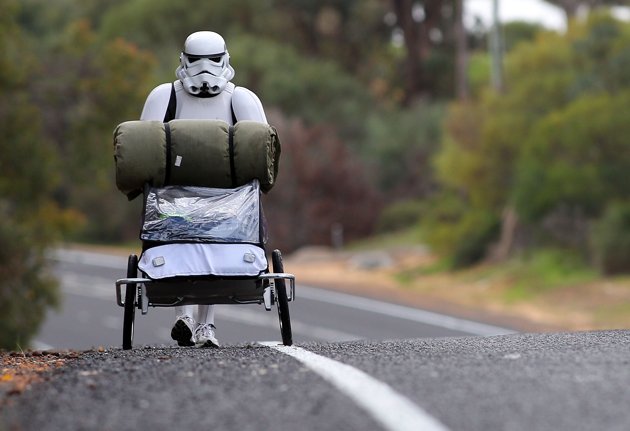 (Photo by Paul Kane/Getty Images)

✰ THE WINNERS ✰
First: Rob in CT – After the Galatic Senate refused to raise the debt ceiling, a lot of Storm Troopers were suddenly out of work…

Second: charles austin – I find your lack of faith in Hope and Change… disturbing.

Third: physics geek – "I knew I shouldn't have bought that ACME tie-fighter. Stupid coyote."
HONORABLE MENTION
Robert W. Armijo – "TK-four-two-one. Why aren't you at your post? TK-four-two-one, do you copy?"

Dave Schuler– Will Fight Rebel Alliance for Food

Maggie Mama – What happens in Vegas doesn't always stay in Vegas … sometimes it goes home.

ponce – This is not the vacation I was looking for.

Doug Mataconis – One unanticipated consequence of the fall of the Galactic Empire was widespread homelessness

OldSouth– Is this the glamorous part of the movie business?
ℛODNEY'S BOTTOM OF THE BARREL
"First, gays in the military, next it'll be women in combat… and they tell me I'm too damn short? WTF?!?"

"I can do the Kessel run in 12 fortnights."

Casey Anthony finds a way to travel the country relatively easily without bother.

"Guess next time I'll eat my peas."

"I'll just hitch a ride on the next Space Shuttle and I'll be home in no time."
The Thursday Contest has already fixed the economy blame.