OTB Caption Contest Winners
The Front Runner Edition OTB Caption ContestTM is now over.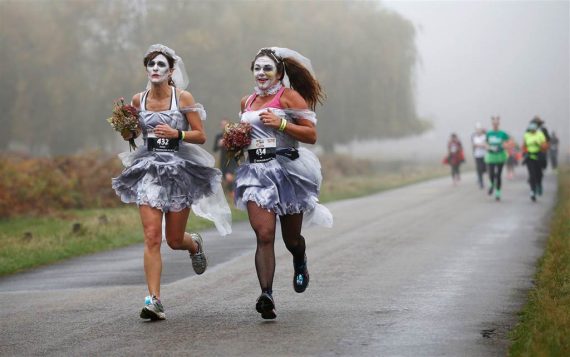 PETER NICHOLLS / Reuters

✰ THE WINNERS ✰
First: Jc – The turnout for the annual "Win a Date with Doug Mataconis 5k" met expectations

Second: barbintheboonies – I love drag racing

Third: CSK – Auditions for the remake of Bride of Chucky were unusually demanding.
HONORABLE MENTION
al-Alameda – "Don't worry, the emails are in my bra … "

Mary Gehman – It's amazing how fast women can run when Anthony Wiener is chasing them…

Paul Hooson – Strangely, nearly as horrifying as that napalm girl photo from the Vietnam War…

john430 – " Hurry! Carlos Danger needs us!"

RockThisTown – Brain-dead Hillary voters rush to the polls before an indictment.

Franklin – Just 50 meters to go! The leaders are running four abreast!
ℛODNEY'S BOTTOM OF THE BARREL
"Boy, I'm glad I didn't dress as a clown."

"This campaigning sure is hard Hillary."
"Shut up, and keep running Huma."

Just one call of "JELLO PUDDING" sends 'em running.