OTB Caption Contest Winners
The Plaid Is The New Black Edition OTB Caption ContestTM is now over.
The Plaid Is The New Black Edition OTB Caption ContestTM is now over.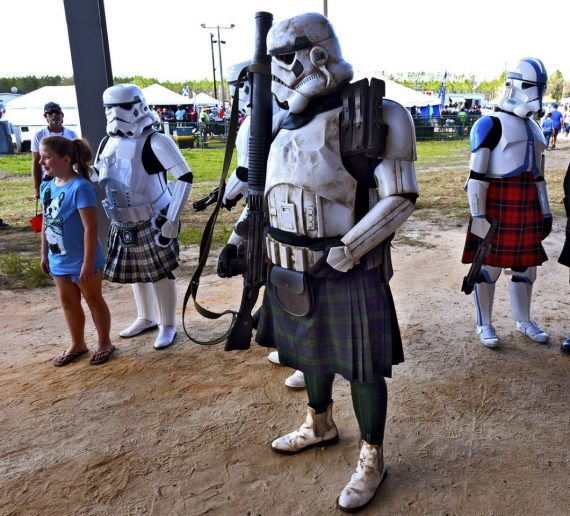 (Photo: Bob Mack/The Florida Times-Union via AP)

✰ THE WINNERS ✰
First: al-Alameda – Ivanka previews her new 'Bannon Collection' for Nordstrom

Second: teve tory – I find your lack of faith and begorrah disturbing.

Third: Gobsmacked – Damn our weak minds. Obi-wan got us again
HONORABLE MENTION
Doug Mataconis – The punishment for not capturing those droids they were looking for was just a bit humiliating.

john430 – Little girl: "Follow me troopers. The rest rooms are this way and are clearly labeled Men, Women and Undecided/Other."

Paul Hooson – It's a kilt now, but then a sexy girl walked by, and they turned into tents…

PogueMahone – If it's not Empirical, it's CRAP!!!

Moosebreath – These are definitely not the droids you are looking for.

Mu – Trump's message on upgrading the troops and extending our friendship to Scotland got garbled.

Moctavius – "This is not the haggis you're looking for."

Flat earth luddite – Star Wars X … The Revenge of Robert the Bruce
ℛODNEY'S BOTTOM OF THE BARREL
These are not the broads you're looking for.

Toto was given only a passing nod in this remake of The Wizard of Oz

Extreme Anti-Pussy Grabbing Measures deployed.

The line for the Man/Woman/Transgender facilities was other worldly

Stacy's and Clinton's heads exploded like the Death Star.

I think the one in the middle is overcompensating for something.