OTB Caption Contest Winners
The Ya Der Hey Edition OTB Caption ContestTM is now over.
The Ya Der Hey Edition OTB Caption ContestTM is now over.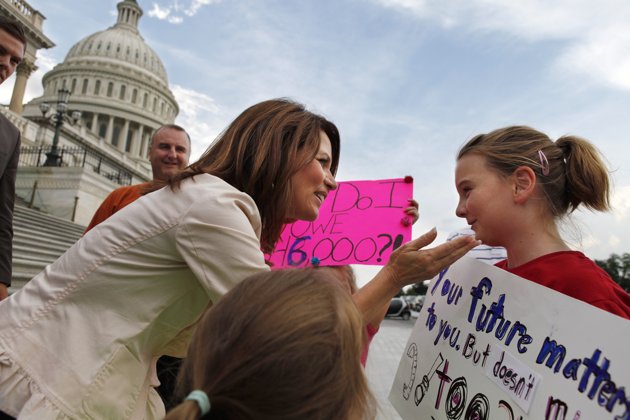 ✰ THE WINNERS ✰
First: Doug Mataconis – "……and then Jesus rode into Jerusalem on the back of a Velocirapter."

Second: Robert W. Armijo – "It's really quite simple, honey. You see by cutting back funding to public education, I can balance the budget and save your future."

Third: markm – Bachman: "Hey hey hey….it's only $46,000. If you enter the labor force now, you should be debt free just in time for college"
HONORABLE MENTION
Trojan in DC – Someone warn her her that gazing directly upon Medusa Bach, I mean Michele Bachmann will turn her to stone. Or was it scare her straight? I can never remember.

JKB – "Remember, girls, eyes up. This is a naked Congressman zone."

jfoobar – "I'll get you, my pretty, and your little dog too!"

Donald Sensing – "Are you ever going to be out of hock to the government? Not by the hair of your chinny chin chin."
ℛODNEY'S BOTTOM OF THE BARREL
"Just remember, if I'm elected the whole country will be like Lake Wobegone."

"Don't want to worry about the debt? Then don't study math too much in school."
The Monday Contest has already been missed in Copenhagen.