Palin Opens The Door To 2012 Bid: Willing To "Give It A Shot"
Is Sarah Palin running for President in 2012 ? It's looking more and more likely that the answer might be yes.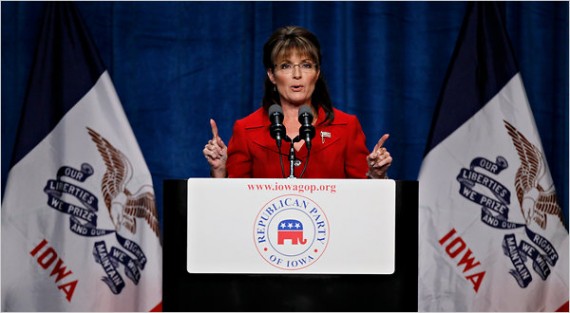 With a successful series of primary endorsements behind her, Sarah Palin is talking openly about the 2012 Presidential Election for the first time:
Sarah Palin may be edging closer to a 2012 presidential run, telling Fox News "I would give it a shot" if the American people think she's "the one."

The former Alaska governor and 2008 Republican vice presidential nominee was in Des Moines, Iowa, Friday for the Reagan Dinner, a big GOP fundraiser in the heart of water-testing country for presidential candidates.

Palin has remained coy about her ambitions, but she elaborated a bit in an interview with Fox News, attaching several conditions to the possibility of a 2012 presidential run.

"If the American people were to be ready for someone who is willing to shake it up, and willing to get back to time-tested truths, and help lead our country towards a more prosperous and safe future and if they happen to think I was the one, if it were best for my family and for our country, of course I would give it a shot," she said.

"But I'm not saying that it's me. I know I can certainly make a difference without having a title. I'm having a good time doing exactly that right now."
Not coincidentally I suspect, Palin spoke last night at the Iowa Republican Party's Ronald Reagan Dinner, and sounded an awful lot like someone who's at least seriously thinking about running for President:
Sarah Palin drew the largest crowd here tonight in the history of the Iowa Republican Party's Ronald Reagan Dinner – more than 1,500 people.

"In just 46 days Republicans will put their ideas and their experience on the line to let the voters decide," Palin said at the Republican Party of Iowa's fundraiser at Hy-Vee Hall in Des Moines. "It is time to unite.'

The $100-per-plate event, which started nine years ago, is expected to help the state Republican Party raise more than $100,000, said spokeswoman Danielle Plogmann.

Palin, the former Alaskan governor and John McCain's 2008 vice presidential running mate, told the crowd that Republicans must stay determined, citing her own experiences as inspiration.

"I've lost games, races, reputation," Palin said. "You lose some, you win some."

Palin's visit has stoked speculation about whether she will seek the party's 2012 presidential nomination.

Iowa's presidential caucuses are expected to kick off the presidential nominating sequence in February 2012.

But Palin gave little hint about her plans, either in her speech or her schedule in Iowa. She did tell a joke about a conversation with her husband in which he advised her not to be caught in tennis shoes or else face headlines of "Palin in Iowa decides to run."

The crowd roared.
Here's the video of the speech, which is worth watching if only to note the reaction of the Republican, if not entirely pro-Palin, audience:
As I've noted before, strong early success in Iowa would seem to be the key to any hope that Palin might have of succeeding in the GOP primaries in 2012:
If she does decide to run, it would seem to me that a strong showing in Iowa is going to be essential for her. For a whole variety of reasons, not the least of them being Mitt Romney's regional association with the state, it seems apparent that Palin would have a hard time pulling off a victory in New Hampshire and, unless she decides to skip Iowa and New Hampshire entirely and concentrate on South Carolina, she'll have to pull off an early win in Iowa to show that she has a viable campaign.

Mike Huckabee, on the other hand, will be expected to repeat his 2008 victory in Iowa and anything less than first place is likely to be spun as a loss by the punditocracy. So, again assuming both of them run, expect the Republican caucuses to be a battle between Palin and Huckabee for the social conservative vote there.
For the moment at least, she would seem to have an uphill fight in the Hawkeye State:
The race for the 2012 Republican presidential nomination is already underway in Iowa.  Potential candidates like Tim Pawlenty, Rick Santorum, and Newt Gingrich are already making frequent visits to the state that hosts the First-In-The-Nation Caucuses.

While most people, including most Iowans, think that there is plenty of time before the 2012 presidential campaign will be in full swing, the clock is already counting down to caucus day 2012.  What these candidates realize that most people don't comprehend yet is that the first contest is the Iowa Straw Poll, which is now less than a year away.

The Iowa Straw Poll is an event sponsored by the Republican Party of Iowa and has historically winnowed the field the presidential candidates the summer before the actual nominating process begins.  That means that one year from now, the presidential field will probably contract, just like it did in 2007, 1999, and 1996.

With all of that in mind, TheIowaRepublican.com polled 399 Iowa Republicans who consider themselves likely voters.  We wanted to see what they think about the potential field of candidates as the 2012 presidential nomination gets underway.

The poll shows that the 2012 contest is going to begin right where the 2008 Iowa Caucuses left off, with Mike Huckabee leading Mitt Romney.  Huckabee comes out on top of the poll garnering 22 percent, Romney finishes second with 18 percent, and Newt Gingrich finishes surprisingly well with 14 percent in third place. Sarah Palin finishes a disappointing fourth with 11 percent. Texas Congressman Ron Paul garnered 5 percent, while Pawlenty, and South Dakota Senator John Thune each received 1 percent.

Former U.S. Senator Rick Santorum garnered support in the poll but it did not surpass the one percent threshold.  Mississippi Governor Haley Barbour and Texas Governor Rick Perry did not register any support in the poll.  Twenty three percent of those surveyed remain undecided.  Huckabee and Romney's strength in the poll is expected as both were able to generate a lot of interest with their 2008 campaigns.  Obviously, many people remain loyal to the candidates they supported in 2008.
Assuming all these parties get into the race, it's going to be a battle between Huckabee, Palin, and to some extent Gingrich in Iowa. Which is why the Iowa Straw Poll next August is likely to be the hardest fought "winner take nothing really" contest in years.