Patriot News Editorial: Obeying The Law Is Not Enough
The Harrisburg, Pennsylvania Patriot-News made this editorial the entirety of today's front page: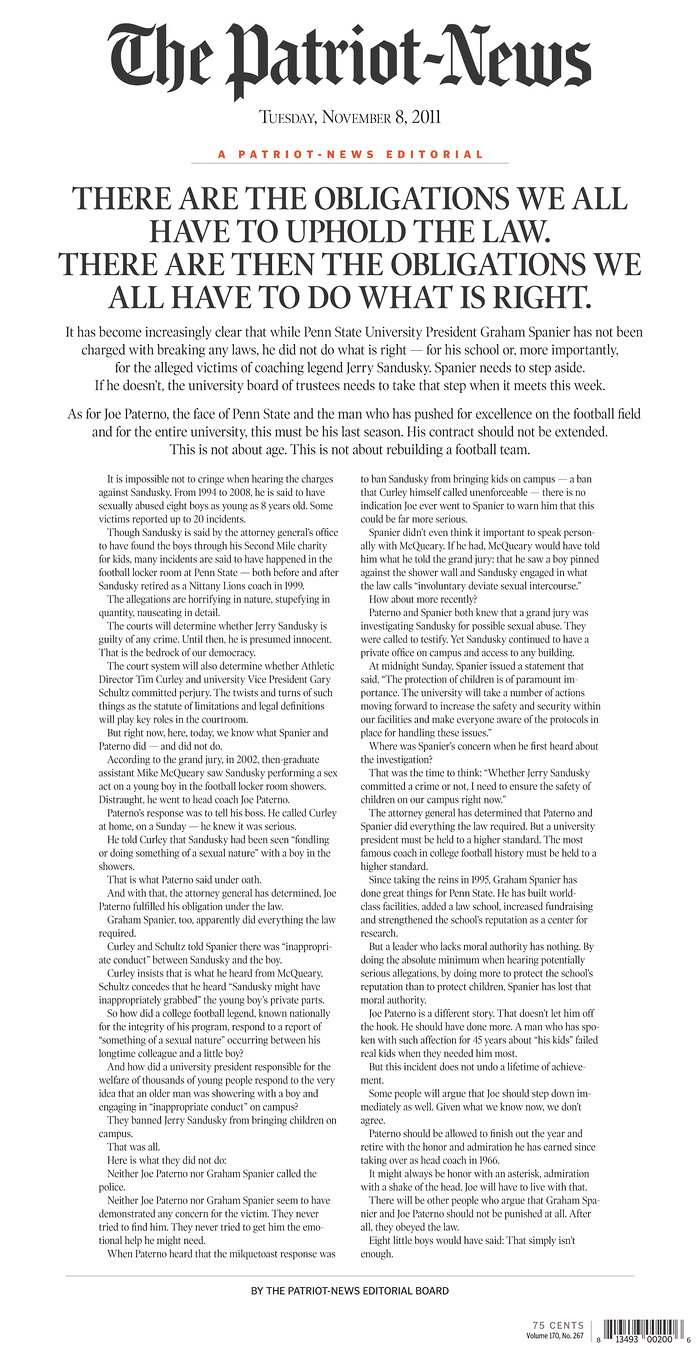 There are the obligations we all have to uphold the law. There are then the obligations we all have to do what is right.

It has become increasingly clear that while Penn State University President Graham Spanier has not been charged with breaking any laws, he did not do what is right — for his school or, more importantly, for the alleged victims of coaching legend Jerry Sandusky.

Spanier needs to step aside. If he doesn't, the university board of trustees needs to take that step when it meets this week.

As for Joe Paterno, the face of Penn State and the man who has pushed for excellence on the football field and for the entire university, this must be his last season. His contract should not be extended.

This is not about age. This is not about rebuilding a football team.

[…]

The attorney general has determined that Paterno and Spanier did everything the law required. But a university president must be held to a higher standard. The most famous coach in college football history must be held to a higher standard.

Since taking the reins in 1995, Graham Spanier has done great things for Penn State. He has built world-class facilities, added a law school, increased fundraising and strengthened the school's reputation as a center for research.

But a leader who lacks moral authority has nothing. By doing the absolute minimum when hearing potentially serious allegations, by doing more to protect the school's reputation than to protect children, Spanier has lost that moral authority.

Joe Paterno is a different story. That doesn't let him off the hook. He should have done more. A man who has spoken with such affection for 46 years about "his kids" failed real kids when they needed him most.

But this incident does not undo a lifetime of achievement.

Some people will argue that Joe should step down immediately as well. Given what we know now, we don't agree. Paterno should be allowed to finish out the year and retire with the honor and admiration he has earned since taking over as head coach in 1966.

It might always be honor with an asterisk, admiration with a shake of the head. Joe will have to live with that.

There will be other people who argue that Graham Spanier and Joe Paterno should not be punished at all. After all, they obeyed the law.

Eight little boys would have said: that simply isn't enough.
via Aaron Brazell