Paul Ryan, Donald Trump, And The Future Of The Republican Party
Paul Ryan is declining to back Donald Trump for the time being, but other Republicans are making their own choices.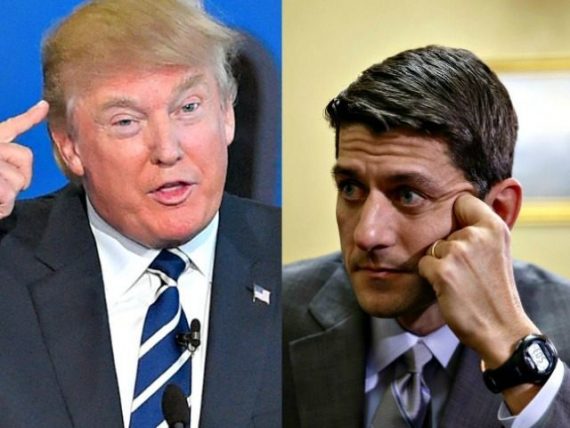 In a sign of just how contentious things are likely to become for Republicans over the coming months, Speaker of the House Paul Ryan said in an interview late yesterday that he was not yet prepared to back Donald Trump for President:
WASHINGTON — In an extraordinary rebuke of his party's presumed nominee, Speaker Paul D. Ryan, the nation's highest-ranking elected Republican, said Thursday that he was "not ready" to endorse Donald J. Trump for president.

Mr. Ryan's announcement represented a split among Republicans not seen in at least a half century, and it came only two days after Mr. Trump said he would unify the party after essentially clinching the nomination with his victory in the Indiana primary.

As the chairman of the Republican National Convention, Mr. Ryan has repeatedly said he would support his party's nominee as Republicans tried to regain the White House and solidify control of Congress.

But the combination of Mr. Trump's at times outrageous remarks — insulting women, Hispanics and Muslims — and his broad rejection of many core Republican policies proved too toxic a brew for Mr. Ryan as he defended his majority in the House, the reputation of his party and his own viability.

Within an hour, Mr. Trump offered a biting rejoinder, saying in a statement that he was "not ready to support Speaker Ryan's agenda."

"Perhaps in the future we can work together and come to an agreement about what is best for the American people," he said. "They have been treated so badly for so long that it is about time for politicians to put them first!"

Mr. Ryan, who made his remarks in an interview with CNN, said Republicans want "a standard-bearer that bears our standards."

"I think conservatives want to know: Does he share our values and our principles on limited government, the proper role of the executive, adherence to the Constitution?" he said. "There's a lot of questions that conservatives, I think, are going to want answers to."

Mr. Ryan's ambivalence toward Mr. Trump adds another layer of division in a party torn by the billionaire developer's ascent, placing him at odds with his fellow Wisconsinite, Reince Priebus, the party chairman, who pronounced Mr. Trump the presumptive nominee and said Republicans should fall in line. Mr. Priebus was not aware Mr. Ryan was going to make the statement, his spokesman, Sean Spicer, told CNN.

Although Mr. Ryan said he had expected the race to run at least a few more weeks, he had spent the last day honing his position, aides said, even as others, like Senator Mitch McConnell of Kentucky, the majority leader, voiced unequivocal if not effusive support for Mr. Trump. While Mr. Ryan's defiance put him in line with a number of other prominent Republicans, Mr. Trump has defied convention throughout the campaign, so the long-term effect was at best uncertain.

In a campaign that has delivered a daily dose of head-shaking moments of awe, Mr. Trump on Thursday continued the trend, in a manner that made some Republicans cringe. In honor of Cinco de Mayo, Mr. Trump posted a photo on Twitter of himself digging into a taco bowl — made in the Trump Tower food court, of course — and included in the caption "I love Hispanics."

A party nominee has never failed to gain the support of a House speaker or majority leader from his party in modern times. In 1896, Speaker Thomas Brackett Reed ran against William McKinley and made it be known he would not serve as vice president, but ended up backing the nominee.

In 1964, Senator Barry Goldwater had to wait a bit uncomfortably for the endorsement of Senator Everett Dirksen of Illinois, but Mr. Dirksen gave it and thus ended the stop-Goldwater movement.

While Mr. Ryan's remarks caught Republicans off guard, it also gave them essentially a permission slip to go their own way on Mr. Trump's candidacy. Had Mr. Ryan issued a forceful endorsement, it would have put pressure on fellow House Republicans to follow his lead, a step many have been unwilling to take.

"I'm not there right now," Mr. Ryan said. "And I hope to, though, and I want to. But I think what is required is that we unify the party, and I think the bulk of the burden on unifying the party will have to come from our presumptive nominee."
Yesterday's announcement was not the first sign that Ryan was not entirely comfortable with the idea of Donald Trump as the potential leader of the Republican Party, or as party's nominee as President. As The New York Times noted back in February, the differences between the two men go far beyond a particular political style and include significant policy differences as well as the fact that Ryan is far more interested in pursuing a substantive policy agenda than Trump appears to be based on his rhetoric. Additionally, at various times during the Republican nomination process Ryan has given speeches that were openly critical of Trump to the point where he was eventually forced to emphatically deny that he had any interest in being part of an effort to deny Trump the nomination at a contested convention, something that would have put him in an uncomfortable position in any case considering that Ryan will be presiding over the convention itself. Ryan was also harshly critical of Trump's plan to exclude Muslim immigration into the United States and his at first apparent refusal to repudiate the endorsement of former Ku Klux Klan leader David Duke. A common thread through all of Ryan's comments about Trump, though, lies a seeming recognition on his part of the dangers that Trump's candidacy present for the Republican Party.
While Ryan was distancing himself from Trump, at least for the time being, other Republicans were making their own choices. Former Massachusetts Governor Mitt Romney announced yesterday,for example, that he would not be attending the Republican National Convention, but also made it clear that he would not be part of any last-minute bid to launch a third-party bid against Trump. On the other side of the debate, former candidates for President such as Rick Perry , who once called Trump a cancer on conservatism, and Rand Paul, who was among Trump's more vocal critics during th course of the campaign, announced their support for Trump notwithstanding their previous criticism. Sitting Republican politicians such as South Carolina's Nikki Haley also said she'd support Trump, but took her name out of contention as a potential Vice-Presidential pick. Additionally, top Republican donors such as Sheldon Adelson and Ken Langone have also started getting on board with the idea of a Trump campaign. In other words, Republicans like Ryan who are either rejecting the idea of backing Trump or holding back on their support for now appear to be the exception rather than the rule. As I tended to expect would happen, the Republican Party is rallying behind Trump for better or worse, something it will likely come to regret.
In the end, one suspects that even Speaker Ryan will make his peace with Trump for the time being. At the very least, it would be somewhat uncomfortable for the person who will be presiding over the upcoming Republican National Convention to be openly opposed to the party nominee, and Ryan is aware as anyone else of the importance of presenting a united face to the nation at least at the beginning of the General Election campaign. As time goes on, though, one suspects that Ryan, along with Senate Majority Leader Mitch McConnell, who has already voiced support for Trump, will pay more attention to the fortunes of the Republican caucus on Capitol Hill than the Presidential race, especially given the fact that most analysts seem to agree that Trump at the top of the ticket increases the danger of the GOP losing control of the Senate after having just obtained the majority in 201 4. Additionally, if Trump's campaign starts going off the rails in the manner that it did during the primary season, the support we're seeing now is likely to become far less pronounced as Republicans in the House and Senate seek to preserve their own positions as much as possible in the wake of potential electoral disaster. Such last minute panic, though, is unlikely to help matters, and voters are likely to remember the positive comments we're hearing today from Republicans who really ought to know better.