Paul Ryan's Budget Plan Is Not Serious
The Chairman of the House Budget Committee is proposing a budget that is based largely on fantasy.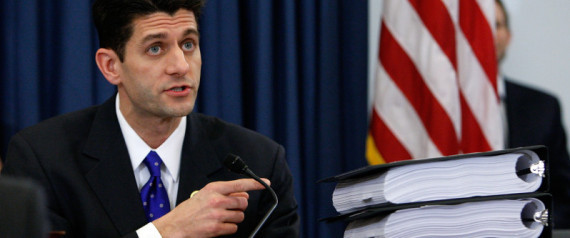 Later this week, House Budget Committee Chairman Paul Ryan will unveil a budget plan for Fiscal Years 2013. As with his previous plan, it's quite likely that it will become the budget that the House GOP ends up adopting for the coming year. There's only one problem, it's based on a completely unrealistic assumption:
House Budget Committee Chairman Paul Ryan on Sunday defended his new budget's assumption that President Barack Obama's healthcare law would be repealed.

"Are you saying, as part of your budget you assume the repeal of ObamaCare?,"  "Fox News Sunday" host Chris Wallace asked the Wisconsin Republican and former vice presidential nominee.

"Yes," Ryan answered,

"Well, that's not going to happen," Wallace said.

Republicans have long advocated a repeal of the Affordable Care Act. But Obama's reelection and continued Democratic control of the Senate make a repeal virtually impossible. Nevertheless, Ryan said budget documents were about a vision for the country.

"We believe Obamacare is a program that will not work," Ryan said. "We believe Obamacare will actually lead to hospitals and doctors and health care providers turning people away."

"We don't think healthcare's going to be improved in this country," Ryan said. "We think it's going to look very ugly over the nansext couple of years."

"That's why we're going to propose replacing Obamacare with patient centered health care — with a better healthcare system for everybody," Ryan said.
It's perfectly legitimate, I think, for Republicans to propose alternatives to the Affordable Care Act, to draw attention to the numerous stories have have come out over the past several months regarding massive increases in health insurance premiums resulting from the PPACA, and the problems with implementing a plan that nobody in Congress seems to have given thought about before they voted for it.  Indeed, one wishes that Republicans had done these things back in 2009-2010 when the plan was being debated  in Congress instead of screaming and shouting about "socialized medicine" without offering any real alternative of their own. Despite the fact that the PPACA was upheld by SCOTUS last year, it seems clear to me that we'll be discussing health care "reform" again before the law turns ten years old, largely because of the cost issues mentioned above.
Ryan isn't talking about health care reform, though. He is submitting what purports to be a balanced budget plan that contains an assumption that ObamaCare will be repealed in its entirety. This has been a goal of the Republican Party since before the ink was dry on President Obama's signature, of course. During the 112th Congress the House GOP voted some 33 times to repeal the PPACA in whole or in part. None of these bills went anywhere, and indeed most of them were never voted upon by the Senate. Had the Senate taken up the bills, of course, it would have rejected them on a strict party line vote. Had the Senate somehow managed to pass one of these bills, President Obama would have vetoed it and there would not have been sufficient votes in either the House or the Senate to override the veto. In the 113th Congress, Republicans have two fewer Senate seats and about ten fewer House seats. And Barack Obama is still the President. The prospect of the law being repealed is simply non-existent, and yet Ryan's plan includes just that event as its central assumption.
Assumption are nothing new when it comes to the budget process, of course. Whether it's the White House, Democrats, or Republicans, every budget plan that's submitted includes certain assumptions regarding things like the rate of economic growth, interest rates, and the amount by which spending is expected to grow over the subsequent ten years. Quite often, one or more of those assumptions ends up being off in some respect, which is why there is always a difference between the level of spending and revenues in a budget plan and what the government ends up collecting. At the same time, though, those assumptions have to have some basis in reality or the budget plan itself will end up being a joke. And that's exactly what Ryan's budget plan is. It's effectively equivalent to a budget plan that assumes GDP growth rate between 5 and 6 percent for a sustained period of time. As in that case, Ryan is assuming something that simply isn't going to happen, which pretty much makes his entire budget plan not worth the paper it was written on.
It's been suggested by some on Twitter this morning that Ryan's budget is effectively the opening move of the GOP in upcoming budget negotiations, and I'm sure that's what Ryan is thinking here. However, it strikes me that when you enter negotiations with an opening offer that clearly has no chance of ever becoming law and which is based on fantasy, then you're giving the impression that you aren't taking negotiations seriously. Republicans can come up with a better plan than this, and they ought to get to work on it.