Pay For Play At Mar-A-Lago
Donald Trump's "Winter White House," which has effectively become a "Weekend White House," is basically selling access to the President.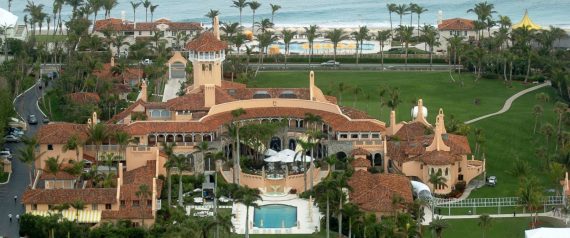 Barely two months into his Presidency, Donald Trump is already finding ways to profit off of it:
If you pay $200,000 a year to the company Donald Trump owns, you too can have access most weekends to the president and his top officials. As an alternative, your organization could cut a $150,000 check to bring in a couple of hundred people who will have a chance to schmooze with the president and cabinet officials. Foreign moguls and dignitaries welcome.

This isn't Bill Clinton's Lincoln Bedroom. This isn't the Clinton Foundation during Hillary's reign at the State Department. This is Mar-a-Lago.
All of this comes from Timothy Carney at The Washington Examiner, hardly a bastion of the left-wing media bias that conservatives typically complain about. Carney also notes that this pay-for-play was on full display last night at a major benefit hosted by Trump at the estate. For the price of $50,000 and up, people could get access to the President and his wife, and those who did show up were getting to meet Attorney General Jeff Sessions, who was mingling with the guests and acting as a greeter at the same time that his Justice Department is apparently investigating the very election that put this President into office. Let's let that sink in for a second. The Attorney General was acting as a greeter in the same manner that a retired boxer or other professional athlete is often paid tens of thousands of dollars to do at a Las Vegas casino. If this were happening under a Democratic Administration, Republicans would be in an uproar.
Carney goes on to explain why these allegations are so important:
Access to the president and his Cabinet are incredibly valuable. This is why companies spend millions a year on lobbying. This is why President Obama's golfing buddy Robert Wolf was able to set up a powerful consultancy in the Obama years. This is why Indian tribes paid Jack Abramoff so much money.

In those cases, it was associates of the president who sold access to the president. With Mar-a-Lago, it's the president himself profiting from access to him. Trump refused to sell his company or unload his properties. While he has given up management of them, he still owns them. That means he still profits when someone books a gala there or becomes a member. And if you've followed the lobbying game in Washington, you know that special interests are likely shelling out the cash to get a chance to be close to the president — not necessarily because they expect Trump to reward them as a quid pro quo for their membership, but because joining Mar-a-Lago is the best way to get close to him.
None of this should come as a surprise, of course. Much of it was apparent long before the election and was discussed along with the other numerous conflicts of interests that Trump would face if he were elected President and did not place his business holdings in a blind trust. As it stands, the arrangements that he made in March, under which his ownership interest in The Trump Organization was placed in a trust of which he is the sole beneficiary while his eldest sons and daughter take over  management of the business is most emphatically not a blind trust. Moreover, Trump remains well aware of actions that benefit his business and pecuniary interests even while the purpose of the supposed trust is to make sure that there is a "Chinese wall" between the politician in question and his business and investment interests. We have nothing of the sort here, instead, we have a situation where foreign governments, government officials, and business leaders, along with domestic business leaders and representatives of various interest groups, believe that they can get close to the President and buy the much coveted access to the person behind the Resolute Desk that everyone wants by currying favor with Trump, his businesses, and his favored charities. And what's happening at Mar-A-Lago demonstrates that they're absolutely correct.