Pennsylvania Ponders Bold Democrat-Screwing Electoral Plan
Republicans have a plan to wrest half of the Keystone State's electors from Obama.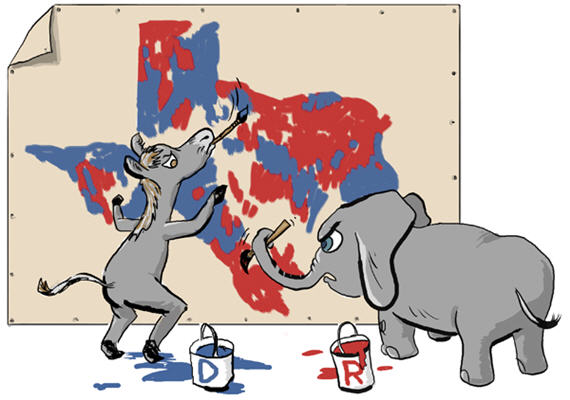 Kevin Drum decries the Republican tactic of "actively subvert[ing] the infrastructure and funding that allow[s] the opposing party to exist at all." He cites tort reform and anti-union legislation, which strikes me as perfectly explainable by legitimate policy goals; voter ID laws, which are perfectly explainable by widely existing if irrational fears; and mid-decade redistricting and institutionalizing the filibuster, both of which I agree are wrong and have repeatedly condemned.
The latest example, though, is intriguing. Citing his MoJo colleague Nick Baumann ("The GOP's Genius Plan to Beat Obama in 2012"), he sees "a cynical ploy to change the electoral map to arbitrarily favor the Republican Party" about which "There's really no one left who might object to this merely out of a decent respect for institutional integrity and fairmindedness."
This would ordinarily be a clarion call to people like myself, who not only condemned the Texas mid-term redistricting but also the recall effort against Democrat Gray Davis. But I'm not sure that this isn't actually just smart political gamesmanship:
Under the Republican plan—which has been endorsed by top Republicans in both houses of the state's legislature, as well as the governor, Tom Corbett—Pennsylvania would change from this system to one where each congressional district gets its own electoral vote….Under the Republican plan, if the GOP presidential nominee carries the GOP-leaning districts but Obama carries the state, the GOP nominee would get 12 electoral votes out of Pennsylvania, but Obama would only get eight—six for winning the blue districts, and two (representing the state's two senators) for carrying the state. This would have an effect equivalent to flipping a small winner-take-all state—say, Nevada, which has six electoral votes—from blue to red. And Republicans wouldn't even have to do any extra campaigning or spend any extra advertising dollars to do it.

[…]

It doesn't necessarily end there. After their epic sweep of state legislative and gubernatorial races in 2010, Republicans also have total political control of Michigan, Ohio, and Wisconsin, three other big states that traditionally go Democratic and went for Obama in 2012. Implementing a Pennsylvania-style system in those three places—in Ohio, for example, Democrats anticipate controlling just 4 or 5 of the state's 16 congressional districts—could offset Obama wins in states where he has expanded the electoral map, like Virginia, North Carolina, Colorado, or New Mexico. "If all these rust belt folks get together and make this happen that could be really dramatic," says Carolyn Fiddler, a spokeswoman for the Democratic Legislative Campaign Committee, which coordinates state political races for the Dems.
Presumably, though, Democrats could fight back by doing the same sort of things in states they control. And, certainly, they've not been above changing the rules in their favor, for example dumping candidates for statewide office and then changing the replacement rules to suit their needs or stripping and then re-instituting the power of the Massachusetts governor to appoint replacement Senators based on whether Mitt Romney held the power.
Beyond that 1) states have long held the power to allocate their Electors as they choose; 2) Maine and Nebraska have long done this, so it wouldn't break any new ground; 3) winner-take-all is pernicious, especially in swing states, which by definition have closer contests;  4) the rules would be known well in advance of the general election campaign; and 5) the partisan impact is neither permanent nor certain.
The last of those is by no means least. It's by no means certain that, whatever the intent, this will advantage Republicans. Pennsylvania has 7.8% unemployment. An August Quinnipiac poll shows a majority of Pennsylvanians believing Obama does not deserve a second term, Mitt Romney beating Obama, and Obama in a statistical tie with Rick Santorum! It's at best even odds that Obama takes the state. So, this tactic could actually do Obama a favor in 2012.
Drum's own state, California, was actually considering doing this back in 2007. After being a reliable Republican state forever, it's been a reliable Democratic state since 1992. As a result, the state with by far the largest population is an afterthought in the campaign. The initiative failed, as best I could tell from reading the papers at the time, mostly for logistical rather than philosophical or partisan reasons.
Furthermore, I've been writing for more than five years now about a plan to abolish the Electoral College by stealth called the Campaign for a National Popular Vote. Essentially, it's a scheme to get enough states to elect a president (i.e., a total of 270 Electoral votes) to band together and vote for whichever candidate wins the national popular vote, regardless of who won their state or by what margin. Massachusetts signed onto it last July, joining Illinois, New Jersey, Hawaii, Maryland, and Washington. That would be a much more radical reform of the system, upending more than two centuries of history. And it's perfectly fair game.
I'm all for re-enfranchising voters who happen to be of the minority party in their states. In the best of all worlds, we'd adopt the change all at one time. Failing that, however, I don't see why states whose electorates put one party in charge of all the levers of power can't decide to be first movers in the interest of advantaging said party.
Headline shamelessly stolen from Dave Weigel.