Petraeus Committed Felonies, FBI Finds
David Petraeus provided highly classified secrets to his mistress. Will he be charged?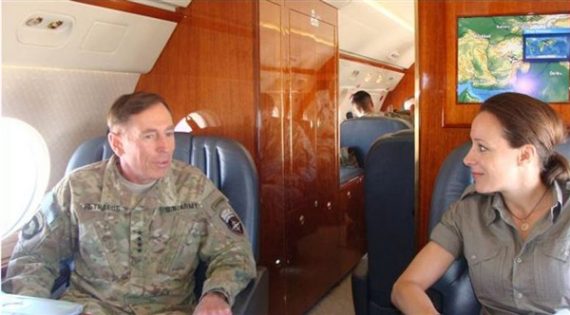 A Justice Department investigation finds that former CIA director David Petraeus illegally provided highly classified secrets to his mistress.
NYT ("F.B.I. and Justice Dept. Said to Seek Charges for Petraeus"):
The F.B.I. and Justice Department prosecutors have recommended bringing felony charges against David H. Petraeus, contending that he provided classified information to a lover while he was director of the C.I.A., officials said, leaving Attorney General Eric H. Holder Jr. to decide whether to seek an indictment that could send the pre-eminent military officer of his generation to prison.

The Justice Department investigation stems from an affair Mr. Petraeus had with Paula Broadwell, an Army Reserve officer who was writing his biography, and focuses on whether he gave her access to his C.I.A. email account and other highly classified information.

F.B.I. agents discovered classified documents on her computer after Mr. Petraeus resigned from the C.I.A. in 2012 when the affair became public.

Mr. Petraeus, a retired four-star general who served as commander of American forces in both Iraq and Afghanistan, has said he never provided classified information to Ms. Broadwell, and has indicated to the Justice Department that he has no interest in a plea deal that would spare him an embarrassing trial. A lawyer for Mr. Petraeus, Robert B. Barnett, said Friday he had no comment.

The officials who said that charges had been recommended were briefed on the investigation but asked for anonymity because they were not authorized to discuss it.

Mr. Holder was expected to decide by the end of last year whether to bring charges against Mr. Petraeus, but he has not indicated how he plans to proceed. The delay has frustrated some Justice Department and F.B.I. officials and investigators who have questioned whether Mr. Petraeus has received special treatment at a time Mr. Holder has led a crackdown on government officials who reveal secrets to journalists.
Of course Petraeus is getting special treatment; almost anyone else would have been charged and imprisoned long ago. But while the "we wouldn't hesitate a moment to charge a private soldier who'd committed the same transgressions" argument is powerful, it's not dispositive.
First, Petraeus was a national hero and served, to the best of my knowledge, quite honorably for more than four decades until his ignominious fall. The attorney general and president quite naturally have to decide whether his transgressions here merit prosecution given his long history of service. Additionally, especially for a Democratic president who never served in the armed forces, there's the issue of the public backlash that would follow charging arguably the most famous American general of the postwar era.
My instinct is that people in the highest positions of public trust ought indeed to be prosecuted when they violate that trust. Putting the sainted David Petraeus on trial would send a powerful signal that no one is above the law and that we take safeguarding our secrets seriously. This wasn't, after all, a situation where he skirted the law in misguided pursuit of the nation's security; he did so for the most selfish reasons. To the extent that his long history of service to the nation counterbalances his transgressions here, it can be weighed at sentencing.
At the same time, however, there is the question of harm: How much actual damage was done in sharing the information he shared with Broadwell? It's one I can't answer.  While I can't condone his violating his duty to share sensitive compartmented information only with those with the proper clearance and a mission critical need to know, Petraueus operated for years at the highest levels of the national security apparatus and was able to see the big picture. As a Reserve officer, Broadwell had a security clearance. Without knowing what sort of information he shared and how he expected her to use it, I simply don't know whether the violations in question were merely technical—lots of information that's publicly known or that would cause no damage if released to the average American is highly classified for various reasons—or egregious.
Speaking of politics:
The protracted process has also frustrated Mr. Petraeus's friends and political allies, who say it is unfair to keep the matter hanging over his head. Senator John McCain, Republican of Arizona, wrote to Mr. Holder last month that the investigation had deprived the nation of wisdom from one of its most experienced leaders.

"At this critical moment in our nation's security," he wrote, "Congress and the American people cannot afford to have his voice silenced or curtailed by the shadow of a long-running, unresolved investigation marked by leaks from anonymous sources."
While I concur with McCain that Petraeus deserves to be either charged or not, I'm bemused at the notion that Petraeus is some sort of indispensable man. He's bright, highly educated, and very experienced. But you can't swing a dead cat in DC without hitting national security professionals. The Republic will survive Petraeus' sidelining.
Washington Monthly's David Atkins goes too far in implying that MoveOn.org's infamous "Betray Us" ad has been vindicated. But he's right that the fiasco highlights the dangers of hero worship. Then again, I was warning against Petraeus fetishism and overhyping Petraeus way back in 2007.