Petty Politics Redux
A slight recalibration (although perhaps not the one that was wanted).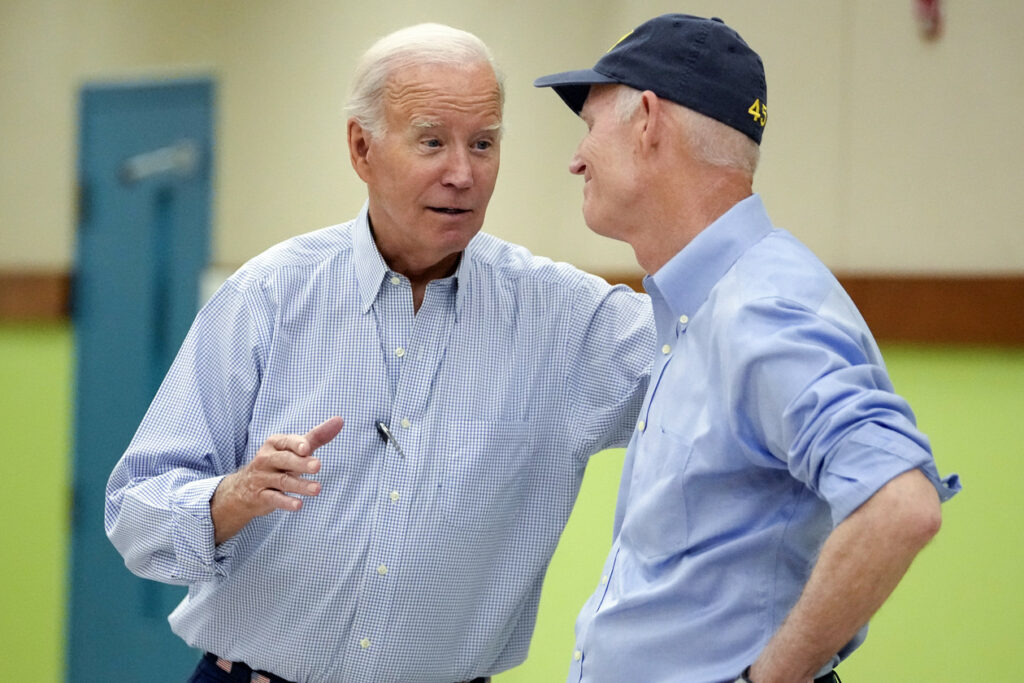 Yesterday I noted that Governor Ron DeSantis was avoiding a photo op with President Biden. This led to what I consider a grossly uncharitable reading of the post by many regular readers who jumped on me for both-sidings the issue and the like. Quite frankly, re-reading the post this morning, I think it took some effort to come to the conclusion that a lot of the readers did.
My main paragraph is true, although I would tweak it a bit. First, here's the paragraph.
In our current political climate a Republican politician, especially one in a primary, can only see more downside than up in appearing with the president of the opposing party–especially in a context wherein said Republican would be forced to say nice things about said president.
This seems pretty accurate and I, personally, don't see any both-sidings as I did not call out Democrats at all.
I also said this:
It is a troubling, but unsurprising, aspect of our current era that opposing partisans see downsides to being cooperative with their opponents even in the name of the public good.
This strikes me as also true, and in context was referring to a number of Republicans (DeSantis, Christie, and Ivey). I would say that my language is on the analytical side, but, again, where are the both-sidings?
The tweak I would make to the first paragraph, in hindsight, would be to emphasize DeSantis' behavior as a primary candidate rather than just as a Republican.
Because, as Politico notes, After DeSantis no-show, Scott stands next to Biden in Florida.
"Thank you for being here," Scott said, shaking Biden's hand while donning an embroidered "45" hat, a reference to Scott being Florida's 45th governor.

He also praised Biden and his FEMA leadership, saying the president "did a great job" preparing resources ahead of the hurricane and getting relief out fast.
Oh dear, not only did Scott (R-FL) appear with Biden, but he also said nice things. Indeed, he behaved the way would typically expect elected officials to behave in this context.
So, I was wrong to overly emphasize Republicans broadly, as empirically it ended up not being true. This is, I would note, counter to a lot of the objections in the comments yesterday that I was not appropriately excoriating Republicans. That is, this example also undercuts the, "But, Gavin Newsom" or "But, this other Democrat" examples in the comment thread.
Indeed, while I can see (kind of) how my use of "partisan" (which is inclusive of Democrats as well as Republicans) was triggering to some readers as a signal of both-sidings (although, again, the post is all about Republicans), I would argue that some readers are clearly all too willing to generalize All Republicans from the example, even if the Rick Scott (hardly a model of bipartisan bonhomie) appearance utterly undercuts the basis for all the criticism of my post.
At the very real risk of people further jumping down my throat, is it perhaps possible that what happened in the comment thread yesterday was readers engaging in the exact kind of partisan behavior I talk about all the time here at OTB? That is, seeing only the bad about the other side and only the good about their own.
Really, the point I was making in the post yesterday is that is quite clear that there are political downsides for primary candidates to appear in a friendly way with the president they seek to defeat. And I will admit that I could have said it more precisely.
Still, as such, this is correct.
I would note that at least part of the reason for this is that the candidate selection process in the US privileges partisan point-scoring and fundraising nonsense over public policy competence.
By the way, I do think that a Democratic governor competing in a heated primary to challenge Trump might also avoid a photo op with a President Trump. But, that, of course, is hypothetical. I will also agree that DeSantis' brand is such that he is highly motivated to behave this way, and that the GOP media environment in particular rewards it. Maybe a Governor Biden in a similar situation would have behaved differently.
I will agree, by the way, that Democratic voters are more prone to want compromise and cooperation than Republican ones, at least that is what polling tells us. I think, too, Democratic voters often have a self-identity more prone to see compromise as good.
Although I would hasten to add that many Democratic voters aren't too keen when people like Krysten Sinema or Joe Machin start insisting on their version of compromise. And, as noted in a comment thread recently, compromise on basic rights is a non-starter (I would note that in James Joyner's post a week ago about Yglesias talk of the importance of compromise was roundly, and heatedly, criticized by a lot of commenters).
---
Note: I rarely use AP or other photos, but the above was just too perfect for the post.