Phylicia Rashad Under Fire for Supporting Cosby
WaPo ("Phylicia Rashad, Howard U.'s new fine arts dean, blasted for praising Cosby's release: 'She's not qualified'"):
Soon after the Pennsylvania Supreme Court overturned Bill Cosby's sexual assault conviction on Wednesday, the comedian's former co-star and fierce ally Phylicia Rashad took to Twitter to celebrate the news.

"FINALLY! A terrible wrong is being righted — a miscarriage of justice is corrected!" she tweeted, along with a photo of Cosby.

The post set off a fervent backlash, with critics accusing Rashad, the newly appointed dean of Howard University's College of Fine Arts, of being insensitive and disrespectful of sexual assault survivors.

It is not the first time Rashad publicly supported Cosby. In 2015, she told a reporter that she didn't believe the dozens of women accusing him of sexual harassment and assault — a statement that also received criticism.

Howard University condemned Rashad's tweet in a statement late Wednesday, saying that it "lacked sensitivity towards survivors of sexual assault."

"Personal positions of university leadership do not reflect Howard University's policies," the statement read. "We will continue to advocate for survivors fully and support their right to be heard."

Rashad's comments come as Howard University attempts to recuperate from years of accusations from students and alumni of repeatedly mishandling sexual assault allegations.
Unconventionally, 18 hours after its posting and 9 hours after Howard's counter-tweet, Rashad's tweet is still live.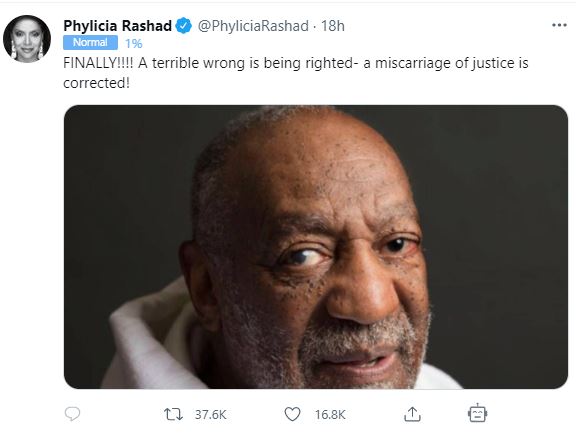 Granting that Rashad is now a Dean and therefore in a position of authority without the full expectations of academic freedom that mere faculty members expect, it's absurd to equate desperately wanting to believe in the innocence of a lifelong friend with "[in]sensitivity towards survivors of sexual assault." Still, it's a bad look for her and Howard. Indeed, the whole reason Cosby was released yesterday is that he admitted to several of the allegations in a civil suit in exchange for immunity from criminal prosecution. There's simply no question that Cosby is guilty of multiple sexual assualts.
Then again, Rashad has not made a secret of her support of Cosby over the years. It's not obvious to me why this tweet expressing her joy in his release should get her fired.