Bill Cosby Charged With Sexual Assault In Pennsylvania
After nearly two years of decades old stories leaking out, entertainment legend Bill Cosby has been charged with drugging and sexually assaulting a woman in 2005.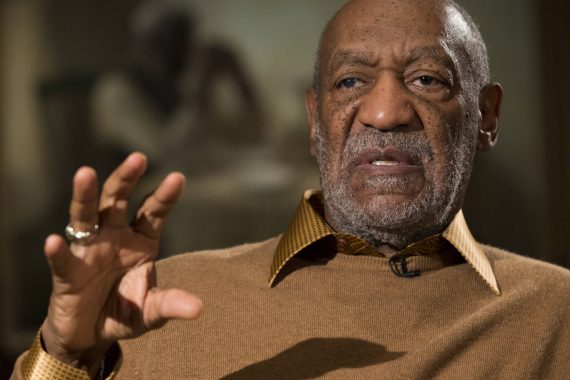 After roughly two years during which allegations of sexual abuse and rape have largely destroyed a public reputation that it took decades to build, actor and comedian Bill Cosby has been charged with sexual assault in a Philadelphia suburb in a cases that promises to become a high-profile story in the coming year:
The authorities in Pennsylvania announced criminal charges on Wednesday against the entertainer Bill Cosby stemming from a woman's accusation that he drugged and sexually abused her at his home in a suburb north of Philadelphia, in 2004.

Kevin Steele, Montgomery County's district attorney-elect, said that Mr. Cosby faces a felony charge of aggravated indecent assault. He said the investigation involved a "relationship" between Mr. Cosby and the victim, Andrea Constand, that came about from her work with the basketball team at Temple University, Mr. Cosby's alma mater.

Mr. Cosby became a "mentor" and "friend" to Ms. Constand, Mr. Steele said, and at one point she went to his home in Cheltenham Township. According to the accusations, Mr. Cosby urged her to take pills and drink wine until she was unable to move, after which he committed the assault.

"The evidence is strong and sufficient to proceed," Mr. Steele said. He added: "A person in that state cannot give consent."

Mr. Cosby's lawyer, Monique Pressley, had no immediate comment but said a statement would be coming later Wednesday.

Ms. Constand's lawyer, Dolores M. Troiani, expressed "appreciation" to law enforcement in a statement on Wednesday, praising them for "the consideration and courtesy they have shown Andrea during this difficult time."

Mr. Cosby is expected to be arraigned on Wednesday.

Mr. Steele said his office was examining evidence related to other alleged victims, but the charges related to just one. Dozens of women have come forward in recent years to accuse Mr. Cosby of sexual misconduct and assault. He has denied the allegations and this month opened a lawsuit against seven of the women, accusing them of defamation.

In 2005 and 2006, Mr. Cosby talked about his relationship with Ms. Constand in a deposition for a lawsuit she filed against him. During four days of questioning, Mr. Cosby presented himself as an unapologetic playboy but not a sexual predator. He said he immediately felt romantic interest in Ms. Constand after meeting in the early 2000s and described a patient courtship.

He considered himself a mentor, offering advice and professional contacts, he said. Soon after they met, he invited Ms. Constand to his home, offering an intimate dinner with Cognac, dimmed lights and a fire, he said.

He did not try to kiss her that night, he said, because he did not sense that she wanted him to. But he said they had a "sexual moment" at their next dinner. Their association continued for years but ended, Mr. Cosby said, when he gave her one and a half pills of Benadryl at his home to relieve stress, and they kissed and had sexual contact.

Ms. Constand described a much different scenario to investigators.

She said she had no interest in a romantic relationship with Mr. Cosby. "She never thought he would hit on her, especially since Cosby is much older than her father," the criminal complaint said.

During one visit to his home, after she had a couple glasses of wine, he "out of the blue" unbuttoned her pants and started touching her, she told investigators. She leaned forward to stop him, he went into the kitchen and she left 10 minutes later without discussing what had happened, according to the complaint.

She continued to trust Mr. Cosby, however, and she attended social and professional events with him. On Jan. 15, 2004, the night Ms. Constand said she was drugged, she told him she felt "drained" and "emotionally occupied," according to the complaint. He urged her to take the pills, telling her they would "make you feel good" and "take the edge off," she told investigators.

Ms. Troiani, Ms. Constand's lawyer, said she believed the drug was much more powerful than Benadryl.

About 20 to 30 minutes later, Ms. Constand told investigators, she lost strength in her legs, describing them as feeling "like jelly." She said she had blurred vision, difficulty speaking, nausea and dizziness.

She woke up at 4 a.m. with her sweater bunched up and her bra undone, she said.

Ms. Constand later moved home to Canada. In his deposition, Mr. Cosby described speaking on the phone to her mother, who was distraught over her daughter's accusations. Mr. Cosby wanted Ms. Constand to tell her mother that the encounter was consensual, he said.

"Tell your mother about the orgasm. Tell your mother how we talked," he said he recalled thinking.

Worried that they might try to embarrass him, he offered to help pay for Ms. Constand's education, he said.
This case was apparently initially investigated a decade ago by the prosecutor who was in office at the time and he found that there was insufficient evidence to justify bringing charges. However, the prosecutor who now runs the office says that the investigation was reopened in July after deposition testimony was released in which, as noted in the article, Cosby admits to sexual conduct with the woman and appears to corroborate at least part of the claims that she is making in her complaint. Additionally, unlike most of the other charges that have come out against Cosby over the past two years or so, this charge relates to an incident that occurred only ten years ago and that the statute of limitations for the specific charge brought against Cosby is twelve years, so this is really the first time that a charge has been made against him that could possibly result in criminal charges. Other charges, most of which resulted from events as far back as the 1960s, have seen their their statutes of limitation for criminal and civil claims pass a long, long time ago.. For that reason alone, this charge is obviously far more serious than the public embarrassment and the loss of various positions and honors that he has seen happen to him since these raft of charges started coming forward nearly two years ago. If convicted of this charge, in fact, Cosby could face 10-25 years in state prison, although it is obviously far too early to be talking about whether that is a reasonable possibility for a man who was, until very recently, one of the most admired men in America.
While Cosby is obviously innocent until proven guilty beyond a reasonable doubt, it's worth noting that the nature of the charges that are set forth in this case share many similarities with others than have been made against Cosby since this story first broke. It is alleged that he plied this young woman with alcohol and some unidentified drugs, at which point she was rendered helpless, barely if at all conscious, and then sexually assaulted. As many other women have claimed in public statements and depositions, Cosby then threatened the woman with repercussions if she came forward and accused him of wrongdoing while at the same time promising to provide her with money and other resources if she remained quiet. The pattern is so identical in some cases, in fact, that it seems likely that the prosecutors in Pennsylvania will try to call some or all of the more than thirty women to testify in this trial in this case for the purpose of establishing a "pattern" on Cosby's part. Whether that actually happens is a complicated legal matter that will have to be dealt with before trial, though, due to the fact that the presentation of evidence regarding charges that have nothing to do with the case before the court have the potential to prejudice a jury against a Defendant for reasons that have nothing to do with the charges against them. This is especially true in the case of charges from decades ago where memories may have faded and there is no physical evidence. Nonetheless, if Cosby's attorneys make attacking the accuser's credibility a central part of their defense then the prosecutor will likely argue that they have opened the door to at least some limited testimony about his past pattern and practices involving other women in the past. Admitting even a part of that testimony could prove to be quite damaging to Cosby and, at the very least, will do further damage to what was once a stellar reputation.