A Legal Bombshell Could Wreck The Criminal Case Against Bill Cosby
An agreement purportedly made ten years ago by a former prosecutor could mean the end of the criminal charges against Bill Cosby.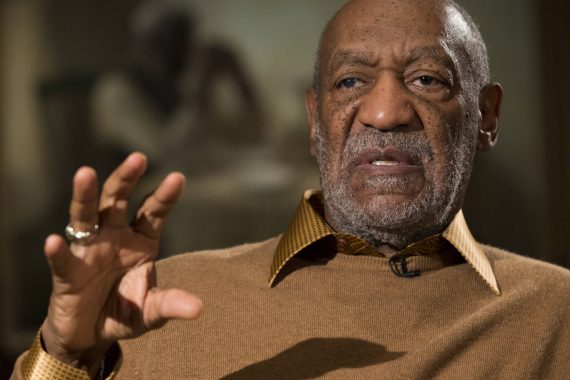 Just days before the close of 2015 and the expiration of the statute of limitations, entertainer Bill Cosby, who has seen his reputation utterly destroyed over the course of the past year in the face of seemingly irrefutable allegations that he had been drugging women for the purpose of having non-consensual sex with them since the 1960s, was charged with sexual assault in connection with an incident in 2005 in which he gave a woman named Andrea Constand a drink spiked with some drug and had sex with her. Given that this was the most recent incident that anyone was aware of, it was seemingly the only one for which Cosby could face criminal liability. This morning, though, CNN revealed an agreement made when the charges of the attack against Constand first came to light that could end up barring the charges from going forward and which at the very least is like to lead to a significant pre-trial litigation:
A former district attorney in Montgomery County, Pennsylvania, claims he agreed more than a decade ago that his office wouldn't use a civil deposition given by Bill Cosby in any criminal matters, an email obtained by CNN shows — a revelation that could call into question the viability of the criminal case against the comedian.
The 2015 email — sent by former District Attorney Bruce Castor to successor Risa Vetri Ferman — details an apparent verbal agreement the prosecutor had a decade earlier with Cosby's attorneys for Cosby to testify in a civil sexual assault case brought against him in 2005. In the email, Castor writes that his intent in making the deal was to create an atmosphere in which Cosby accuser Andrea Constand would have the best chance of prevailing in her civil suit against the 78-year-old comedian by removing the prospect of Cosby invoking his 5th Amendment right.

The email was sent three months before criminal charges were filed against Cosby in Montgomery County in December, and could call into question the viability of the case, CNN has learned.

In it, Castor writes to Ferman: "I can see no possibility that Cosby's deposition could be used in a state criminal case, because I would have to testify as to what happened, and the deposition would be subject to suppression.

"I cannot believe any state court judge would allow that deposition into evidence. …. Knowing this, unless you can make out a case without that deposition and without anything the deposition led you to, I think Cosby would have an action against the County and maybe even against you personally."
The deposition is a key piece of evidence, cited by prosecutors as the impetus for reopening the case.

At the center of the case are allegations made by Constand, a former Temple University basketball employee, who says Cosby sexually assaulted her in his home in 2004.

Dolores Troiani, an attorney for Constand in 2005, told CNN's Jean Casarez on Friday that she never knew about any such agreement between Cosby's attorneys and prosecutors.

Castor, when asked by CNN about the email, declined to comment.

The current district attorney, Kevin Steele, who was elected in November after serving as Ferman's longtime top deputy, told CNN on Friday: "There is a specific legal method to grant immunity. That was not done in 2005."

Steele also noted that in Castor's 2005 press release declaring there was insufficient evidence to prosecute Cosby that Castor himself said he would "reconsider this decision should the need arise."
In essence, what former District Attorney Bruce Castor is saying is that he entered into an agreement with Cosby's attorneys back in 2005 when Constand first made her allegations against Cosby and took the first steps toward filing a civil suit against the entertainer. Allegedly, at that time a deal was made in which Cosby would agree to testify in a deposition taken by Constand's attorneys and the authorities made an agreement that resulted in Cosby agreeing not to assert his Fifth Amendment rights in the deposition. It's unclear from the email as described exactly what this 2005 agreement between Castor may have been, though. It is being described as an "immunity agreement," which would mean that the District Attorney was essentially agreeing to grant Cosby immunity in exchange for his agreement to testify under oath in the deposition without asserting his Fifth Amendment rights, which would mean that criminal charges could never possibly be brought against the entertainer. The quoted provisions of the email in the report, though, make it sound more as if Castor had agreed that he would not use the deposition as evidence against Cosby if there was a criminal prosecution at that time or at any time in the future. An immunity agreement, of course, would make the current prosecution of Cosby impossible if a Judge were to find that it is binding while the second would make such a prosecution far more difficult since it would preclude the prosecution from using Cosby's admission in the transcript of what he did to Constand against him in trial whether he chose to testify in his defense or not. This wouldn't necessarily prove fatal to the case, of course, but it would allow for a far easier argument in favor of reasonable doubt than if the deposition were admitted to evidence.
There are, of course, several questions about this entire alleged agreement that could tie up the proceedings in the case against Cosby for some time to come. For one thing, it will need to be made clear just what kind of agreement Castor is talking about in his email. Is it an alleged immunity agreement, or is it an agreement to not use the deposition as evidence at trial? Part of determining the answer to that question, of course, would have to involve determining if there was in fact an agreement at all. So far, all we've got in that regard is an email that Castor wrote to his successor three months ago where he describes the agreement and warns that he doesn't believe that criminal charges can be sustained against Cosby because of the agreement he made in 2005. Is there any written memorialization of this agreement that was made at the time? The best form of such a memorialization, of course, would be something signed by Castor and at the very least Cosby's attorneys setting forth exactly what the agreement was, but from the content of the report it does not appear that such an agreement exist. Barring that, an email or even a note to the prosecutors file setting forth what had been agreed to would at least establish that there had been some agreement back in 2005 that convinced Cosby's attorneys to let him testify under oath notwithstanding the fact that he was obviously exposing himself to criminal prosecution. What all of that meant, and what it would mean for the criminal case now pending against Cosby, would be up to a Judge to decide.
At the very least, this news seems guaranteed to send the case against Cosby into some degree of chaos. At some point before trial, a Judge will be required to make a determination about whether or not there was an agreement and what that agreement meant. That issue would no doubt be subject to appeal since it is obviously an issue that needs to be resolved before the trial can be allowed to proceed. Given all of that, it could be quite some time before Bill Cosby actually stands trial for these charges if he ever actually does.