Criminal Charges Against Bill Cosby Can Proceed To Trial, Pennsylvania Judge Rules
A Pennsylvania Judge ruled today that there was sufficient evidence against Bill Cosby to allow the sexual assault charges against him to proceed to trial.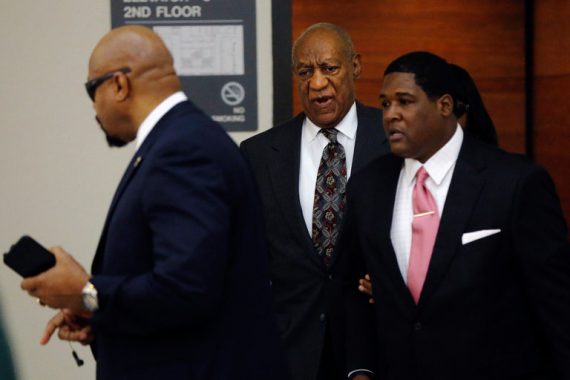 A Pennsylvania trial court Judge ruled today that there was sufficient evidence to support the sexual assault charges entered against comedian Bill Cosby in December, thus moving the case one step closer to trial:
NORRISTOWN, Pa. — A judge ruled on Tuesday that Bill Cosby's trial on sexual assault charges could go forward, setting the stage for a potential legal battle over the prosecution's evidence.

The ruling, by Judge Elizabeth A. McHugh, ended five months of efforts by Mr. Cosby's lawyers to have the charges dismissed.

The decision, after a 3½-hour hearing at the Montgomery County Courthouse here, means that a man who was once one of America's most beloved entertainers but has been pursued by allegations of sexual misconduct by dozens of women must face at least one of his accusers at trial, probably later this year. Mr. Cosby, 78, has denied the allegations.

"This case will move forward," Judge McHugh told the crowded courtroom. Mr. Cosby, who sat flanked by his lawyers throughout the hearing, stood at the end and said, "Thank you." The judge wished him luck.

Mr. Cosby waived a formal arraignment, which means he automatically enters a plea of not guilty. The next stage will be for a judge to set a trial date.

Mr. Cosby was helped from the courtroom by his aides without speaking further. His three lawyers crowded into a separate car and would not comment on the decision beyond offering a thumbs up when asked how Mr. Cosby was feeling.

The entertainer was charged in December with drugging and sexually assaulting Andrea Constand, a former Temple University staff member for whom Mr. Cosby became a mentor and friend. Prosecutors said he took advantage of his counseling role, gave her pills and assaulted her at his home outside Philadelphia in early 2004.

Ms. Constand was not in the courtroom on Tuesday. During the hearing, Mr. Cosby's lawyers attacked the prosecution for not calling her as a witness but instead relying on a statement she gave to the police in 2005. A Montgomery County detective read portions of the statement outlining the allegations.

Kevin R. Steele, the Montgomery County district attorney, said later at a news conference that for Tuesday's hearing, the prosecution had only to show that a crime had been committed and that the defendant was connected to it. He said that case law allowed for hearsay evidence in such a preliminary hearing.

"We are here because we want to seek the truth," Mr. Steele said. "We are here because we want to seek justice."

It was a case that many people, including accusers who had come forward publicly, long thought prosecutors would never bring.

Since the charges were filed, Mr. Cosby's lawyers have battled to have them thrown out. They argue that a former district attorney promised never to prosecute Mr. Cosby as a way to induce him to testify in a civil suit brought by Ms. Constand in 2005. That suit, in which Mr. Cosby spoke freely in deposition testimony, was settled confidentially in 2006.

But at a hearing in February, a trial court judge dismissed the defense's challenges, opening the way for Tuesday's hearing, which is standard in the state system.
Given how rapidly this case has been making its way through the courts, it's likely that any trial date will be set prior to the end of 2016. Before the case gets there, though, the Court will need to deal with a host of evidentiary issues that will have a huge impact on the nature of the trial itself. One such issue is the question of how to handle the deposition that Cosby himself gave in the civil case case that Constand filed some ten years ago. At the time, that deposition was agreed to only on the condition that it would not be admissible in any future proceedings, which is likely the only reason why Cosby and his lawyers agreed to go forward with the proceeding. Reportedly, Cosby admits during the course of this proceeding Cosby admit that he provided Constand with some kind of medication when the two were alone, but denies that it was anything more powerful than Benadryl. Cosby also apparently admits that the two eventually had some kind of sexual contact, but asserts that it was entirely consensual on both their parts. Regardless of what it says, though, allowing the deposition to be read into evidence at trial would be problematic for the defense. Given that, Cosby's lawyers are likely to fight quite hard to keep the deposition out of evidence based on the circumstances under which it was taken, the agreement between the parties, and the damage that admitting the deposition would do to Cosby's Fifth Amendment rights.
Perhaps more important than Cosby's own words, though, is the question of whether the jury in this case will get to hear from any of the more than fifty women who claim that Cosby drugged and attacked them in cases that go as far back as the late 1960s. None of those cases have resulted in criminal or civil charges due to the fact that the relevant statutes of limitation expired long ago for both types of claims. Notwithstanding that fact, most states do allow testimony about other alleged criminal acts by a Defendant under some limited circumstances and only if a Court finds that certain criteria are met. The prosecution will likely argue that testimony about these 'prior bad acts' should be admitted at trial in this case because each of the cases fits into a similar fact pattern that shows a pattern of criminal activity by the Defendant. In this case, the pattern that has been common to nearly all of the allegations against Cosby has been one in which the women in question find themselves alone with Cosby, at which time he offers them a drink and, perhaps, a pill which he claims to be 'herbal,' and the fact that the women then begin to feel incapacitated while Cosby takes advantage of them. This is essentially what Constand alleges happened to her, and the prosecution is likely to argue that admitting at least some testimony from these other women should be permitted because of the common pattern. The defense on the other hand will likely argue that allegations regarding other women should be barred due to the fact that such testimony is likely to make it more likely that the jury will convict, but that the conviction would be unduly influenced by the allegations from the other women. To use a term of legal art, they would be arguing that the prejudicial effect of admitting the testimony of the other women outweighs whatever probative value would be derived from it. How the Court decides this issue could go a long way toward determining the outcome of the trial and, in any case, would likely be one of the many grounds for appeal in the event Cosby is convicted.