Bill Cosby Sentenced To Up To Ten Years In Prison
After forty years, a sexual predator finally gets at least some of what he deserves.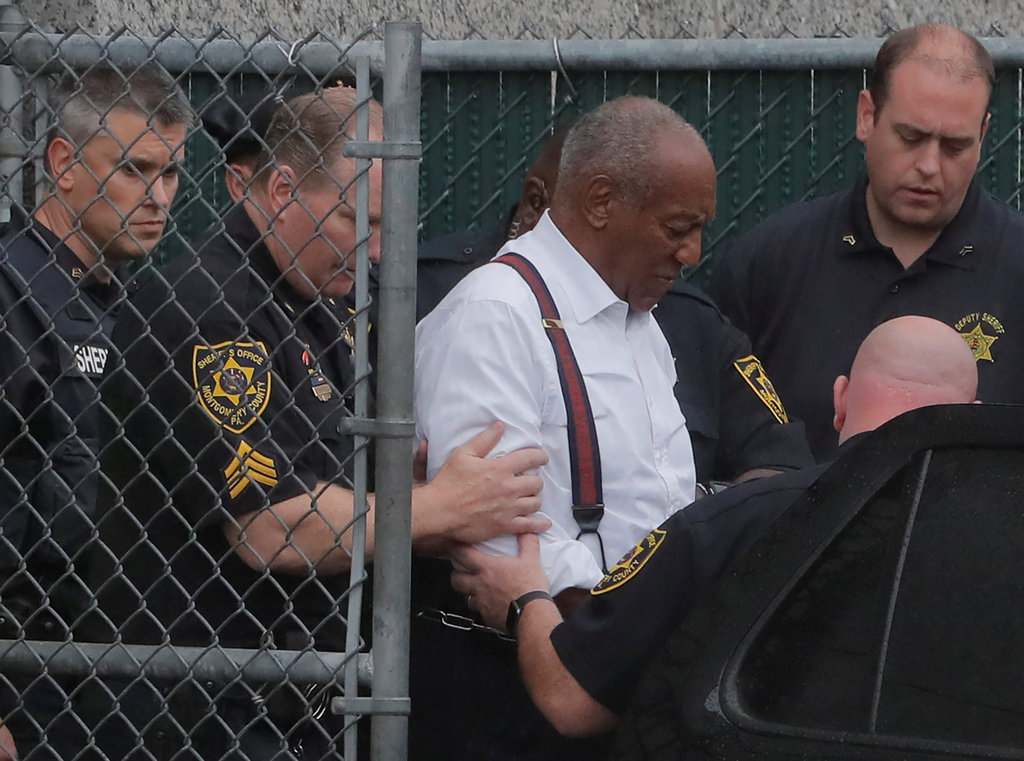 Just under three months after he was convicted on three counts of sexual assault against a Pennsylvania woman who was merely the most recent woman to accuse him of having drugged and sexually assaulted her, Bill Cosby has been sentenced to three to ten years in state prison:
Bill Cosby was sentenced to three to 10 years in prison on Tuesday for drugging and sexually assaulting a woman at his home near here 14 years ago, completing the precipitous downfall to disgrace of a man from the heights of stardom and representing the first major conviction of the #MeToo era.

Mr. Cosby, 81, had been convicted in April of assaulting Andrea Constand, a Temple University employee at the time of the assault, who had looked upon him as a mentor but ended up being one of the dozens of women who have accused him of acts of predatory sexual abuse.

Nine of those women and Ms. Constand were in the Montgomery County Courthouse to witness the sentencing by Judge Steven T. O'Neill. Ms. Cosby's wife, Camille, was not.

"It is time for justice, Mr. Cosby, this has all circled back to you," Judge O'Neill said. "The day has come. The time has come."

Acknowledging the impact that the case has had on Mr. Cosby's legacy, Judge O'Neill added: "fallen angels suffer most.

Mr. Cosby is heading straight to prison as the judge denied him a request that he remain free on bail while he pursues an anticipated appeal. He was emotionless as he was led from the courtroom in handcuffs by four sheriff's deputies.

Prosecutors had asked for a maximum term of five to 10 years.

When the sentence was announced, Mr. Cosby sat quietly and made no reaction. Ms. Constand stared straight ahead. The other women accusers, seated more toward the back, did not celebrate. But some later expressed their happiness.

"This is fair and just," said Janice Dickinson, the former model who had testified at the trial that Mr. Cosby had assaulted her at a Lake Tahoe hotel room in 1982. "I am victorious."

(…)

Judge O'Neill ruled earlier in the day that Mr. Cosby qualified as a "sexually violent predator" under Pennsylvania law.

His decision came after testimony by a psychologist for the defense, who said Mr. Cosby did not deserve that classification. The expert, Timothy Foley, said Mr. Cosby was no longer a threat to anyone and he contradicted a psychologist representing Pennsylvania's Sexual Offenders Assessment Board who testified Monday, the first day of Mr. Cosby's sentencing hearing. That psychologist had said Mr. Cosby had demonstrated a lifetime interest in sex with nonconsenting women, which indicated a mental abnormality.

The determination of whether a defendant is a sexually violent predator can be a factor in sentencing and in the conditions imposed both in prison and afterward.

"I found him to be extraordinarily low risk," Dr. Foley said.

He came to his opinion, he said, after he met with Mr. Cosby for three hours on July 18 and also after reviewing some records. He said he had read none of the trial records or depositions in the case.

M. Stewart Ryan, a prosecutor, asked whether he was aware that Mr. Cosby had admitted to getting seven prescriptions of quaaludes to give to women for sex. Dr. Foley said he wasn't.

Dr. Foley also said he didn't know that five other women had testified at trial that they had been assaulted by Mr. Cosby.

Mr. Cosby's lawyer, Joseph P. Green, argued Monday that Mr. Cosby's age, 81, and the fact he is legally blind, meant he was no risk, especially since there have been no new allegations of sexual abuse leveled against him since 2004.

"How's he going to meet these people?" Mr. Green said. "There is no reasonable prospect that an 81-year-old blind man is likely to reoffend."

But the psychologist for the state panel, Kristen F. Dudley, said she did not believe the disorder had dissipated with age. "It is possible that he has already met someone who could be a future victim," she said.

The final decision by Judge O'Neill upheld the board's finding. He said the state had met "a clear and convincing standard."

Mr. Cosby was convicted in April of drugging and assaulting Ms. Constand, a former Temple University employee to whom he had been a mentor.

Ms. Constand spoke in court on Monday, along with her mother, father and sister. Ms. Constand told the judge: "The jury heard me, Mr. Cosby heard me and now all I am asking for is justice as the court sees fit."

But Mr. Cosby told the judge Tuesday through his lawyer that he did not intend to speak before sentencing.

Mr. Cosby has denied all the accusations against him and most experts had said they did not anticipate he would express remorse because his team has already announced plans to appeal his conviction.

He did answer a few procedural questions, and asked a question as prosecutors led him through a list of his duties now that he will be a registered sex offender for the rest of his life. "If I went from a city to another city do I have to, even if it's just overnight, I have to get in touch with the state police?" Mr. Cosby said. Mr. Ryan, the prosecutor, said he should consult his lawyer.

Nine women who have accused Mr. Cosby of similar acts of sexual abuse were in the courtroom Tuesday to watch the sentencing, including three who testified at the trial in April.

But Mrs. Cosby was not there.
Originally, Cosby had been convicted of three separate charges of sexual assault for which he could have faced up to thirty years in state prison. However, prior to sentencing the prosecutors and defense had agreed to merge the three charges together for sentencing purposes, meaning that the maximum that he could face would be up to ten years. Cosby's attorney's of course, argued that his advanced age and declining health, among other factors, argued against a long prison sentence and asked the Judge to impose a sentence that would have resulted in him either spending a minimal amount of time in jail prior to being placed on probation or to sentence him to at-home confinement with an electronic ankle bracelet. Prosecutors on the other hand argued that the nature of Cosby's offense, along with the long history of him having committed similar offenses over a period that went back over forty years, meant that he should face serious time in state prison as well as being labeled a 'dangerous sexual predator,' meaning that he would be required to register as a sex offender after being released from prison and would have to register as such in any jurisdiction he moved to or traveled to in the future. The Judge, obviously, ended up agreeing with the prosecutors and ended up lowering the hammer on the guy who used to be called "America's Dad."
Under the relevant sentencing guidelines, Cosby could have received minimal time but, as the article quoted above notes, the Judge found that Cosby's history and his potential of being an offender to the future justified him being sentenced to time in prison. Prior to sentencing, though, the Judge found that Cosby met the definition of 'dangerous sexual predator' under Pennsylvania law. As several legal commentators observed while the court was on lunch break prior to sentencing today, this ruling seemed to virtually guarantee that Cosby would end up being sentenced to prison time and that it was unlikely he would be granted bail pending appeal.
With regard to that appeal, the biggest argument will likely be over the fact that the Judge allowed five women who had made accusations against Cosby in the past to testify regarding the circumstances of what he had done to them even though the statute of limitations for those offenses had expired some time ago. This was a significant win for the prosecution in that it allowed them to argue that Cosby had a pattern that was followed in the case of the accuser in this case. As I noted on the eve of the second trial, though, this is an exception to the general rule barring testimony regarding so-called "prior bad acts" and it carries with it some risks for the verdict on appeal:
As a general rule, courts limit the ability of the prosecution to introduce evidence of what are called "prior bad acts" due to the concern that allowing a jury to hear evidence of charges unrelated to the one before them could cause them to unfairly consider the Defendant's guilt or innocence based on evidence unrelated to the case before them. Broadly speaking, such evidence or testimony is barred unless it falls within some very limited exceptions.

One of the exceptions, and likely the one that Judge O'Neill relied upon in making his decision, is the idea that such evidence can be admitted if it can be shown that the crime for which the Defendant stands accused is part of a pattern of previous conduct. In this case, the pattern that Cosby allegedly has consisted of enticing women to have sex with him by drugging and generally incapacitating them to the point where the "consent" that they give to him is essentially meaningless because they aren't really conscious of their actions or even what's happening to them. For Cosby, this is a pattern which, if the dozens of accusations against him are to be believed, stretch back to the 1960s when he was just becoming famous through his comedy albums, television appearances, and a co-starring role on I Spy. Because of that long-standing pattern, Judge O'Neill no doubt decided that additional evidence of prior bad acts of a similar nature to what Ms. Constand is alleging would be relevant to the jury.

While this is an obvious win for the prosecution, it also poses a danger for the reasons noted above. If Cosby is convicted this time, his defense will no doubt argue on appeal that admission of this additional evidence of prior bad acts was prejudicial and that it caused the jury to either ignore or dismiss some of the inconsistencies in the testimony of Ms. Constand that, under ordinary circumstances, should have been grounds for the kind of reasonable doubt that would have resulted in either acquittal or another hung jury. If they are successful in such an appeal, that would likely result in the prosecution would have to decide whether to go for a third trial against Cosby notwithstanding his advanced age and the fact that a reversal based on the inclusion of prejudicial prior bad acts testimony would lead the trial judge in such a case to be far more conservative in allowing such testimony again.
Whether or not this will lead to a reversal of the verdict remains to be seen, but until then Cosby will remain in prison unless his attorneys filea subsequent motion and somehow manage to convince the Judge to allow him to go free pending appeal, which seems unlikely.
In the end, given the nature of the offenses that Cosby was convicted of, as well as his long history of predation, this seems like a completely fair and just sentence to me. Many people may argue that his advanced age and health should have argued for a shorter sentence, but the answer to that is that he was able to live a life as a superstar that everyone in America respected for most of his life. The fact that it took so long for him to be caught and prosecuted speaks more to the injustice that his case represents than it does to any sense of sympathy for his current position. As I said shortly after he was convicted, there's really nothing sad about what happened to Bill Cosby:
Just like practically everyone else, I was a huge fan of Cosby back in the day, but when I look at him now I don't see tragedy and I don't feel sorry for him. When I look at Bill Cosby now I see a sexual predator who was allowed to get away with preying on women for more than 40 years while maintaining the affable public image of a comedian and, in the 80s, "America's Dad" in the form of Heathcliff Huxtable. Additionally, I suspect that there were plenty of people over the years who were aware that there was something going on with Cosby, but who chose to remain silent about it. In that respect, this was a situation much like what happened with Harvey Weinstein, who used his position as a Hollywood mogul to get away with decades of harassment and assault against women or Larry Nassar, who used his position of trust to take advantage of young women who were aspiring to become Olympic gymnasts, or Jerry Sandusky. In all three of those cases, there were plenty of people who were either aware of what was going on, or who should have known had they paid attention to what was going on around them. Instead, they looked the other way, and it appears that much the same thing was happening during the decades that Bill Cosby was sexually assaulting women

There's a tragedy here, but I would suggest that it lies in what happened to these women and the fact that Cosby went unpunished for decades, not in the well-deserved downfall of a man who was, it appears, a complete phony. Bill Cosby was not America's Dad, and he wasn't the moral compass that he liked to pretend he was in many of his public comments. He was, and is, a sexual predator.
And now he's a guest of the prison system of the Commonwealth of Pennsylvania.