Bill Cosby Found Guilty On Three Counts Of Sexual Assault
Marking the end of a long fall from grace, the man once known as "America's Dad" has been found guilty on three counts of sexual assault.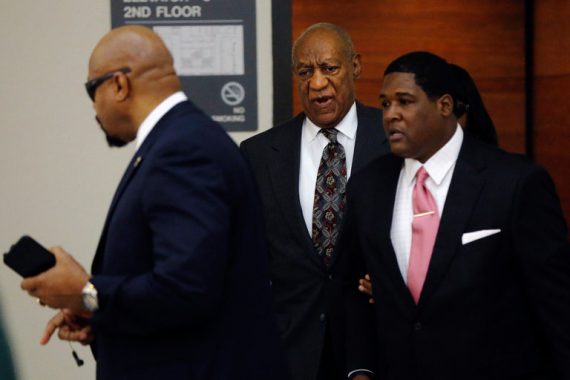 After a first trial that ended in a mistrial last year, Bill Cosby has been found guilty by a suburban Philadelphia jury on three counts of sexual assault:
NORRISTOWN, Pa. — A jury found Bill Cosby guilty Thursday of drugging and sexually assaulting a woman at his home near here 14 years ago, capping the downfall of one of the world's best-known entertainers, and offering a measure of satisfaction to the dozens of women who for years have accused him of similar assaults against them.

On the second day of its deliberations at the Montgomery County Courthouse in this town northwest of Philadelphia, the jury returned to convict Mr. Cosby of three counts of aggravated indecent assault against Andrea Constand, at the time a Temple University employee he had mentored.

The three counts — penetration with lack of consent, penetration while unconscious, and penetration after administering an intoxicant — are felonies, each punishable by up to 10 years in state prison, though the sentences could be served concurrently.

It was the second time a jury had considered Mr. Cosby's fate. His first trial last summer ended with a deadlocked jury after six days of deliberations.

Mr. Cosby sat back in his chair after the verdict was announced and quietly stared down. Several women who have accused Mr. Cosby of abusing them, and attended the trial each day, briefly cheered, then fell silent. Judge Steven T. O'Neill praised the jurors, calling it "an extraordinarily difficult case" and adding, "You have sacrificed much, but you have sacrificed in the service of justice."

Montgomery County District Attorney Kevin R. Steele asked that Mr. Cosby's $1 million bail be revoked, suggesting he had been convicted of a serious crime, owned a plane and could flee, prompting an angry outburst from Mr. Cosby, who shouted, "He doesn't have a plane, you asshole."

"Enough of that," said Judge O'Neill who said he did not view Mr. Cosby as a flight risk and said he could be released on bail, but would have to surrender his passport and remain in his nearby home.

In recent years, Mr. Cosby, 80, had admitted to decades of philandering, and to giving quaaludes to women as part of an effort to have sex, smashing the image he had built as a moralizing public figure and the upstanding paterfamilias in the wildly popular 1980s and '90s sitcom "The Cosby Show." He did not testify in his own defense, avoiding a grilling about those admissions, but he and his lawyers have insisted that his encounter with Ms. Constand was part of a consensual affair, not an assault.

(…)

At his retrial in the same courthouse and before the same judge as last summer, a new defense team argued unsuccessfully that Ms. Constand, now 45, was a desperate "con artist" with financial problems who steadily worked her famous but lonely mark for a lucrative payday.

The prosecution countered that it was Mr. Cosby who had been a deceiver, hiding behind his amiable image as America's Dad to prey on women that he first incapacitated with intoxicants. During closing arguments Tuesday, a special prosecutor, Kristen Gibbons Feden, had told the jury: "She is not the con. He is."

The defense's star witness was a veteran academic adviser at Temple, Mr. Cosby's alma mater, who said Ms. Constand had confided in her in 2004 that she could make money by falsely claiming that she had been molested by a prominent person. Mr. Cosby paid Ms. Constand $3.38 million in 2006 as part of the confidential financial settlement of a lawsuit she had brought against him after prosecutors had originally declined to bring charges.

But Ms. Constand said she had never spoken with the adviser and prosecutors rebutted the characterization of Ms. Constand as a schemer. Perhaps most damaging to Mr. Cosby, they were able to introduce testimony from five other women who told jurors they believed they too had been drugged and sexually assaulted by Mr. Cosby in separate incidents in the 1980s. The powerful drumbeat of accounts allowed prosecutors to argue that Ms. Constand's assault was part of a signature pattern of predatory behavior.

The case was the first high-profile trial of the #MeToo era. Candidates were required during jury selection to provide assurances that the accusations against scores of other famous men would not affect their judgment of Mr. Cosby. Mr. Cosby's lawyers referred to the changed atmosphere in American society, warning it and the introduction of accounts from multiple other accusers risked denying Mr. Cosby a fair trial by distracting jurors' attention. "Mob rule is not due process," Kathleen Bliss, one of Mr. Cosby's lawyers told the jury.

Then she spent much of her closing argument urging the jury to discount the accounts of the five supporting witnesses. One was a failed starlet who slept around, she suggested, another a publicity seeker. "Questioning an accuser is not shaming a victim," she told the jury.

The remarks inflamed Ms. Feden, the prosecutor, who called the attacks on the women the same sort of filthy and shameful criticism that kept some victims of sexual assault from ever coming forward.
The surprising thing about the verdict, I suppose, is the fact that it came so quickly after the end of the case itself. After jury selection, the actual trial lasted roughly two weeks from beginning to end, although the majority of that time was taken up by the prosecution with the defense putting on a very limited case. As with the first trial, Cosby did not testify in his defense, a move that was likely motivated by the fact that doing so would have opened him up to a cross-examination that could have allowed prosecutors to bring in evidence of other women who had made accusations against Cosby beyond the five women other than the principal accuser who were allowed to testify by the Judge thanks to a pre-trial ruling that was different from the one that had been made prior to the first trial. Taking the stand also could have opened Cosby up to a fresh round of civil claims that could be raised against him and his estate were he to state that all of these prior accusers were lying when they claimed that, like his accuser in this case, that he had drugged them and sexually assaulted them in a string of accusations to go back to the late 1960s and early 1970s when Cosby had just become famous thanks to his comedy albums and his success on the show I Spy, one of the first shows to feature an African-American character in a leading role. In whole, the jury deliberated for less than twelve hours before reaching this verdict, suggesting that in their minds Cosby's guilt was not in doubt and the defense had utterly failed in its efforts to undermine the credibility of the prosecution witnesses.
Much like the first trial, I did not follow this trial very closely but from the reports I did see it seems as though the prosecution learned its lessons from the first trial and presented the case in a somewhat different manner and that these changes in strategy that apparently were successful in convincing the jury that Cosby was guilty beyond a reasonable doubt. One of the major differences between the two trials, of course, is the fact that the Judge allowed five women who had made accusations against Cosby in the past to testify regarding the circumstances of what he had done to them. This was a significant win for the prosecution in that it allowed them to argue that Cosby had a pattern that was followed in the case of the accuser in this case. As I noted at the time, though, this is an exception to the general rule barring testimony regarding so-called "prior bad acts" and it carries with it some risks for the verdict on appeal:
As a general rule, courts limit the ability of the prosecution to introduce evidence of what are called "prior bad acts" due to the concern that allowing a jury to hear evidence of charges unrelated to the one before them could cause them to unfairly consider the Defendant's guilt or innocence based on evidence unrelated to the case before them. Broadly speaking, such evidence or testimony is barred unless it falls within some very limited exceptions.

One of the exceptions, and likely the one that Judge O'Neill relied upon in making his decision, is the idea that such evidence can be admitted if it can be shown that the crime for which the Defendant stands accused is part of a pattern of previous conduct. In this case, the pattern that Cosby allegedly has consisted of enticing women to have sex with him by drugging and generally incapacitating them to the point where the "consent" that they give to him is essentially meaningless because they aren't really conscious of their actions or even what's happening to them. For Cosby, this is a pattern which, if the dozens of accusations against him are to be believed, stretch back to the 1960s when he was just becoming famous through his comedy albums, television appearances, and a co-starring role on I Spy. Because of that long-standing pattern, Judge O'Neill no doubt decided that additional evidence of prior bad acts of a similar nature to what Ms. Constand is alleging would be relevant to the jury.

While this is an obvious win for the prosecution, it also poses a danger for the reasons noted above. If Cosby is convicted this time, his defense will no doubt argue on appeal that admission of this additional evidence of prior bad acts was prejudicial and that it caused the jury to either ignore or dismiss some of the inconsistencies in the testimony of Ms. Constand that, under ordinary circumstances, should have been grounds for the kind of reasonable doubt that would have resulted in either acquittal or another hung jury. If they are successful in such an appeal, that would likely result in the prosecution would have to decide whether to go for a third trial against Cosby notwithstanding his advanced age and the fact that a reversal based on the inclusion of prejudicial prior bad acts testimony would lead the trial judge in such a case to be far more conservative in allowing such testimony again.
As thing stand, Cosby is being allowed to go home pending sentencing, and he may be permitted to remain free pending a likely appeal. Under Pennsylvania law, though, these convictions carry with them the potential of a maximum sentence of ten years in state prison and up to a $25,000 fine for each of the counts that Cosby was convicted on. Realistically speaking, given both the fact that Cosby does not have a prior criminal record and is of advanced age, it's more likely that he'll actually end up serving something between two and five years. All of this could be upended, of course, depending on the outcome of the appeal, a process that could take a year or more. For now, though, Bill Cosby stands convicted and his career, or whatever was left of it, stands in tatters.