Polls Show Near Impossible Road Ahead For Akin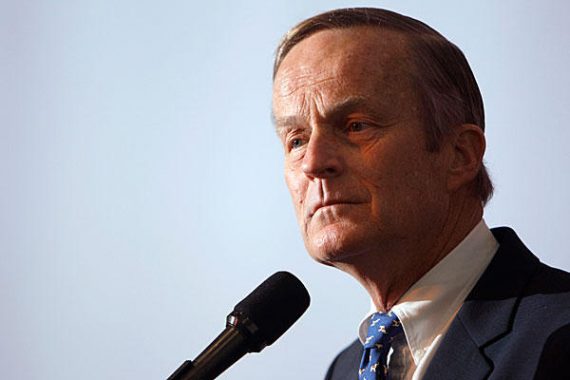 Two new polls out of Missouri suggest that any idea that Todd Akin may have that he could somehow still win against Senator Claire McCaskill is little more than a fantasy of his own making. First up, there's a new poll from SurveyUSA showing that a majority of Missourians think he should drop out of the race: 
By 5:3, Missourians say Congressman Todd Akin, a Republican running for U.S. Senate against incumbent Democrat Claire McCaskill, should drop out of the race, following comments about rape and abortion made public 08/19/12, according to a SurveyUSA poll conducted 08/20/12 for KSDK-TV in St. Louis, and KSPR-TV and KYTV-TV in Springfield MO.

54% statewide, including a majority of men and women, and a majority of those in 4 of the state's 5 regions, say Akin should quit the race and allow another Republican to run in his place. 35% say Akin should continue his bid to unseat McCaskill. A large majority, 76%, do not share Akin's views on rape and pregnancy. But it is important to note that 13% do share his views, including 16% of pro-life voters, 19% of conservatives and 24% of African Americans. Akin says that he mis-spoke. But 55% in Missouri don't buy it.

Missourians are conflicted about whether Akin's views are widely held. Just 14% say Akin's views are shared by "most men"; but 24% say Akin's views are shared by "most Republicans."
Last night, meanwhile, a new Public Policy Polling poll seemed to show  that Akin was still competitive in the head-to-head race, but there are several caveats to take into account:
Missouri voters strongly disagree with the comments Todd Akin made about abortion over the weekend, but it hasn't moved the numbers a whole lot in the Senate race. Akin leads Claire McCaskill by a single point, 44-43. That's basically identical to our last poll of the contest in late May, which found Akin ahead by a 45-44 spread.

It's not that Missouri voters are ok with or supportive of Akin's comments. 75% of voters, including even 64% of Republicans, say they were inappropriate to only 9% who consider them to have been appropriate. 79% of voters say they disagree with what Akin said, including 65% who express 'strong' disagreement with him. 51% of GOP voters say they strongly disagree with him.

All of that is taking a toll on Akin's image. Only 24% of voters have a favorable opinion of him to 58% with a negative one. He's pretty universally disliked by Democrats (3/85) and independents (21/61) and even with Republicans (43/34) he's on only narrowly positive ground.
I wouldn't put too much stock in the head-to-head number just now. First of all, this is a flash poll conducted over only one night whereas PPP typically polls over three nights in order to get a representative sample, Second, as Ed Morrissey points out, the polls seems to have oversampled Republicans, which calls the head-to head numbers into question. What really matters are those unfavorable numbers, especially considering the fact that the poll oversampled Republicans. It's going to be next to impossible for Akin to recover from this with numbers like that, especially if he stays in the race and McCaskill just keeps pounding the airwaves with this remark, and the huge number of Republicans who have disavowed him. The NRSC has abandon him, the RNC has removed his name from the script used for phonebanking in the state, and SuperPACs like Crossroads GPS are pulling out of the state. If he stays in the race, he'll be virtually defenseless and outgunned. Logically, one would think he'd see this. Apparently, he still doesn't.