Pompeo on Iran and Ukraine
The chief diplomat of the United States isn't very diplomatic (nor informative).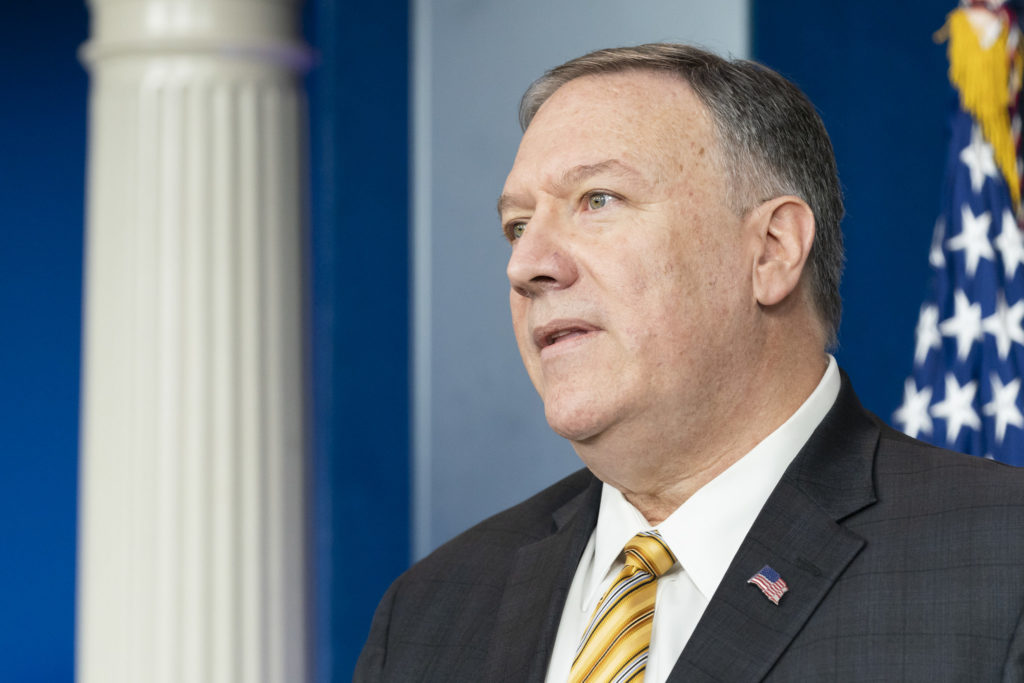 NPR's Mary Louise Kelly had an interview with Secretary of State Mike Pompeo this week. In it he provided vacuous responses on Iran and utterly refused to discuss the treatment of former Ambassador to Ukraine, Marie Yovanovitch. He ended the encounter by yelling at the reporter off mic. One can access the complete, unedited transcript here.
In order, he answers on Iran were a combination of empty and a bit delusional.
The empty part, for example (bold is Kelly, regular text is Pompeo) is about Iran:
Let's start with Iran. What is the plan? And on diplomacy, specifically, is there any serious initiative to reopen diplomacy with Iran?

So we've been engaged in deep diplomatic efforts since the first day of the Trump administration. We've built out a coalition that is working together — Gulf states, Israel, many European countries — to deliver on the three central outcomes that we're looking for.
On the one hand, it is not unusual for officials to provide anodyne, if not plain vague, responses in situations like this. I do think, however, that for the administration to have credibility it needs to provide a clearer path forward than vague references to a new coalition. Fundamentally this suggests that Israel is on board with the "maximum pressure campaign" (which is more of a tweet than a policy) and that Saudi Arabia is also interested in countering Iran (the degree to which this is the basis of a real coalition is a different discussion).
I am not sure which of the "many European countries" he is referencing, but that statement papers over the fact that by pulling out of the JCPOA, the US alienated major European players and whomever might be in this new coalition is of far less significance and influence.
And, to be honest, this does not sound at all like a true coalition, but more a collection of actors who have some overlapping reasons to be anti-Iran and/or who are simply currying favor with the US.
Most of what he said about Iran has just empty:
You use the word pressure. This is the maximum pressure campaign that President Trump put into place a year and a half ago when he pulled out of the nuclear deal. But in that year and a half, Iran has behaved more provocatively, not less. So is maximum pressure working?

Absolutely working. To put it in context, this is 40 years. When you say worse, they held American hostages in our embassy in Tehran. They had our sailors kneeling. The previous administration gave them billions and billions of dollars to underwrite the very actions that they're taking today. When we came into office, it took a lot of work to fundamentally reshape the diplomatic, military and economic landscape. So it didn't happen instantaneously, but we made an enormous amount of progress in delivering —
First, she didn't say "worse"–rather, she noted (correctly) that the response to the JCPOA withdrawal and other US actions has increased Iranian belligerence, rather than reducing it.
And I know that the talking point is that Iranian capability to act is somehow the result of the JCPOA. (And the Obama administration give not "give" them those dollars–it returned Iranian assets that we had been holding, which is an important distinction). I will certainly allow that the Iranian government has more funds now than it did. However, Iran had missiles before the JCPOA. The Quds forces existed before the JCPOA. Irainian support for Hezbollah existed before the JCPOA. The notion that current activity is the result of an influx of resources after the JCPOA does not stand scrutiny.
Further, Iran's behavior, regardless of whether one likes it or not, has to be understood in the context of its desire to be a regional power. And, it really has to be understood in the context of the United States having a military presence to its east since 2001 and to its west since 2003 (really since late 1990). In conjunction with that (which would make any country seek to find ways to expand its regional military and political power) has been Saudi Arabia's increasingly aggressive actions in the region as it seeks to assert its regional influence.
Pretending like it is so simple as to says its about the money returned because of the JCPOA negotiations is to either be a ruse to further confuse the American public, or it is an indication that Pompeo doesn't understand even basic political dynamics in the region (or even basic international relations).
Some other examples of cogent, helpful, and confidence-building answers include the following:
But my question again, how do you stop Iran from getting a nuclear weapon?

We'll stop them.

How? Sanctions?

We'll stop them.
Well, then.
There was also this on Iran, which I find to be troubling, if not a bit ominous:
But again, you say you're determined to prevent them. How do you stop them? I was in Tehran two weeks ago. I sat down with your counterpart there, Javad Zarif, and he told me, quote, "All limits on our centrifuge program are now suspended."

Yeah. He's blustering. Look, the truth of the matter is this is a regime that's never —

Do you have evidence that he's blustering?

This is a regime that has never been in the position that it's in today. One has to confront so many elements that challenge the central thesis of the theocracy and the revolutionary nature of this regime. And you can see it in protests, not just in Tehran. And you should know when you traveled there, I'm guessing you weren't permitted to travel freely. I'm guessing that you didn't get a chance to go out into these places where the life of the Iranian people, these are people who are suffering. Qassem Soleimani, who we removed from the battlefield, killed hundreds of Iranians, and the Iranian people know that. And it's been our strategy that has delivered this message of freedom for the Iranian people.
Now, Pompeo is right in the sense that yes, Iran has an authoritarian regime. Yes, it has abused and killed its own people. And yes, I am sure that Kelly was limited in her movements when she visited Iran.
I will go so far as to say that, in terms of normative preference, I want to see substantial liberalization in Iran. I certainly am opposed to, for example, the human rights record of the regime. I am not in favor of its provocative foreign policy. I recognize that it acts in contradiction to US interests. The question becomes, for a foreign policy POV, is how much of that is controllable by US policy? And what are the costs and benefits of various actions?
The part I find troubling about his answer is that it sounds way too much like pre-Iraq War talk. It is based in false assumptions that because their is internal dissent and because a regime engages in human rights abuses that "pressure" can lead to regime change. It also suggests that violence applied by the US, like the assassination of Soleimani, is received in Iran as a "message of freedom." When will we learn that it doesn't work like that?
I could go on about his utterly anemic and dangerous responses on Iran, but let's get to Ukraine.
Change of subject. Ukraine. Do you owe Ambassador Marie Yovanovitch an apology?

You know, I agreed to come on your show today to talk about Iran. That's what I intend to do. I know what our Ukraine policy has been now for the three years of this administration. I'm proud of the work we've done. This administration delivered the capability for the Ukrainians to defend themselves. President Obama showed up with MREs (meals ready to eat.) We showed up with Javelin missiles. The previous administration did nothing to take down corruption in Ukraine. We're working hard on that. We're going to continue to do it.

I confirmed with your staff [crosstalk] last night that I would talk about Iran and Ukraine.

I just don't have anything else to say about that this morning.
That is nice soundbite about the Obama administration, and it is something that pro-Trump media will gladly focus in on. However, it is a non-answer.
Kelly pressed the issue:
I just want to give you another opportunity to answer this, because as you know, people who work for you in your department, people who have resigned from this department under your leadership, saying you should stand up for the diplomats who work here. [crosstalk]

I don't know who these unnamed sources are you're referring to. I can tell you this, when I talked to my team here —

These are not unnamed sources. [crosstalk] This is your senior adviser Michael McKinley, a career foreign service officer with four decades experience, who testified under oath that he resigned in part due to the failure of the State Department to offer support to Foreign Service employees caught up in the impeachment inquiry on Ukraine.

I'm not going to comment on things that Mr. McKinley may have said. I'll say only this. I have defended every State Department official. We've built a great team. The team that works here is doing amazing work around the world.

Sir, respectfully [crosstalk] where have you defended Marie Yovanovitch?

I've defended every single person on this team. I've done what's right for every single person on this team. [crosstalk]
I can understand why Pompeo doesn't want to answer. It is because he doesn't have an answer. He did not protect Yovanovitch in the least. He allowed her to be mistreated and hung out to dry. It is simply a lie to state "I've defended every single person on this team" if he means the statement to be inclusive of Yovanovitch. Of course, if she isn't part of his "team" then he should have the courage of his convictions and say so, and say why. That would make the statements true, but also make them cowardly dissembling.
So, here Pompeo is either a liar or a coward.
It is damning that Pompeo does not have a cogent answer on why he (and the administration writ large) treated Yovanovitch as they did.
After cutting off the interview, the following took place (as reported by USAT, but as was also described by Kelly on air at NPR):
After the interview, Kelly said she was taken to the secretary of State's private living room, where Pompeo was waiting for her. "He shouted at me for about the same amount of time as the interview itself. He was not happy to have been questioned about Ukraine," Kelly said, in an account released by NPR with the interview transcript.

She said he used the F-word and "many others" when he asking her if Americans cared about Ukraine. He then asked her if she could find Ukraine on a map.

"I said yes, and he called out for aides to bring us a map of the world with no writing. I pointed to Ukraine," she recounted.

Pompeo then said: "'People will hear about this.'"
The State Department issued a statement (also via USAT):
On Saturday, Pompeo responded by calling Kelly a liar and suggesting she was unable to point out Ukraine on an unmarked map.
"NPR reporter Mary Louise Kelly lied to me, twice," Pompeo said in a statement released by the State Department.

He said she lied last month when setting up the interview and again on Friday. He suggested that Kelly had agreed to keep Friday's post-interview conversation off the record.

In Saturday's statement, Pompeo suggested Kelly had pointed to Bangladesh, not Ukraine, on the map.

"It is worth noting that Bangladesh is NOT Ukraine," he said.
Kelly stated in the interview (see the transcript) that she had informed Pompeo's aides that she would ask about Ukraine and that there was no request for the after-interview encounter to be off the record.
First, I would ask, why would Pompeo be unwilling to talk about Ukraine?
Second, he does not appear to be denying chewing out a reporter (just that he thought it was going to be off the record).
Third, recognizing it because he said/she said, I cannot for a minute believe that Kelly identified Bangladesh as Ukraine. And, I would note, Pompeo didn't actually say she did, but rather made a glib, and true, statement that "Bangladesh is NOT Ukraine" without actually saying that was where Kelly identified Ukraine as being. This is a propaganda tactic. No doubt, right wing media will take that statement to mean that she made that error and it will become a running joke. This is just more undermining of truth for short-term political gain.
BTW: even if Kelly couldn't find Ukraine on the map, it in no way takes away the substance and force of her question, nor does it excuse Pompeo's behavior nor his inability to provide an answer to a wholly legitimate line of questions,.
The entire interview, including a description of what happened at the end of the interview, can be heard here: