President Obama Signs DADT Repeal Bill: "It's Done"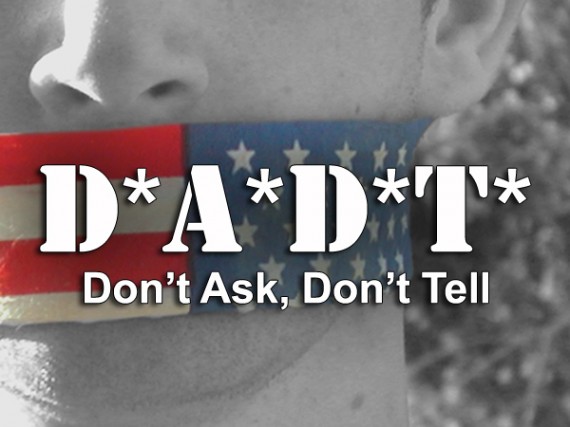 After seventeen years and a year of contentious political debate, the end of Don't Ask, Don't Tell was a rather swift affair:
President Obama signed the landmark repeal of the military's "don't ask, don't tell" policy Wednesday morning, handing a major victory to advocates of gay rights and fulfilling a campaign promise to do away with a practice that he has called discriminatory.

Casting the repeal in terms of past civil rights struggles, Obama said he was proud to sign a law that "will strengthen our national security and uphold the ideals that our fighting men and women risk their lives to defend."

He added: "No longer will tens of thousands of Americans in uniform be asked to live a lie."

The signing does not immediately implement the repeal but instead begins the process of ending the ban on gays serving openly in the military.

The law will not actually change until the Pentagon certifies to Congress that the military has met several conditions, including education and training programs for the troops.

"In the coming days, we will begin the process laid out in the law" to implement the repeal, Obama said. Meanwhile, he cautioned, "the old policy remains in place." But he pledged that all the service chiefs are "committed to implementing this change swiftly and efficiently," and he vowed, "We are not going to be dragging our feet to get this done."

So many people wanted to witness the signing of the bill that the White House held the ceremony in the auditorium of Interior Department headquarters.

Once enacted, the law for the first time in U.S. history will guarantee the rights of gay service members to serve openly.

The guests at the ceremony included Joe Solmonese, head of the Human Rights Campaign, a gay rights group; Vice President Biden; Rep. John Conyers Jr. (D-Mich.); and Dan Choi, a former U.S. Army soldier who was discharged under "don't ask, don't tell" and was arrested in November after chaining himself to a White House fence to protest the policy.

Several other soldiers who have been discharged from military service because they are gay attended the ceremony as well.
We've written enough here at OTB about this issue over the past several months that there isn't much else left to say, except to predict that the transition in the military will, I think, be far smoother than the detractors think it's going to be.