Pressed By Impeachment, Trump Is Clearly Losing It
The past week has demonstrated more notably than any other that this President is not well.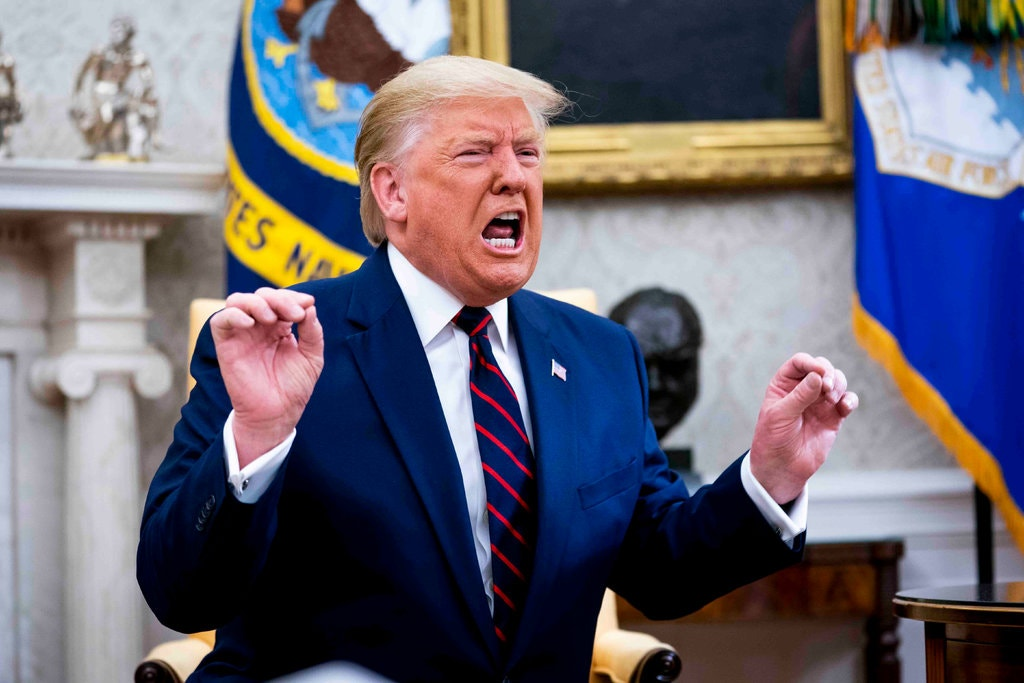 Notwithstanding his claim to be a "stable genius," Donald Trump has demonstrated publicly several times that he is neither to such an extent that the title has become something of a joke on social media. Yesterday, though, things truly went off the rails. It happened at a joint press conference with the President of Finland, who no doubt was quite uncomfortable to just be standing there while the so-called leader of the free world basically lost his mind on live television:
"Are you talking to me?" President Trump asked, his brow creased in disgust.

He was staring at Jeff Mason, a Reuters reporter whom Mr. Trump had called on moments earlier during an East Room news conference with the president of Finland.

Such events, with the American president joined by a fellow head of state, are usually formal affairs. But Mr. Trump seemed to be in a stormy mood on Wednesday, lashing out on Twitter and in person at his enemies, real and perceived, as House Democrats pursue a formal impeachment inquiry against him.

One regular Trump boogeyman — the American news media — has come in for particular ire of late. Mr. Trump has tweaked his usual "fake news" sobriquet, now preferring the term "corrupt news." Earlier on Wednesday, in the Oval Office, he attacked the credibility of The Washington Post over an article that outlined his interest in constructing an alligator- and snake-filled moat along the southern border. Mr. Trump appeared unaware that the article had been published by The New York Times.

Then came the exchange with Mr. Mason, which was emblematic of the president's escalating attacks on the press.

Mr. Mason, a veteran White House correspondent, had posed a straightforward question: What did the president hope to achieve when he asked the Ukrainian president, Volodymyr Zelensky, about the Biden family's dealings in his country?

Mr. Trump's discursive reply ranged from his gripes about financial support for Europe to a shout-out to Senator Rob Portman of Ohio and included a comparison of Ukraine to "a wall between Russia and Europe — a big, wide, beautiful wall." The substance of Mr. Mason's question went unanswered, so the Reuters reporter tried again.

"The question, sir," Mr. Mason said, "was what did you want President Zelensky to do about Vice President Biden and his son Hunter?"

Polite but persistent follow-ups are a White House correspondent's stock in trade. But Mr. Trump expressed deep offense, interrupting Mr. Mason and instructing him to ask the Finnish president a question instead.

"Did you hear me? Did you hear me?" Mr. Trump said from his lectern. "Ask him a question. I've given you a long answer. Ask this gentleman a question. Don't be rude."

"I don't want to be rude," Mr. Mason replied. "I just wanted you to have a chance to answer the question that I asked you."

Again, Mr. Trump deflected — this time with a verbal fusillade against journalists. "I've answered everything," the president said. (He hadn't.) "It's a whole hoax, and you know who's playing into the hoax? People like you and the fake news media that we have in this country — and, I say in many cases, the corrupt media, because you're corrupt. Much of the media in this country is not just fake, it's corrupt."

(…)

Even after he moved on from Mr. Mason, Mr. Trump returned to his acid commentary on the press. "If the press were straight and honest and forthright and tough, we would be a far greater nation," he said in closing.

Mr. Trump's slashing criticism of the media has been denounced by news outlets and press advocates, in particular for the ways that autocrats around the world have invoked his remarks to justify cracking down on independent journalists. Almost uniformly before Mr. Trump, American presidents publicly promoted the role of journalism in a democracy, even if they groused over tough coverage.
Here's the video:
This is just the latest in a string of bizarre behavior we've seen from the President since the cloud of impeachment has overcome his White House:
On Sunday, he tweeted nearly two dozen times about one "Fox & Friends" interview in which he took exception to interviewer Ed Henry's questioning of conservative radio host Mark Levin. The tweetstorm included 19 retweets of sometimes-random users, including one account devoted to inserting the word "shark" into tweets.

The same day, Trump paraphrased a quote from pastor Robert Jeffress that suggested a "Civil War like fracture" could be coming if Trump is removed from office.

On Monday, Trump suggested House Intelligence Committee Chairman Adam B. Schiff (D-Calif.) should be "Arrest[ed] for Treason" and then made a baseless claim suggesting the whistleblower complaint form had been changed to allow the complaint against him.

On Tuesday, Trump congratulated the communist Chinese government on its 70th anniversary as pretty much everyone else in U.S. politics was labeling the date a somber occasion. By the evening, he had labeled the effort against him a "COUP."

And then came Wednesday.

Trump began by tweeting that the impeachment effort was "BULLSHIT," which was the second time he has tweeted such a vulgarity as president. (The first came the day after the Mueller report was released.)

Then came an informal Q&A before he met with the president of Finland, Sauli Niinisto, at which Trump positively went off. He suggested the whistleblower wasn't worthy of the protections that Republicans said the person was entitled to under the law.

"I don't care," Trump said, specifying: "I think a whistleblower should be protected if the whistleblower is legitimate."

He said Schiff couldn't carry Secretary of State Mike Pompeo's "blank strap" — apparently he meant "jock strap" — and also repeated the treason allegation.

Trump attacked a story that said he wanted a moat along the border wall with alligators and snakes by saying The Washington Post publishes only fake news. Except the story was from the New York Times.

Trump explained at length that he was now calling the "fake news" the "corrupt news" because "fake" wasn't harsh enough. As reporters were leaving the room, he implored them to "go write a Schiff-like story."

Then came Trump's news conference at the White House after his meeting with the Finnish leader, which would also end on an angry note.

After John Roberts of Fox News tried to ask a second question of Trump, the president repeatedly told him he needed to move on and ask Niinisto a question. Roberts told Trump that he would like the question, and eventually Trump relented. It turned out Trump did like it — it was about a New York Times report that Schiff received an early account of what the whistleblower was alleging. But then Trump Trump-ified it.
"I'll go a step further; I think he probably helped write it," Trump said of Schiff. There is absolutely no evidence for this, and Trump even seemed unfamiliar with the Times report when it was first brought up.

It was after this that the attack on Mason, a veteran reporter currently working for Reuters, took place. Even more bizarre was the fact that when Mason did ask the Finnish President, who at this point looked decidedly uncomfortable as the President continued his meltdown (one person on Twitter quipped that he was quietly standing there wondering if he could book an Uber and get the heck out of there). Even then, though, Trump took over the conversation. Mason tried to ask President Niinisto a question about a recent ruling in favor of the United States by the World Trade Organization regarding a long-standing dispute over subsidies to Airbus, but Trump decided to answer it himself:
Trump, who had just implored Mason to ask the other president a question, quickly cut in. "That was a big win for the United States, right?" Trump said, pretty visibly angry and gesturing at Mason and the media. "You never had wins with other presidents, did you?"

Trump later ended the news conference by decrying "the CNNs of the world, who are corrupt people," and quickly and abruptly walking off.
To say that the President is losing it is putting it mildly. There have been plenty of reports from leaks from inside the White House about Trump raging at junior and senior staff members about what thing or another, but this week has been unique in part because it's the first time we've really seen him act this way in public. Given the fact that we're just one week into a process that will likely last until the end of the year at least, I'm sure it will only get worse. As I've said before, I am not a mental health professional and am reluctant to diagnose someone from a distance, but it's clear that this man isn't well.