Previewing Tonight's Fifth Republican Debate
Previewing the fifth Republican debate, and the last Republican debate of 2015.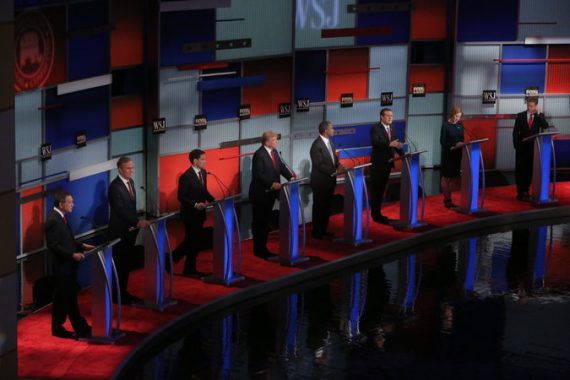 With the final Republican debate set to start on CNN in mere hours, anticipation is high for what many analysts anticipate will be a more lively affair than we've seen in the past, both because the stakes are becoming higher the closer we get to the actual beginning of the voting in the 2016 Presidential election, and because this will be the last time that many of these candidates are likely to have to make an impression on a large number of voters ahead of the holiday season and the sprint that will consist of the final thirty days before the Iowa Caucuses and New Hampshire Primary. NBC News and Politico are both out with their list of "things to watch for" in the showdown, and others are likely to follow. Also out in advance of the debate is a new ABC News/Washington Post poll that shows yet again that Donald Trump is in the lead. In this poll, Trump comes in at 38%, with Ted Cruz some 23 points behind at 15%, followed by Marco Rubio and Ben Carson tied at 12%, Jeb Bush at 5%, Chris Christie at 4%, and all the other candidates at 2% or less. Numbers like this, as well as other recent national polling, has had a dramatic impact on the national poll averages from RealClearPolitics and Pollster, which now have Trump at or near an average of 33% and 37% respectively, and a strong double digit lead over Ted Cruz, who is now firmly ensconced at second place, followed by Marco Rubio, Ben Carson, Jeb Bush, and Chris Christie, with the rest of the field averaging below 3%.
By way of reference for now and as a way of measuring how this debate may impact the race going forward, here's the national chart for the GOP race from RealClear Politics: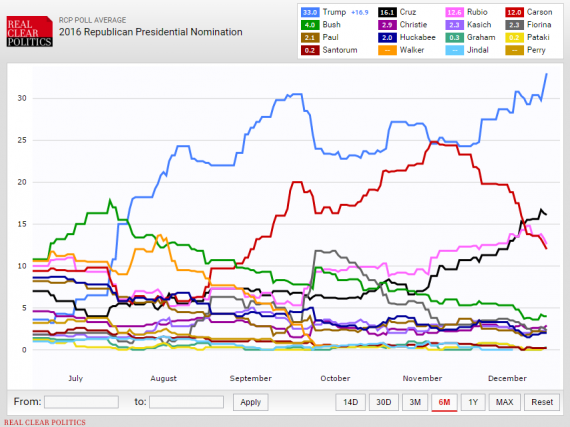 And here's the chart as of today from Pollster: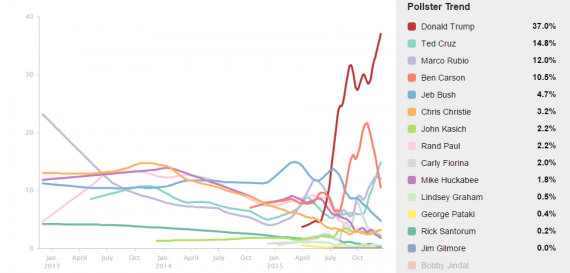 Given the state of the race, then, analysts are expecting that Ted Cruz, who has risen significantly since the last debate both nationally and in Iowa, will come under particular scrutiny tonight:
WASHINGTON — In the five weeks since the last Republican presidential debate, terrorists have struck in Paris and San Bernardino, Calif., Donald J. Trump has proposed barring Muslims from coming to America, Ben Carson's support has evaporated and Senator Ted Cruz of Texas has emerged as Mr. Trump's stiffest competition. Senator Marco Rubio of Florida has gone on the attack against Mr. Cruz, and Gov. Chris Christie of New Jersey, who has less money than many senators up for re-election, has shown signs of life, at least in New Hampshire.

All of which is to say that Tuesday night's debate at the Venetian Resort Hotel Casino in Las Vegas will showcase a markedly changed race.

Mr. Cruz, who is showing signs of consolidating support among hard-line conservatives, is likely to come under sharp attack. Issues like national security and immigration will take on greater urgency. And candidates who are struggling to leapfrog into contention are sure to try to seize on one of the last ripe opportunities to do so before voters in the early nominating states begin making up their minds.

But while much has changed, one figure remains the same: Mr. Trump, the leader in national polls and the field's chief provocateur and pacesetter, whose sometimes outrageous and demagogic comments have not only roiled the race but also amplified divisions between party leaders and the conservative grass roots.

Nowhere has that been more evident than with Mr. Trump's call last week to bar Muslims from entering the country, an inflammatory idea that his rivals will almost certainly respond to at the debate.

None of them will second Mr. Trump's proposal. But the degree to which they repudiate him, or else delicately try to tap into the same fears in a more considered way, will illustrate how they are positioning themselves with Mr. Trump's supporters. With nearly six in 10 Republicans backing the proposal, but about the same number of Americans over all opposing it, according to a new Washington Post-ABC News poll, the rest of the field must weigh how to avoid appearing out of step with Republican primary voters without appearing to support discrimination in a way that could do grave damage to their prospects in a general election.

"The problem for the other candidates is that Trump is initiating and shaping the conversation on national security at a time of great anxiety, and they're forced to react," said Kevin Madden, a Republican strategist not affiliated with any candidate, who called Mr. Trump's proposal "offensive, unconstitutional and entirely unworkable."

(…)

The sharpened focus on national security and immigration will also illuminate tensions among Mr. Christie, Mr. Cruz and Mr. Rubio, while putting immense pressure on Mr. Carson.

Mr. Rubio and Mr. Cruz have been locking horns for weeks on immigration and national security, and they are likely to clash Tuesday. With Mr. Cruz surging into first place in two recent Iowa polls and terrorism emerging as the top issue, Mr. Rubio is likely to step up his assault on Mr. Cruz for his support of guest-worker visas and of restrictions on some domestic surveillance programs.

Mr. Cruz has responded by highlighting Mr. Rubio's work on a 2013 effort to offer illegal immigrants a pathway to citizenship — a major vulnerability for Mr. Rubio among conservatives.

In Tuesday's debate, Mr. Cruz will almost certainly invoke "amnesty" to bludgeon Mr. Rubio, if given the chance. Remarkably, Mr. Rubio's role in the bipartisan effort to overhaul immigration laws has not been brought up once in the previous four debates.

Mr. Rubio, though, would most likely counter — or try to pre-empt such an attack — by questioning Mr. Cruz's somewhat muddled views about what to do with immigrants already in the country illegally. And Mr. Trump, who advocates mass deportation, could join in the pile-on, now that Mr. Cruz has emerged as his biggest threat.

Mr. Rubio and Mr. Cruz can also expect to come under attack from Mr. Christie, who has staked his fortunes on doing well in New Hampshire. There, Mr. Rubio, who is averaging second place in the polls, poses an obstacle to be overcome.

"He's never here," Mr. Christie said of Mr. Rubio while campaigning in that state over the weekend. "Come on, Marco."
Rebecca Berg at RealClearPolitics, meanwhile, argues that it will largely be Donald Trump in the crosshairs of the other candidates, just as it has been for this entire election cycle:
The emerging political rivalry between Trump and Cruz has escalated within the past week and promises to play out in full view of voters at the debate, which airs at 8:30 Eastern time on CNN. After The New York Times reported last week that the Texas senator questioned Trump's "judgment" during a private fundraiser, the frontrunner countered with a similar assertion on "Fox News Sunday," saying Cruz has legislated in the upper chamber "like a little bit of a maniac."

The shift in tone is particularly stark after months of cloyingly friendly relations between the two men, who have until now refused to attack each other on the campaign trail — a marriage of convenience, no doubt, for candidates courting the same supporters. Cruz has openly speculated that he would be the beneficiary should Trump's voters abandon him.

But Cruz is not the sole hunter in what is now open season on Trump, who has recently come under increasing fire from his challengers and will likely face a barrage of attacks regarding his proposal to put a moratorium on Muslims coming to the United States. That stance was met publicly with scorn by many Republicans, although a recent NBC News/Wall Street Journal poll found that 42 percent of the party's voters support it.

Trump won't be the only candidate playing defense, however. Cruz will likely need to defend himself, not only from Trump but also Marco Rubio, a fellow freshman senator who has recently targeted Cruz as weak on national security and an "isolationist." Cruz has meanwhile reminded Republican voters of Rubio's role in crafting the Gang of Eight immigration reform plan, which Cruz characterized in one radio interview as "a massive amnesty plan." Rubio and Cruz have both been rising in the polls, and each has performed well in past debates.
The emerging Trump v. Cruz and Cruz v. Rubio battles seem almost certain to dominate the night tonight, but there are several other candidates who likely see tonight as their last real chance to make an impression with voters that could help them push their campaigns forward. Among those, of course, are Jeb Bush who has seen his numbers sink in the polls after each of these debates notwithstanding overwhelming money advantages, something that has been making his donors and establishment backers increasingly nervous over time. Tonight more than ever, Bush needs to make a case for why he belongs in the top tier of the Republican race, otherwise he will be in serious danger of slipping even further into irrelevance. Ohio Governor John Kasich is in a similar position, especially given the fact that he has been seemingly unable to convert his relatively good performance in polling in New Hampshire into any measurable success anywhere else. Tonight, he'll need to make a case for himself as a potential establishment candidate who can stand against the populists at the top of the field for traditional Republican principles. New Jersey Governor Chris Christie, meanwhile, has risen steadily in polling in New Hampshire and at least for the moment appears to be on a trajectory that could see him doing well there in two months. So far, though, he's largely limited that success to one state so he needs to find a way to translate that success into success on the national level, generally as the "establishment" alternative to the populists much the same as Kasich and Bush need to do. Carly Fiorina and Rand Paul, meanwhile, both of whom made it on the stage solely because of somewhat decent numbers in state polling that contrasts with their problems in national polling needs to find some way to pull of some kind of unlikely miracle, otherwise this could be their final time on the main stage in any debate. Finally, the candidates in the undercard debate just ought to be thankful they are there at all. None of them — not Huckabee, not Pataki, not Santorum, and not Graham — has any chance of going very far in the race at this point, and all of them ought to seriously consider dropping out soon.
In any case, you can watch debate coverage beginning at 6pm Eastern tonight with the undercard debate, although CNN has actually been previewing the debate, complete with a countdown clock, since their early morning show. The main stage debate follows at 8:30pm Eastern. Both debates will also be carried live on Salem Radio Network stations and streamed live on the Salem web site. CNN will also be sending out a live video stream of at least the main stage debate, and possibly the undercard debate I'm not certain about that, on the CNN main page and via the CNN mobile apps.