Professional Politicians Poor Prognosticators
Mitch McConnell and other senior Republican Senators foolishly believed their colleagues would do the right thing.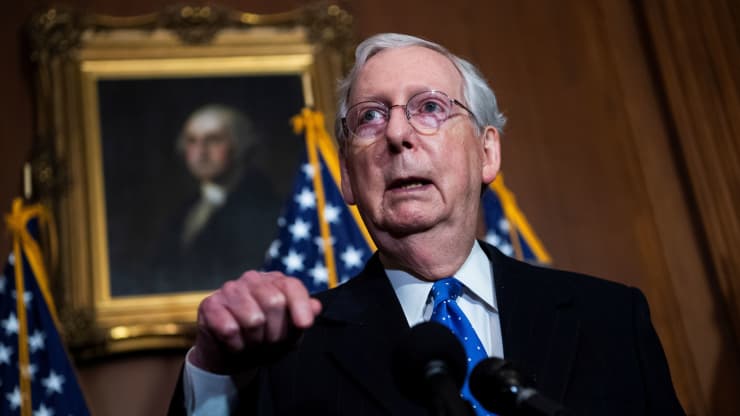 A new book reveals that Mitch McConnell doesn't understand his fellow Republican Senators any better than the rest of us. And the Bulwark's Tim Miller is rather incredulous.
So I've been paging through This Will Not Pass, the book by my pal Jonathan Martin and Alex Burns. And for all the SHOCKING REVEALS (with audio!) about Kevin's cowardice, Mitch's cravenness, and Kamala's ennui, the thing that keeps striking me throughout is that none of the ostensible political professionals being profiled seems to understand the reality of the political situation they find themselves in.
I haven't read the book and, indeed, am incredibly unlikely ever to do so, and will have to take Miller's characterizations at face value. But, boy howdy:
On Jan. 6th, as the mob entered the Capitol, Lindsey Graham asked his fellow senators, with apparently no hint of irony: "Who could possibly hate Joe Biden?" (I don't know, Lindsey, maybe the same base that believed a racist conspiracy theory about Barack Obama's birthplace and decided Hillary Clinton was part of a pedophile ring in the basement of a pizzeria?) Graham went on to posit that after Jan. 6th "people will say, 'I don't want to be associated with that.' . . . There will be a rallying effect for a while, the country says we're better than this." (No, we are not.)
Senator Rob Portman "privately assessed that McConnell was serious about a potential conviction" of Trump. (LOL.) He also thought a censure of Trump would be supported by thirty GOP senators. And those sharp political antennae arose again after Biden was in office when he lobbied Kevin McCarthy to come around on the bipartisan infrastructure bill. McCarthy never considered doing anything that could help Biden and stopped taking Portman's calls.
Just hours before the Capitol was sacked, Joe Manchin was giddy about the 50/50 Senate because he thought it would "bring bipartisanship back to the country."
Steve Womack, a generic Republican house member from Arkansas, advocated for the caucus to strip Mo Brooks of his committee assignments over his speech on Jan. 6th. Womack said Republicans needed to pivot and become the "adults in the room." (Womack voted against Trump's impeachment. Brooks was not punished. There are no adults to be seen.)
Lisa Murkowski and Fred Upton agreed that the carnage of Jan. 6th was Trump's "legacy" and that this was the moment for the party to break from Trump. (Upton is retiring.)
John Thune thought the Republican party had to have a reckoning about its identity "pretty soon."
McConnell, that wise old crow, somehow thought that Democrats would "take care of the son of a bitch for us" even if he didn't convict Trump in the Senate. He told the book authors that the MAGA extremist "sons of bitches" were going to be "crushed" by McConnell's political operation during the primaries in 2022. In another scene, Joe Biden called Mitch because he hoped the Republican Leader would juggle both an impeachment and the swift confirmation of his cabinet appointees. (Sigh.)
The upside, I guess, is that McConnell, Portland, Womack, Graham, other others had good intentions for at least a fleeting moment. They never liked Trump and presumed their colleagues were likewise outraged and would have the courage of their convictions.
Alas.
Another report based on the book, from David Catanese at McClatchy, gives more detail:
In the weekend following the riot in early January 2021, McConnell is described by the authors as "in a lather, using profanity to refer to Trump," and outlining what he saw as his "imminent demise."

"McConnell told his advisers there would be at least 17 Senate Republicans ready to affirm Trump's impeachment, supplying the two-thirds vote needed to convict," Martin and Burns write.

But just a month later when the unprecedented second impeachment trial of Trump unfolded with him out of office and kicked off of Twitter, just seven GOP senators voted for Trump's conviction and McConnell wasn't even one of them.

The head-snapping change in the Kentuckian's mindset is a vivid illustration of how he ultimately chose the preservation of his own power over damning condemnation of the man he said was "practically and morally responsible" for the Capitol attack.

In the end, when McConnell saw most of his party falling into line with Trump, he wasn't going to be out of step.

"I didn't get to be leader by voting with five people in the conference," McConnell is quoted in the book.

"It wasn't going to happen – he wasn't going to be a leader who stood with 15 percent of the caucus," one of McConnell's longtime advisers added.
From a purely analytical standpoint, McConnell's instinct here was right. Once it became clear that the caucus wasn't going to do the right thing, it would have done him no good to stand on principle. He'd lose his position as "leader" and the outcome wouldn't change.
But there's something to be said for integrity and courage. What's the value of "leading" a caucus of scoundrels that won't actually follow you, anyway?
The man was about to turn 79 at the time (he's 80 now). Surely, there are more satisfying ways to spend his remaining years than being nominally in charge of this bunch?