Race In America And The Time Barack Obama Was Mistaken For A Waiter
What can an incident at an elite New York party ten years ago tell us about race in America?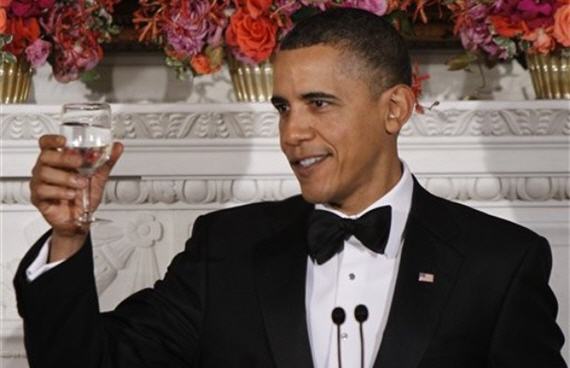 Barack Obama was once mistaken for a waiter at an elite New York party hosted by Tina Brown:
On a warm weekday evening in 2003, a group that can fairly be described as representative of the media elite gathered at one if its favored venues: the garden behind the Manhattan apartment of journalists Tina Brown and Harold Evans.

The occasion was the publication of "The Clinton Wars," by Sidney Blumenthal, a former aide to President Bill Clinton. Editors from the New Yorker and the New York Times were in attendance along with media figures like Steven Brill and Rolling Stone co-founder Jann Wenner. The guests mingled and sipped wine. Even Clinton showed up, instantly becoming the epicenter of attention.

(…)

Standing by myself I noticed, on the periphery of the party, a man looking as awkward and out-of-place as I felt. I approached him and introduced myself. He was an Illinois state senator who was running for the U.S. Senate. He was African American, one of a few black people in attendance.

We spoke at length about his campaign. He was charismatic in a quiet, solemn way. I told him I wanted to pitch a profile of him to a national magazine. (The magazine later rejected my proposal.)

The following year I watched as he gave the keynote address at the Democratic National Convention, and then won his Senate seat that fall. On Tuesday, Barack Obama was elected the 44th president of the United States.

But what I will always remember is as I was leaving that party in 2003, I was approached by another guest, an established author. He asked about the man I had been talking to. Sheepishly he told me he didn't know that Obama was a guest at the party, and had asked him to fetch him a drink. In less than six years, Obama has gone from being mistaken for a waiter among the New York media elite, to the president-elect.
The above comes from a piece written shortly after President Obama's victory in 2008 by Katherine Rosman that was linked on Friday by The Atlantic's Garance Franke-Ruta, who comments:
[I]t's her kicker that really stands out in light of Obama's comment today that "there are very few African-American men in this country who haven't had the experience of being followed when they were shopping in a department store. That includes me."
The obvious conclusion that we're supposed to draw here, of course, is that the anonymous author that Rosman was engaging in some form of racial profiling when he assumed that the black guy was a waiter rather than a guest. Is that a fair conclusion to draw? More importantly, is it really correct to say that there's a similarity between some anonymous person at a party ten years ago, when Barack Obama was a name virtually unknown outside Chicago politics, was engaging in the same kind of racial profiling that Obama was talking about in his remarks on Friday?
I'm not sure. Being a white guy raised in a mostly white suburban community in Central New Jersey I'm hardly one to consider myself an expert at understanding how then State Senator Obama may have felt when this person, who he likely didn't know (indeed it seems from Rosman's account that the author didn't know who Obama was either at the time), asked him to get him a drink. Nor have I been invited to any New York, or Washington, cocktail parties that would give me a from of reference to know whether its even safe to assume that someone who happens to be African-American at a high-end party is part of the staff rather than a guest.
Notwithstanding those qualifiers, though, I think that its safe to assume that it would be less likely that an unknown white person would be mistaken for a waiter than that an unknown black person would. The fact that the person who made that mistake was someone who was both presumably well-educated and likely a political liberal may actually say more about how we still view race in this country than the Zimmerman case itself.