Rand Paul Preparing An Out On 2016 Run?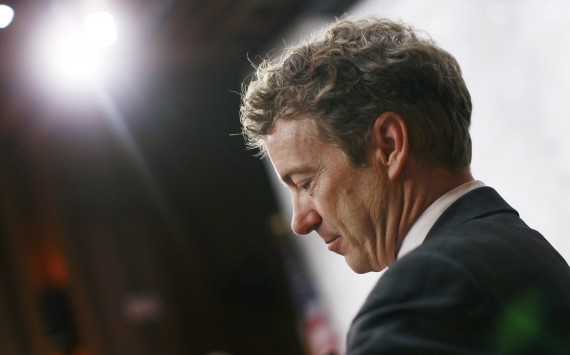 While his name has been among the top tier when discussions about candidates for the 2016 Presidential nomination and he's spent a lot of time over the past year traveling to such places as Iowa and South Carolina to speak, Rand Paul has played his cards close to his vest and not been entirely clear on whether or not he actually intends to run. Now, he appears to be preparing at least one avenue for arguing why he won't be running:
There's at least one member of Sen. Rand Paul's family who isn't quite on board just yet with a 2016 run — and that's his wife.

After a speech at the Detroit Economic Club today, Paul, a Republican senator from Kentucky, was asked whether he plans to run in 2016, and he revealed his wife's displeasure with the idea of a run for the White House.

"Where's my cellphone? Can I call my wife?" Paul joked. "There's two votes in my family. My wife has both of them, and both of them are 'no' votes right now.

"If I'm a very able politician, I'll tell you in a year whether I'm able to persuade my wife. Right now, I don't know yet, but I thank you for your interest," he added.
Deferring to the wishes of family is nothing new in politics. In the 2012 cycle, then Indiana Governor Mitch Daniels, who was being urged by many mainstream conservatives to throw his hat into the ring, ended up bowing out of the race in no small part due to what were reported to be the reluctance of his wife and family to expose themselves to the klieg lights of the national political press corps. Other candidates have made similar choices in the past, and if Paul ends up making the same decision and decides to stay in the Senate instead, I personally wouldn't blame him at all.
It's also worth noting that Paul faces a particularly difficult choice in 2016 outside of whatever his wife might think. His Senate seat is up for re-election that year and, under state law, he would not be able to appear on the ballot for both Senate and President in that state's primary. Additionally, if he were to somehow win the GOP nomination he would not be able to run for re-election in the General Election as other candidates (i.e., most recently Joe Biden who ran for Vice-President and re-election to the Senate on the Delaware ballot in 2008). Therefore, an unsuccessful bid for the nomination in 2016 would mean, at least temporarily, the end of his political career. Under those circumstances, it would seem to be far better for him to stay in the Senate rather than risk everything on what, at the moment, appears to be a quixotic bid for the Presidency.