Senate Democrats Throwing In The Towel On Kavanaugh?
Senate Democrats appear to be recognizing that there's basically nothing they can do to stop the confirmation of Judge Brett Kavanaugh to the Supreme Court.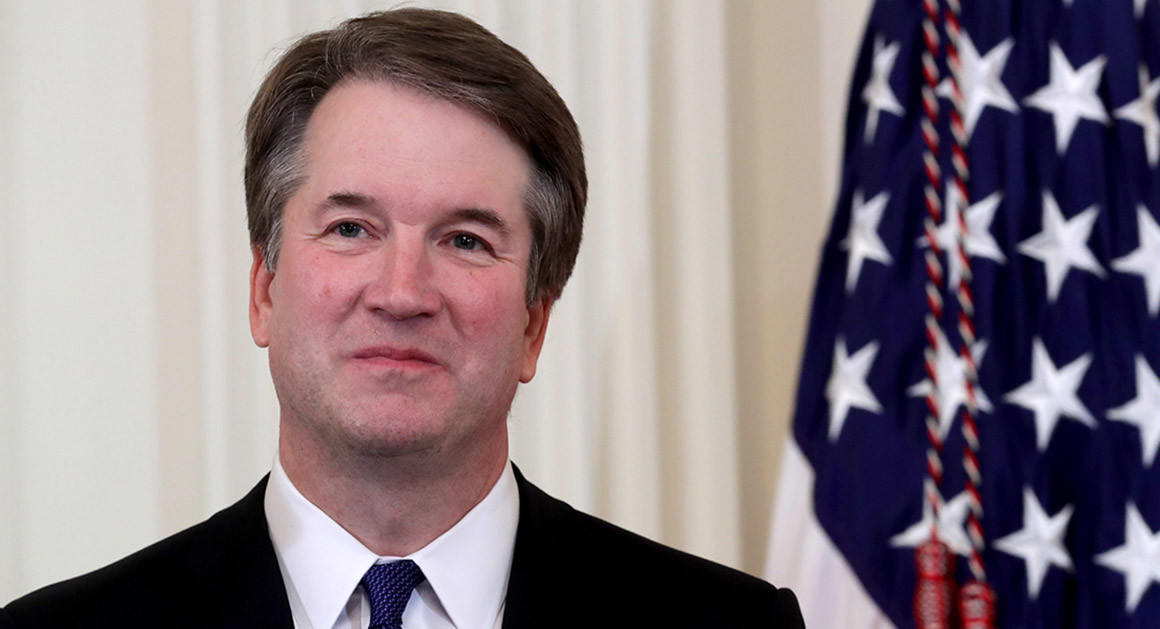 Judging from the latest report from The Washington Post, it certainly looks as though Senate Minority Leader Chuck Schumer is already admitting defeat when it comes to the nomination of Judge Brett Kavanaugh to replace Anthony Kennedy on the Supreme Court:
The top Democrat in the Senate has vowed to fight President Trump's Supreme Court nominee with everything he's got. Just don't expect him to crack down on his red-state Democrats who go rogue and back Judge Brett M. Kavanaugh.

"Punishment is not how this place works," Senate Minority Leader Charles E. Schumer (N.Y.) said in an interview this week.

Schumer is trying to stay upright on a nearly impossible political balance beam he has wobbled across throughout Trump's presidency, caught between his party's demanding left flank and centrist Democrats whose survival in ­November's midterm elections will decide the Senate majority. No other congressional leader has experienced dueling pressures so acutely.

Although anger against Trump has reached a fever pitch in the Democratic Party and activists are clamoring for all-out war against Kavanaugh, Schumer has opted not to use hardball tactics to pressure moderates from Republican states to join the resistance.

The strategy reflects the pragmatic instincts of the 67-year-old Brooklyn politician, who 12 years ago helped sweep the party into power by recruiting and propelling several red-state Democrats to victory. But the decision also exposes him to a possible backlash from the liberal base if the Senate confirms Kavanaugh.

"He's always mindful of not only the Democratic caucus position, but the impact it has on individual members. And of course, the highest priority are those that are up for reelection in tough states," said Sen. Richard J. Durbin (Ill.), Schumer's top deputy.

While Schumer has won widespread respect from his caucus, there is a collective sense that there is little he can do to twist arms on major votes such as a Supreme Court nomination.

Just how much influence does Schumer have over North Dakota Sen. Heidi Heitkamp's decisions?

"None," said Heitkamp, who last year backed Trump's choice of Justice Neil M. Gorsuch and faces reelection in a state the president won in 2016 by 36 percentage points.

(…)

The Kavanaugh fight is a potential defining battle for Schumer, after an up-and-down 18 months. The Democratic leader, who boasts of knowing the personal phone numbers of his caucus by heart, held them together last year against the failed GOP push to repeal the Affordable Care Act and the successful Republican revamp of tax laws. But divisions this year over a banking bill and the confirmation of Gina Haspel to head the CIA left a bitter taste in the mouths of some Democrats.

Moments after Trump announced his pick, Schumer was at the forefront of the Kavanaugh resistance. "I will oppose Judge Kavanaugh's nomination with everything I have, and I hope a bipartisan majority will do the same," he tweeted on July 9.

Since then, he has tempered expectations for defeating the nominee. Republicans hold a ­razor-thin 51-to-49 majority — with one absent as Sen. John McCain remains in Arizona battling brain cancer, and Kavanaugh needs only a simple majority to take a seat on the high court.
The odds of stopping Kavanaugh's nomination have always been long for Democrats, and as time has gone on there have yet to be any real revelations about the nominee that would spark the kind of upheaval that might make blocking his nomination possible. Even with Senator McCain's absence, Republicans have enough votes to get the nomination through thanks to the fact that the filibuster no longer applies to Supreme Court nominees. The only real change that Democrats would have in that regard would be if they could find a Republican willing to defect and vote against Kavanaugh's confirmation, thereby killing the nomination on the floor. In the weeks since Kavanaugh was named as the President's nominee, though, it's become more and more apparent that this is unlikely. Senators Susan Collina and Lisa Murkowski, who were voicing concerns prior to the Judge's selection about the impact of a Kennedy replacement on the Court's ruling in Roe v. Wade, both seem to have made their peace with Kavanaugh and seem unlikely and unwilling to be the reason his nomination failed. Similarly, Kentucky Senator Rand Paul has voiced some concerns about Kavanaugh's views regarding Executive Branch powers, but he has also done his best to maintain a good relationship with the President and it seems unlikely that he would want to go down in history as the Senator who crossed the aisle to kill the President's Supreme Court nominee. Given all of this, the odds of stopping Kavanaugh's nomination are essentially non-existent.
In addition to the low odds of a Republican joining the Democrats in opposing Kavanaugh, Schumer seems to clearly recognize that any effort on his part to stop red-state Democrats from crossing the aisle to support Kavanaugh is hopeless and, if it succeeded, could doom any hope that the Democrats have of retaking the Senate in January. Three of those Senators — Joe Manchin, Heidi Heitkamp, and Joe Donnelly — all voted in favor of Neil Gorsuch's nomination last year and are at the very least sending signals that they'd be willing to do so this time too. The fact that the final vote will likely be within six to eight weeks prior to Election Day makes this even more likely. In addition to these three votes, other red-state Democrats in tight races could also find that it's in their interest to vote for Kavanaugh rather than risk having a "No" vote used against them in last-minute advertising. Since Senate Democrats have at best a slim chance of gaining control of the Senate, it doesn't make much sense for them to put these seats in jeopardy just to stop Kavanaugh's nomination, especially since it's apparent that Trump would merely replace him with another one of the equally conservative Judges on his short list.
All of this is not likely to please hardline Democrats who want to see the party do everything it can to stop Kavanaugh, but it is the politically prudent position to take, and Schumer is no doubt considering this fact as we get closer to a final vote on the nomination.
Update: Senator Rand Paul has indicated that he will be supporting Judge Kavanaugh's nomination:
After meeting Judge Kavanaugh and reviewing his record, I have decided to support his nomination. No one will ever completely agree with a nominee (unless of course, you are the nominee). Each nominee however, must be judged on the totality of their views character and opinions.

— Senator Rand Paul (@RandPaul) July 30, 2018
I have expressed my concern over Judge Kavanaugh's record on warrantless bulk collection of data and how that might apply to very important privacy cases before the Supreme Court.

— Senator Rand Paul (@RandPaul) July 30, 2018
In reviewing his record on other privacy cases like Jones, and through my conversation with him, I have hope that in light of the new precedent in Carpenter v. United States, Judge Kavanaugh will be more open to a Fourth Amendment that protects digital records and property.

— Senator Rand Paul (@RandPaul) July 30, 2018
Of course, my vote is not a single-issue vote, and much of my reading and conversation has been in trying to figure out exactly how good Judge Kavanaugh will be on other issues before the Court.

— Senator Rand Paul (@RandPaul) July 30, 2018
My conversation with Judge Kavanaugh reinforces my belief that he will evaluate cases before the Supreme Court from a textual and originalist point of view. I believe he will carefully adhere to the Constitution and will take his job to protect individual liberty seriously.

— Senator Rand Paul (@RandPaul) July 30, 2018
On issues such as property rights and reining in the administrative state, Judge Kavanaugh has a strong record and showed a deep commitment during our meeting.

— Senator Rand Paul (@RandPaul) July 30, 2018
His views on due process and mens rea show a thoughtful approach to the law and its applications. His views on war powers and separation of powers are encouraging.

— Senator Rand Paul (@RandPaul) July 30, 2018
Finally, his strong defenses of the First and Second Amendments in landmark cases show someone who isn't afraid to challenge the status quo and will fight with backbone. Judge Kavanaugh will have my support and my vote to confirm him to the Supreme Court.

— Senator Rand Paul (@RandPaul) July 30, 2018
As I noted above, Paul was one of a handful of Republicans whose support for Kavanaugh was uncertain. Thus, the importance of this endorsement can't be understated.