Rand Paul Says It Was A Mistake To Depose Saddam Hussein And Qaddafi
Rand Paul bucks Republican orthodoxy on Iraq, Libya, and negotiations with Iran.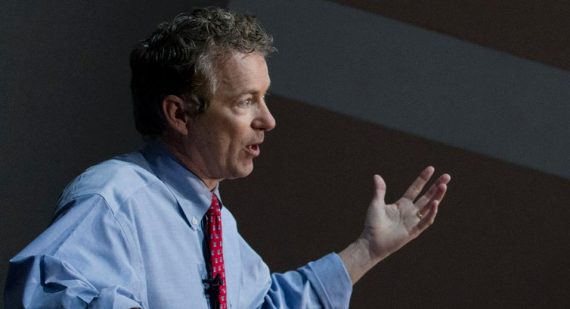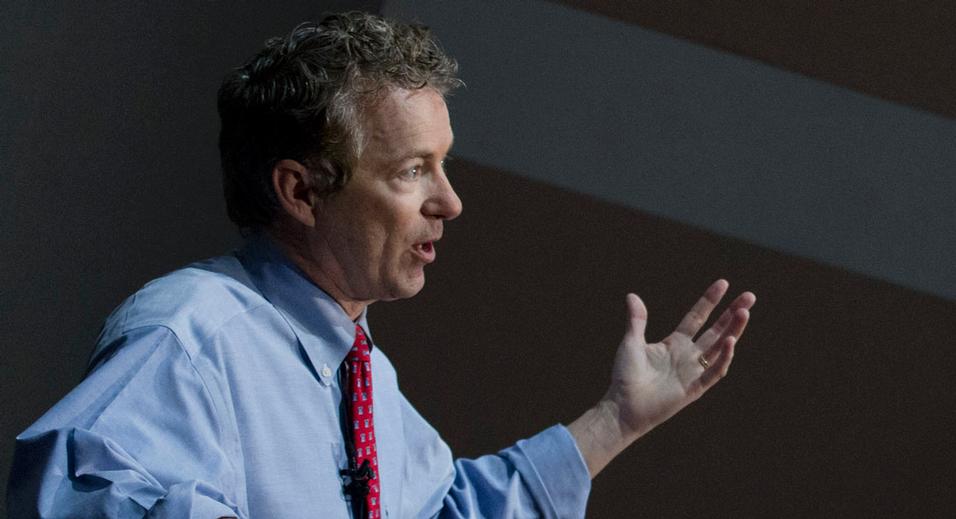 Kentucky Senator Rand Paul said that the United States made a mistake in ousting Saddam Hussein and Muammar Qaddafi, and that negotiations rather than military action were the preferred course of action in Iran:
For some time, Senator Rand Paul of Kentucky, a Republican presidential contender, has been trying to persuade supporters of Israel and foreign-policy hawks in his party that he is not the isolationist many believe him to be. On Monday, he brought that message to a group of about 30 Orthodox Jewish leaders in Brooklyn.

But the message he imparted did not entirely bolster his case — and was particularly curious given the audience he had chosen: Mr. Paul said flatly that it had been a "mistake" for the United States to remove Saddam Hussein from power in Iraq. And he suggested that the situation in Libya had deteriorated because of the overthrow of Col. Muammar el-Qaddafi.

"Each time we topple a secular dictator, I think we wind up with chaos, and radical Islam seems to rise," Mr. Paul said.

Still, Mr. Paul insisted that he did not oppose all foreign military interventions. "I'm not an isolationist," he said. "I'm somebody who believes that war is the last resort."

Speaking at the headquarters of the National Society for Hebrew Day Schools, Mr. Paul was unambiguous in arguing that Tehran had only become more powerful since the fall of Mr. Hussein, who he said had been a "bulwark" against Iran's influence in the region. "It was a mistake to topple Hussein," the senator said.

And he called the 2011 overthrow of Colonel Qaddafi — which he labeled "Hillary's war," referring to Hillary Rodham Clinton, the secretary of state at the time — an "utter disaster."

"Qaddafi wasn't a good guy, but he suppressed radical Islam," Mr. Paul said. "Now that Qaddafi is gone, the country is in civil war, the ambassador was killed, our embassy fled."

(…)

Mr. Paul also expressed qualified support for the Obama administration's talks on a nuclear-containment deal with Iran. "The interim agreement that we are under now, while not perfect, is better than no agreement and no inspections," he said.

He argued that his position mirrored what Benjamin Netanyahu, the Israeli prime minister, told Congress last month. "I'm for negotiations as opposed to war," Mr. Paul said. "If there's a way we can have a negotiated peace, I want peace as opposed to war."

And he criticized those who, "I think, frankly, have a simplistic understanding of this, who think war is the only option."
I'm not sure that the audience that Paul chose to make these comments was the best one at which to make such remarks, and it seems fairly certain that he's going to get attacked by his Republican opponents for his positions here just as he's already been criticized on foreign policy issues in the past by the party's hawks such as Rick Perry, Dick Cheney, and Chris Christie. However, while I've been fairly critical of Senator Paul recently for his accommodations with the social conservative wing of the GOP on issues such as same-sex marriage, I do think he deserves some credit for being willing to say things that very few Republicans who want to have a national voice are willing to say. More importantly, for the most part what Paul is saying here is largely correct.
Leaving aside for the moment the question of whether or not the Iraq War was even justified, it seems clear in hindsight that removing Saddam Hussein from power was a mistake in that it set in motion a whole series of events that has brought us to the present day. The most important result of Saddam's ouster, of course, was the fact that it made Iran a much more powerful player in the Persian Gulf region than it had been before. Prior to 2003, the Iranians were held in check to some extent by the potential of a threat from Iraq, with whom they had fought a bloody and destructive ten year long war that didn't really accomplish anything for either side. While Iraq's actual military power by the time the Iraq War started was probably quite overstated, it seemed to be enough to make the Iranians wary of flexing their muscles, and the potential that Saddam could rebuild the forces that had suffered devastation during the Persian Gulf War meant that Iran could never be sure that they would not be the target of Iraqi aggression again. Once Saddam fell and Iraq fell into chaos, that was no longer the case and, as a result, Iran has been able to exert its influence like never before. We have seen this not only in Syria, where Iran has long had an influence, but also in places such as Yemen and Afghanistan. And, of course, once the Iraqi insurgency began it was completely understandable that Iran would begin secretly aiding the insurgents in an effort to keep the United States tied down in the Iraqi tar pit as long as possible. In addition to helping enhance Iran's position, of course, the outster of Saddam and the entire Iraq War can also arguably be said to be directly responsible for the rise of ISIS, a problem we are likely to be dealing with for some time to come. While we cannot be sure of what the world would be like if we had not ousted Saddam Hussein, we can be certain that much of what we have seen happen over the past twelve years would not have occurred and that the world would probably be a much better place.
Paul is also basically correct about Libya and the ouster of Qaddafi. Prior to the Libyan civil war and Qaddafi's downfall, Libya was, at the very least, stable and was generally not a a breeding ground for Islamist terrorists. We can have a long debate on what the roots of the Arab Spring, which led to the rebellion in Libya, actually were, but at the very least it seems clear at this point that the West's short-term desire to get Qaddafi out of the way was not very well thought through. If there had been some kind of stable opposition force that could have stepped in and taken control of a united Libya when the war ended, then perhaps things would have turned out differently. That didn't happen, though, and it was apparent when the Western intervention began in March 2011 that it wasn't going to happen. By the time Qaddafi was dead in August, it was apparent that nobody had a plan for a post-war Libya, much like the Bush Administration had no plan for a post-war Iraq, and the result has been the inevitable chaos that everyone predicted. Once again, Qaddafi was a bad actor but one doubts that Libya would be in the place it is today if he were still in power.
Finally, it seems as though it would go without saying that Paul is correct when he argues that negotiations are the preferable course of action in dealing with Iran's nuclear program. One of the more astounding things about the Republican response to the ongoing process in Switzerland has been the implication that many of the people who have been criticizing the President on the issue don't seem to really want to negotiate at all. They don't say that, of course. Instead they will say that they are opposing a "bad deal" and arguing that the United States should be pushing for some "better deal" that seems to boil down to Iran giving up its nuclear program altogether, and apparently also agreeing to recognize Israel, in exchange for, well, nothing really. Indeed, one of the most prominent critics of the President's negotiations with Iran has been circulating the rather silly notion that a military campaign against Iran would be an easy affair, and many of his fellow Republicans and conservatives seem to agree with him. Military options should never be taken off the table, of course, but to suggest that they should be the first choice rather than the last, as many of the President's critics on Iran seem to be doing, is simply absurd.
 I've criticized Senator Paul quite a lot over the past months, and I'll probably criticize him again, but he deserves some credit for being willing to speak truths that most of his fellow Republicans are unwilling to even acknowledge.