Rand Paul Speaks Out Against Potential Trump Nominees
Kentucky Senator Rand Paul is speaking out against several of President-Elect Trump's proposed Cabinet nominees.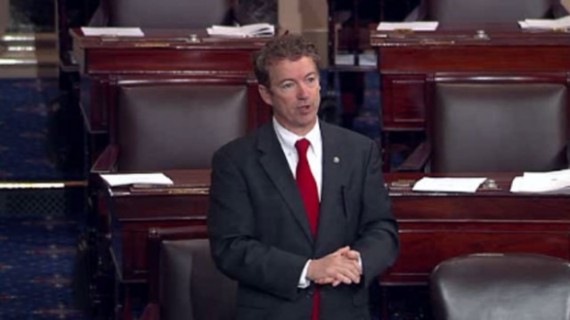 Kentucky Senator Rand Paul is vowing to oppose several of President-Elect Trump's proposed and announced Cabinet members:
Sen. Rand Paul is flexing some maverick muscle.

Speaking on "Face the Nation" on CBS on Sunday, the Kentucky Republican lashed out against two of the people President-elect Donald Trump is said to be considering for secretary of state: John Bolton and Rudy Giuliani.

"Both Bolton and Giuliani have advocated for regime change in Iran, and that doesn't sound like diplomacy, that sounds like war," Paul said.

"Giuliani and Bolton are out there on the extreme. I don't think they are very diplomatic. Bolton might be better as a secretary of war, but he is certainly not a diplomat or someone who acts in a diplomatic way or thinks that diplomacy might be an alternative to war."

Bolton was ambassador to the U.N. under President George W. Bush; Giuliani is a former mayor of New York and a loyal Trump supporter.

Paul said there will be 52 Republicans in the next Senate, a slim majority. "It is a very close vote." (The 52nd would be Louisiana's John Kennedy, who is facing Democrat Foster Campbell in a December runoff.)

"There are several potential Republican votes against someone like a Bolton, possibly Giuliani," Paul said. "The other thing Giuliani is going to stir up is it is going to be a hornet's nest on all the financial stuff," he said, without elaborating.

Separately, Paul said he agrees with Sen. John McCain that waterboarding is torture. Trump has indicated he would bring back waterboarding as an interrogation tool.

"We should telegraph to the world that we are better than this, and we do not torture," Paul said.
Paul also said that President-Elect Trump's  choice to head the Central Intelligence Agency, Kansas Congressman Mike Pompeo would have to be questioned to determined if he intends to continue the spy agencies long-standing opposition to any effort to resume waterboarding of present or future terrorism suspects or other detainees. The newly re-elected Kentucky Senator, who had been running an ill-fated Presidential campaign in which he was one of the few candidates to speak out against Trump during candidate debates, also expressed skepticism about Trump's selection of Alabama Senator Jeff Sessions as Attorney General, most notably due to Sessions positions on issues such as the War On Drugs, including the efforts of some states to legalize marijuana for medicinal or recreational use, and his opposition to criminal justice and sentencing reform, two issues that Senator Paul has been involved with over the past several years along with a small group of Republicans and Democratic Senators such as New Jersey Senator Cory Booker. As a Senator, Sessions has been a vocal opponent of many of the proposals that have been proposed by the groups backing Paul's proposals, such as continuing the Justice Department's 'hands off' approach to enforcing marijuana laws inside the borders of states where it has been legalized or decriminalized, reforming the Federal mandatory minimum sentencing practices, reforming sentencing guidelines that disproportionately impact minorities and the poor, and changing laws that make it difficult for criminals who have served their sentences and completed parole without violations from resuming normal lives, many of which have been shown to have a tendency to lead former felons to turn to crime again.
Paul's warnings bring to mind the question of just how much of a barrier Congress is likely to be to President-Elect Trump once he takes office. It's true that many Republicans in the House and Senate refused to have anything to do with Trump during the campaign, and that several outright stated that they would not vote for him, but in many cases it's likely that was a political calculation based on the presumption that being associated with Trump would hurt them in the General Election and the presumption, seemingly supported by the polling evidence, that Hillary Clinton would be the 45th President of the United States. Now that Trump has won the election, Republicans are once again bending over backwards to curry favor with the President-Elect and, in some cases, obsequiously answering his call to come to visit him amid speculation they are being considered for a cabinet position.  Additionally, party leaders in the House and Senate are currying favor with the President-Elect in the hope that he'll back their agenda on issues such as spending and tax reform. Given that, one wonders just how intense the oversight of the Trump Administration will be by the Congress charged with doing so. Democrats will no doubt be critical of the incoming President, but because they are in the minority they have limited authority to hold hearings or conduct investigations unless they have the support of some Republicans. The fact that Senator Paul appears to be willing to question the incoming Administration is hardly surprising since he's done that rather consistently in the past, but it seems doubtful that many other Republicans will join him except perhaps in extreme circumstances.