Random Observations on Trump's Election
Trying to make sense of that which makes no sense.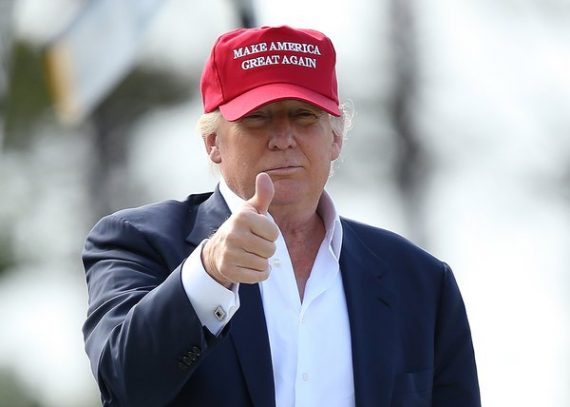 I went to bed shortly after John Podesta told Clinton supporters to go to bed because there would be no further announcements until morning. Half an hour later, Clinton conceded the election. I woke up three hours later and got ready for work and then proceded to teach a seminar on, ironically enough, totalitarianism.  I haven't had much time to read or otherwise absorb election post-mortems but below is a first attempt at my own.
Like Steven Taylor, I've been wrong about this election from the outset, considering it inconceivable that Donald Trump would win the Republican nomination, much less defeat Hillary Clinton in a modestly good climate for Democrats. In the first instance, I explained away the polls; in the latter, I placed too much confidence in them. Regardless, while my skills as a prognosticator have been abysmal this cycle, I don't think I've missed the underlying trends that paved the way for Trump.
A wave election.  I fully expected that all or almost all of the close states to go in the same direction. This very much felt like a referendum on the future of the country rather than 50 state elections. I was right. I Just thought the wave would be blue, not red.  Like most "experts," I vastly overestimated the degree to which Trump's boorishness would, no pun intended, Trump the visceral salience of his message.
Hillary Clinton was simply an awful candidate.  She's incredibly bright, disciplined, and experienced. But she's a lousy public speaker who has difficulty inspiring enthusiasm among even the Democratic nominating electorate. We saw that in 2008, when a neophyte with tremendous oratorical and empathy skills took the nomination from her despite it being essentially foreordained that it was hers. We saw it in the 2012 primaries, during which she ran essentially unopposed and yet was given a serious run for her money by a cranky backbencher with poor grooming habits. We saw it in the lcrowds for her campaign appearances. Even in the debates, all of which she won handily on the substance, she simply couldn't gain much traction with swing voters.
And that's to say nothing of the air of scandal that has long surrounded her. Her supporters totally dismiss this phenomenon as a longstanding Republican witch hunt and point out time and again that, despite oodles of investigations, no criminal charges have been filed. But that's not the bar to which presidents should aspire.  The deep-seated sense that she is corrupt, while vague and visceral rather than provable, was a major factor against her.
To be sure, Trump is orders of magnitude worse on the corruption scale. But Americans seem to view that as baked into the business world and therefore legitimate in a way that it isn't in high political office. Trump's bold assertions that his manipulating the system just proves how smart and clever he is struck many people, especially those otherwise inclined toward his message, as plausible.
Elites overplayed their hand on racism, sexism, and nativism.  To be clear, in this context, I'm one of the elites.  Despite being a lifelong Republican, I condemned Trump almost from the outset for his outlandish rhetoric on Mexican and Muslim immigrants and found his casual misogyny disqualifying.  There's simply no denying that this rhetoric energized some of the worst elements of our desirables—deplorables, if you will. He got the enthusiastic endorsement of the KKK and something called the "alt-right" stormed to his cause on Twitter, targeting women, Jews, and people of color in particular.
Yet there is a deep-seated cultural phenomenon at work that is far more complicated than simple racism and sexism. And using that language to deligitimate them simply fuels a sense of displacement.
There is a sense among people who consider themselves "normal Americans" that their way of life is under threat. They're mostly white, rural, Christian, and heterosexual. From an elite perspective–and, again, I include myself in that category for this purpose—these feelings are rather silly. White people have it pretty good! Men have it pretty good. The War on Christmas? Christmas is winning hands down.  Yet, it doesn't feel that way in the trenches.
North Carolina.  The Tarheel State, once solidly Republican, went for Obama in 2008 and barely went to Romney in 2012.  The polling showed it strongly leaning in Clinton's direction in 2016 and I saw no reason not to confidently expect her to win it. She, of course, lost.
One post-hoc explanation occurs to me as a strong factor: the hubbub over bathroom integration and the HB2 law. Now, on the one hand, the Republican governor who pushed the bill lost his re-election bid and HB2 was clearly a prominent part of that campaign. Still, I can't imagine that there wasn't strong resentment on the part of North Carolinians over the outside reaction to the law.  The Obama Justice Department intervened. The NBA and other major business entities boycotted the state. Carolinians were called bigots for their passage of a law that is, objectively, motivated by bias against a group.  Yet, even a year ago, it likely never occurred to anyone not directly affected by the transgender issues that there was a need for discussion over which bathroom people with given sets of body parts would use.  This is but one small, and relatively silly, example of radical cultural change being imposed from on high rather than through persuasion.
The Rust Belt.  All of the votes haven't been counted yet but it looks as though Trump will sweep Rust Belt states, some of which haven't gone to a Republican in more than a generation. The visceral explanation encapsulated in Michael Moore's "Big F-You in Human History" video strikes me as quite plausible. It's not simply that Trump is talking about economic displacement in an emotional way that conncects better with the disaffected than does Clinton's cold, technocratic approach.  It's that Trump's whole message—which seems wildly incoherent at an intellectual level—resonates with people who see an old way of life gone and want it back.
I've been thinking about this issue the last several days since listening to a podcast of NPR's "This American Life" which, ironically in light of last night's events, talks about the schism within the Republican Party and whether it can be fixed.  The part that struck me was a rather long discussion about the backlash in Minnesota against a massive influx of Somali refugees.  I've been aware of the issue for a few years, as I have good friends in Minneapolis and visit occasionally.
The story begins with a town hall meeting in which a moderate Republican Congressman is accosted by his constituents about what he's going to do about the problem.  He's incredulous at the question. What problem? Well, there are a lot of Somalis here and we didn't invite them!  But, they entered the country legally and have every right to be here.  Yeah, but we didn't invite them.  And they're changing things.  Are they breaking laws? Well, no.  But they're changing things!  And they're taking up our tax resources and giving nothing back.  Well, we actually get a stipend from the State Department and most of them have jobs and pay taxes.  Ultimately, it turns out, the citizens just "want a pause."  They want time to absorb these new immigrants and just get used to a different conception of their community before being further inundated.
There was also an incident in which an otherwise nice local woman attacked a Somali woman at a restaurant–physically assaulted her—because she was so angry that she was speaking a different language and dressed in a different way.  And the Congressman was shocked that many of his friends and relatives took the side of the attacker, not the victim.
From an elite perspective, this is, at best, nativism and, at worst, racism. But the Congressman had to reconcile to himself that, no, these are friends and neighbors who are generally incredibly decent folks, good citizens, and the like.  That he had to someone persuade them rather than dismiss their concerns as irrational and bigoted.
Trump as the Realization of the Tea Party.   Because the Tea Party rose to national prominence at almost precisely the same time that Barack Obama became our president—and because of the use of the Confederate flag and other symbols by some of its membership—it was easy to dismiss as mostly about white resentment against a black president.  And, surely, there was no shortage of that.  But the Tea Party was, more fundamentally, a rejection of what used to pass as mainstream Republicanism.  It was a backlash against three decades of promises to make the lives of ordinary people—which is to say, rural white folks without fancy degrees—better.  These people were tired of ideologues and so-called experts.  They didn't care about tax cuts, defense spending, or any of the Reagan platform.   Like Occupy Wall Street, a more urban-based analog on the Left, they wanted Big Government to make things right and had a very vague sense of what that would look like from a policy standpoint.
In this environment, the no-nothingism that so many of us on the #NeverTrump right found fundamentally disqualifying was a breath of fresh air.  Aside from some vague and mostly-since-disavowed remarks about curtailing immigration, there's very little in the way of policy proposal from Trump. He has no ideology.  He has no plan.  He's just going to Make America Great Again! and bring back jobs to white, blue-collar workers who have been screwed over by [pick your Other].   It's dangerous and demagogic.  But its appeal is understandable.
Correction: A previous version of this post incorrectly stated that Obama won North Carolina in both 2008 and 2012.