Reagan Library Speech Fails To End Chris Christie Speculation
Last night's speech at the Reagan Library did nothing to stop people from speculating about Chris Christie's Presidential plans.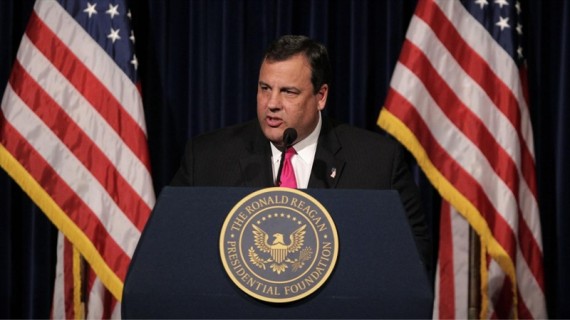 Reading through the media reports this morning of New Jersey Governor Chris Christie's speech at the Reagan Library last night, I began to wonder if I had spent the evening watching a completely different speech from the one the reporters and pundits had seen. After a half hour speech and about fifteen minutes of questions, two of which dealt with Christie running for President, I was left with the clear message that Christie had not deviated from the course he had taken months ago when he foreswore running for President and said on multiple occasions not only that he didn't want to run, but that he wasn't ready to be President at this point in his life.
For the most part, though, the political reporters came away with a completely different interpretation. USA Today says that "2012 speculation may continue after Christie Speech," and boy are they right about that. The Washington Post tells that "Christie Sidesteps Presidential Question(s)." CNN insists that "Christie Speech Adds To Presidential Speculation."  The New York Times says  "Christie Adds Little New, But Fails To Quell Talk." And from across the pond, The Guardian insisted that "Chris Christie hints at Presidential ambitions after impassioned plea."
Most of all, though, the media coverage spent more time concentrating on what Christie supposedly didn't say than on what he did say, and as at least one reporter noticed, it was a pretty good speech:
In a highly anticipated speech at the Reagan Library tonight, Gov. Chris Christie criticized President Barack Obama for being what he called a "bystander in the Oval Office," and painted Washington politics as ineffective and embarrassing to the rest of the country.

Christie primarily addressed foreign and domestic policy, but stopped short of saying what Republicans donors and a growing band of supporters nationwide had hoped to hear — that he planned to launch a bid for the Republican presidential nomination.

(…)

Christie took to the stage at the invitation of former First Lady Nancy Reagan. He contrasted President Obama's leadership style with his own by running through a litany of what he said were bipartisan accomplishments in New Jersey.

"We watch a president who once talked about the courage of his convictions, but still has yet found the courage to lead," Christie said. "We watch a Congress at war with itself because they are unwilling to leave campaign style politics at the Capitol's door."

He spent most of the speech addressing such broader issues as the spread of democracy worldwide, national security and the domestic economy.

"There is no better way to reinforce the likelihood that others in the world will opt for more open societies and economies than to demonstrate that our own system is working," Christie said. "Without strong leadership at home, without our domestic house in order, we are taking ourselves out of the equation."

Christie spoke extensively about foreign policy, saying gridlock and inaction in Washington reflect poorly on the country on the international stage
One portion of the speech stood out to me:
In 2004, Illinois State Senator Barack Obama gave us a window into his vision for American leadership. He said, "Now even as we speak, there are those who are preparing to divide us — the spin masters, the negative ad peddlers who embrace the politics of 'anything goes.' Well, I say to them tonight, there is not a liberal America and a conservative America — there is the United States of America. There is not a Black America and a White America and Latino America and Asian America — there's the United States of America."

Now, seven years later, President Obama prepares to divide our nation to achieve re-election. This is not a leadership style, this is a re-election strategy. Telling those who are scared and struggling that the only way their lives can get better is to diminish the success of others. Trying to cynically convince those who are suffering that the American economic pie is no longer a growing one that can provide more prosperity for all who work hard. Insisting that we must tax and take and demonize those who have already achieved the American Dream. That may turn out to be a good re-election strategy for President Obama, but is a demoralizing message for America. What happened to State Senator Obama? When did he decide to become one of the "dividers" he spoke of so eloquently in 2004? There is, of course, a different choice.

That choice is the way Ronald Reagan led America in the 1980's. That approach to leadership is best embodied in the words he spoke to the nation during his farewell address in 1989. He made clear he was not there just marking time. That he was there to make a difference. Then he spoke of the city on the hill and how he had made it stronger. He said, "I've spoken of the shining city all my political life, but I don't know if I ever quite communicated what I saw when I said it. But in my mind it was a tall proud city built on rocks stronger than oceans, wind-swept, God-blessed, and teeming with people of all kinds living in harmony and peace, a city with free ports that hummed with commerce and creativity, and if there had to be city walls, the walls had doors and the doors were open to anyone with the will and the heart to get here. That's how I saw it and see it still."

That is American exceptionalism. Not a punch line in a political speech, but a vision followed by a set of principled actions that made us the envy of the world. Not a re-election strategy, but an American revitalization strategy.

We will be that again, but not until we demand that our leaders stand tall by telling the truth, confronting our shortcomings, celebrating our successes and, once again leading the world because of what we have been able to actually accomplish.
It rang as the kind of speech that would be well-suited to the keynote address at the Republican National Convention, a spot I'm sure Christie is on the short list for in 2012 already, in in the small venue it was in with a crowd not inclined to spontaneous applause it seemed too big for the room. But it's the kind of message that you're not hearing from any of the other Presidential candidates right now, which in itself may explain why some people are still looking to Trenton for salvation even though Christie has repeatedly insisted he's not running. For the most part, we're dealing with a crappy bunch of politicians right now and Christie harkens back to an era when politicians actually did things. As he noted elsewhere in the speech, he's managed to successfully govern despite being faced with a legislature controlled by the opposition. That's something that nobody in Washington to seems to be able to successfully to do, either that or their just to busy playing their paritsan games to bother to do it. In any event, there was a lot of value in Christie's speech but I'm doubting that it really will get the attention it should, because all anyone wanted to know was whether he's running for President.
The Presidential question didn't come until the second question in, and rather than responding directly, Christie told everyone to go watch this video at Politico:
Then it came up again two questions later, and both the question and the response were really quite interesting:
Here's that last question to Christie in full, from a middle-aged woman on the balcony: it's remarkable and Christie's reaction suggests he must be running:

Governor Christie, all kidding aside, I've been listening to you tonight, you're a very powerful and eloquent speaker. You know how to tell the American people what they need to hear. And I say this from the bottom of my heart, for my daughter who's right here, for my grandchildren who are at home. I kow New Jersey needs you but I really implore you, I really do – this isn't funny – I mean this with all my heart. We can't wait another four years until 2016, and I really implore you, as a citizen of this country, to please sir, to reconsider.

Don't even say anything tonight, go home and think about it. Do it for my daughter, do it for our grandchildren, do it for our sons, please sir: we need you. Your country needs you as president. [applause and standing ovation]

Christie responds:

Let me just say this, 'cause there are a lot of people who have asked me about this over the course of the last number of weeks and months, and this all I will say about that tonight. I hear exactly what you are saying and I feel the passion with which you say it. And it touches me. I can tell you, I'm just a kid from Jersey who feels like I'm the luckiest guy in the world to have the opportunity that I have to be the governor of my state. So people say to me all the time now, when folks like you say those kind of things, for as many months as it's being said, you know, Governor, why don't they just leave you alone, you've already given your answer. Isn't it a burden? And what I say to you tonight and to everybody else who's nice enough to applaud what she said, is that it isn't a burden. I mean, fact of the matter is, that anybody who has an ego large enough to say, 'Oh please, please, please stop asking me to be leader of the free world. It's such a burden. If you could please just stop,' – I mean, what kind of crazy ego-maniac would you have to be to say: oh, please stop, stop. It's extraordinarily flattering but by the same token that heart-felt message you gave me is also not a reason for me to do it. That reason has to reside inside me. And so that's what I've said all along.

I know, without ever having met President Reagan, that he must have felt deeply in his heart that he was called to that moment to lead our country. And so my answer to you is just this: I thank you for what you're saying, and I take it in and I'm listening to every word of it and feeling it too.

And please don't ever think for a second that I feel like I'm important enough in this world that somehow what you're saying is a problem for me. It's a great, great honor. I'm extraordinarily flattered, and I really appreciate you being willing to stand up and say it with the passion that you did. That's why this country is a great place because folks like you, so thank you very much.
Everyone is going to interpret these answers differently, but I don't hear or see a man who's being coy, or a man who's thinking about changing his mind. Is he enjoying the attention? Without question he is, and keeping in contact with the high-powered Republicans who've been courting him these last several months is in his political interests not only for a future Presidential run if that's in the cards, but also for 2013 when he has to run for re-election. I don't see a guy who's going to be changing his mind in the next couple of weeks.
Maybe I'm completely wrong about this, but I don't think I am. Chris Christie isn't running for President, and nothing he said last night indicates otherwise.
You can watch the video of the actual speech here:
Photo via USA Today