Really? Trayvon Martin Shooting Range Targets?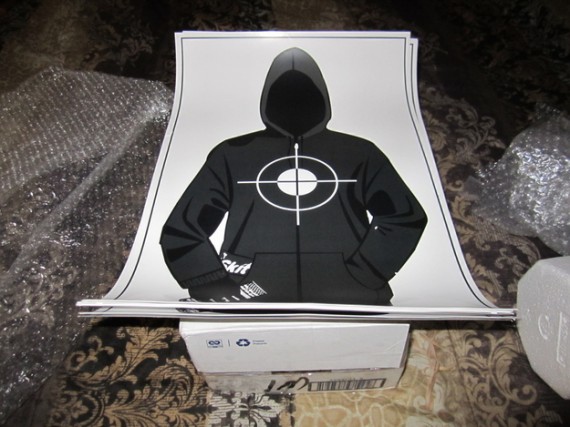 For some bizarre reasons, someone thought this would be a good business idea:
An unidentified entrepreneur admits he is trying to profit off Trayvon Martin's death by selling gun range targets featuring the teen who's death has sparked a nationwide controversy.

Although Martin's face does not appear on the paper targets, they feature a hoodie with crosshairs aimed at the chest.  A bag of Skittles is tucked in the pocket and a hand is holding a can resembling iced tea.

Martin purchased both items minutes before he was shot and killed by George Zimmerman in February, according to police.

Zimmerman, who has pleaded not guilty to second-degree murder charges, originally told investigators he shot Martin in self-defense.

According to an advertisement for the targets that had been posted on a popular firearms auction website, the sellers stated they "support Zimmerman and believe he is innocent and that he shot a thug."

That online ad has since been removed.

"This is the highest level of disgust and the lowest level of civility," said Zimmerman's attorney Mark O'Mara.

O'Mara said he is worried about how Martin's parents will react to the image of their son on a target intended to be used for shooting practice.

The attorney is also concerned the targets will further inflame the community.

"It's this type of hatred — that's what this is, it's hate-mongering — that's going to make it more difficult to try this case," said O'Mara.

(…)

In an email exchange with reporter Mike DeForest, the seller wrote, "My main motivation was to make money off the controversy."

The seller would not disclose how many paper targets had been made, but said in an email, "The response is overwhelming.  I sold out in 2 days."
This is a truly sick world we live in.
H/T: Balloon Juice