Religious Extremism in America
What are the contours of "mainstream" religious thought in today's America?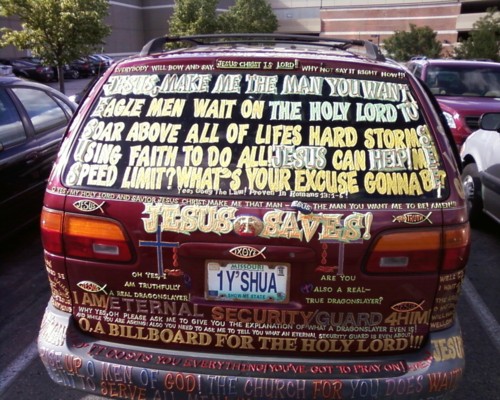 Earlier this morning, Andrew Exum passed on what he termed "A simply outstanding op-ed by Ross Douthat." An interesting two-hour Twitter back-and-forth ensued.
Douthat's column, "American Theocracy Revisited," is a push-back against an emerging elite consensus on religiosity in American politics.
[W]ith the rise of first Michele Bachmann and then Rick Perry in the presidential polls, and the belated liberal realization that many Tea Partiers are also evangelical Christians, the fear of theocracy has suddenly returned. Beginning with Ryan Lizza's profile of Bachmann in The New Yorker, a spate of recent articles have linked the Republican presidential candidates to scary-sounding political theologies like "Dominionism" and "Christian Reconstructionism," and used these links to suggest that Christian extremism is once more on the march.

[…]

[T]here are four points that journalists should always keep in mind when they ask and then write about religious beliefs that they themselves don't share.

First, conservative Christianity is a large and complicated world, and like other such worlds — the realm of the secular intelligentsia very much included — it has various centers and various fringes, which overlap in complicated ways. Sometimes teasing out these connections tells us something meaningful and interesting. But it's easy to succumb to a paranoid six-degrees-of-separation game, in which the most radical figure in a particular community is always the most important one, or the most extreme passage in a particular writer's work always defines his real-world influence.

Second, journalists should avoid double standards. If you roll your eyes when conservatives trumpet Barack Obama's links to Chicago socialists and academic radicals, you probably shouldn't leap to the conclusion that Bachmann's more outré law school influences prove she's a budding Torquemada. If you didn't spend the Jeremiah Wright controversy searching works of black liberation theology for inflammatory evidence of what Obama "really" believed, you probably shouldn't obsess over the supposed links between Rick Perry and R. J. Rushdoony, the Christian Reconstructionist guru.

Third, journalists should resist the temptation to apply the language of conspiracy to groups and causes that they find unfamiliar or extreme. Republican politicians are often accused of using religious "code words" and "dog whistles," for instance, when all they're doing is employing the everyday language of an America that's more biblically literate than the national press corps. Likewise, what often gets described as religious-right "infiltration" of government usually just amounts to conservative Christians' using the normal mechanisms of democratic politics to oust politicians whom they disagree with, or to fight back against laws that they don't like.

Finally, journalists should remember that Republican politicians have usually been far more adept at mobilizing their religious constituents than those constituents have been at claiming any sort of political "dominion."
There's more to the piece, which I commend in its entirety, but that's the gist. My response to Exum was that, while I agree with his larger point, "Douthat plays sleight-of-hand on Bachmann, who is genuinely a religious extremist. Vast majority of her followers aren't."
This spawned a multi-way debate with Exum, Josh Treviño, Jeff Emanuel, Joshua Foust, John Hawkins, and others that centered on two related questions. First, how should one apply the term "extremist" in the context of the American religious debate? Second, what are the contours of "mainstream" religious thought in America?
On the first, I agree with Exum and Emanuel that we need to be careful in the use of the word in this context. As I concede, "extremist" means something entirely different in the context of American Christianity, in which there is essentially no movement that condones violence against non-adherents, than it does with talking about Islam, which does. While "Christianist," "American Taliban," or "Shi'ite Baptists" are provocative or amusing rhetoric, they're meaningful only in the sense that "Fascist" or even "socialist" are in the American context.
On the second, it's hard for non-believers, especially those who live in metropolitan areas surrounded by a very secular culture, to understand how truly mainstream some beliefs many of us consider wildly absurd are. Foust points me to the Christian Nightmares tumblr, which collects a lot of videos, bumper stickers, and the like. Having spent much of my life in the rural South, much of it (including the minivan whose photo adorns the top of this post) strikes me as perfectly normal. But Pat Robertson, much less Damon Thompson and Darlene Bishop, just strike me as nuts. Their followings, however, are not insignificant.
I consider Bachmann extreme because, among other reasons, she and her husband Marcus run a clinic that purports to help homosexuals "cure" themselves of their "affliction." While I'm well aware that large number of people think such a thing is possible, it's so wildly bizarre that it can't possibly be considered mainstream.
One of the things that distinguishes Christianity, especially the American variants, from the brand of Islam practiced in much of the Middle East and North Africa, is that it constantly evolves with the social and political culture. Beliefs that were perfectly mainstream half a century ago–much less centuries ago–have been adapted if not outright rejected to comport with the social realities of the times. While this may be theologically dubious, it strikes me as perfectly reasonable given that Christianity seeks to help people live better lives and that this is only possible if the church can appeal to modern believers.
Offhand, I'd consider Bachmann outside the "mainstream" tent and, from what I've gathered thus far, Rick Perry just inside it. But I'm not at all sure that I'm right about that.