Report: IRS Destroyed Hard Drives With Lerner Emails
Yet more adventures in bad records retention policy at the IRS.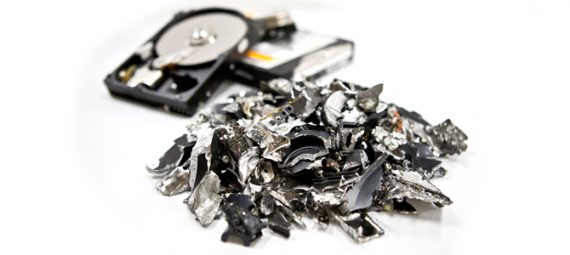 Politico is reporting that IRS sources have indicated that the missing Lois Lerner emails that have become the subject of the latest round of controversy in the ongoing IRS political targeting scandal will likely never be recovered because the hard drive on her computer was recycled:
Ex-IRS official Lois Lerner's crashed hard drive has been recycled, making it likely the lost emails of the lightening rod in the tea party targeting controversy will never be found, according to multiple sources.

"We've been informed that the hard drive has been thrown away," Sen. Orrin Hatch of Utah, the top Republican on the Finance Committee, said in a brief hallway interview.

Two additional sources told POLITICO the same late Wednesday, citing IRS officials.

It may just be standard government procedure, but the revelation is significant because some lawmakers and observers thought there was a way that tech experts could revive Lerner's emails after they were washed away in a computer crash in the summer of 2011. House Oversight and Government Reform Committee Chairman Darrell Issa (R-Calif.), for example, subpoenaed her damaged hard drive earlier this week, when he asked for "all hard drives, external drives, thumb drives and computers" and "all electronic communication devices the IRS issued to Lois G. Lerner."

"IT experts have weighed in and said yes — we can get those" emails, said Rep. Charles Boustany (R-La.) earlier Wednesday.

The latest news suggests such professionals may never get the chance to try again — and the IRS has even said its criminal investigators who specialize in rebuilding hard drives to recover hidden information from criminals were unable to restore the data back in 2011. But this is only likely to further enrage Republicans, who are fuming over the matter and suspect Washington officials drove the selective scrutiny.

The IRS told congressional investigators on Friday that the emails of Lerner, the former head of the tax exempt division that was found to have singled out conservative groups for additional scrutiny, were lost from 2009 to 2011 in a computer hard drive crash in early summer 2011. IRS chief John Koskinen will face angry Republicans at a hearing on Friday.

The time frame is significant because the tea party targeting began in spring of 2010, and Republicans think if there was a smoking gun connecting the Obama administration to the IRS treatment of conservative groups, it could be found during that period.

"We believe the standard IRS protocol was followed in 2011 for disposing of the broken hard drive. A bad hard drive, like other broken Information Technology equipment, is sent to a recycler as part of our regular process," an IRS spokesman said in response to a query from POLITICO.

On Wednesday, the White House retorted that for the time frame in which Lerner's emails are missing, there are no direct communications between 1600 Pennsylvania Ave. and the now-retired Lerner.

Earlier this week, Ways and Means Republicans said as many as six IRS employees involved in the scandal also lost email in computer crashes, including the former chief of staff for the acting IRS commissioner.

That's because before May 2013, the IRS backed up emails only for six months on a tape, then recycled the tapes, so they essentially threw out the data. Many agencies do the same, transparency experts say.
As I've said before, there really two issues at play here, both of which deserve attention notwithstanding the partisan tone that the entire IRS targeting controversy has taken over the past year.
The first, obviously, is the issue of the IRS failing to respond to Congressional oversight inquiries. In the end, regardless of party, one of Congress's most important jobs is oversight of Federal agencies, especially one that reaches into American life as much as the Internal Revenue Service. For months, the agency was saying that it did have all of Lerner's emails but needed time to properly retrieve them from archives and compile them. Now they're saying that some not insubstantial portion of those communications is missing because they were not centrally stored as generally required by Federal records retention laws, although the agency may have been in compliance with its own policies in that area. When agencies start playing games like this, it's not really that shocking that people aren't going to find it credible and believe they have something to hide, and this is arguably doubly true. At the very least, then an incident like this warrants a review of records retention policies at government agencies and their compliance with document requests from Congressional Committees.
In addition to hindering oversight, the IRS's actions here are going to do nothing more than pour gasoline on the fire of this story, which probably didn't need much more fuel in any case. As I've already noted, their explanations are being laughed at by even the non-Fox news media and the news about destroyed hard drives isn't likely to help that situation. The IRS Commissioner, who wasn't on the job when all of this started in 2011, will be back on Capitol Hill tomorrow and next week, and this will obviously be the focus of the inquiries. Even if there is an innocent explanation, it's still going to leave a bad impression regarding the overall scandal, and that's just going to serve to ensure that it remains a story going forward.
When you get right down it, this would have been a lot simpler if the IRS had just been more forthright about the difficulty in recovering the volume of emails that the committee was requesting.